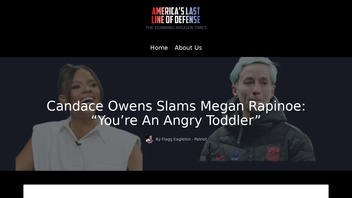 Did conservative TV personality Candace Owens call professional soccer player Megan Rapinoe an "angry toddler" while debating Rapinoe on a segment of her show, "Candace"? No, that's not true: A representative of Rapinoe told Lead Stories this is "false information." Also, this claim appeared in an article on a satirical website known for publishing fabricated content.
The claim appeared in an article published by The Dunning-Kruger Times on August 23, 2023, titled "Candace Owens Slams Megan Rapinoe: 'You're An Angry Toddler' (archived here). It opened:
Candace Owens was as surprised as anyone when Megan Rapinoe accepted an invitation to speak with her on her show, 'Candace.' Needless to say, things escalated quickly.
Users on social media only saw this title, description and thumbnail:
Owens was surprised Rapinoe actually Zoomed in.
The article continued:
'Candace was beside herself,' said Producer Joe Barron, ' She really didn't think Rapinoe would show up. But she did.'

According to Barron, Rapinoe started right in talking about injustice towards minorities and the LGBTQ community but found herself shut down with a quickness. 'Listen to you,' said Candace, 'You're like an angry toddler.'

With that, Rapinoe ended the segment and disconnected, which was more her style than showing up in the first place. Owens records her show a week in advance, so the episode should air shortly.
The "Candace" show's producer is not named "Joe Barron." The actual producer is Owens herself, alongside Michaelan Mena. Joe Barron is the name of a deceased friend of Dunning-Kruger Times founder Christopher Blair. Barron shows up as a key witness or source in many of the parodies published by Blair, in made-up roles including "assistant place-kicking coach", president of the NCAA, and a "publishing mogul."
Dan Levy, the executive vice president of "The Collective" (Olympics) and Women's Sports at Wasserman Group, who also serves as a representative of Rapinoe, responded to Lead Stories in an August 25, 2023, email regarding this claim:
This is indeed a false story/information.
Farther down in the article, there is mention of an "ALLOD Forensics Journalisticator" named "Tara Newhole." There is no evidence that either exists and the name is a phonetic pun for the colloquial phrase for an abusive critique.
A Google search using the keywords "Candace Owens Says Megan Rapinoe Is An Angry Toddler During Segment On Her Show 'Candace'" displayed no results to substantiate this claim.
Additional Lead Stories fact checks that mention Megan Rapinoe, Candace Owens and Dunning-Kruger Times founder Christopher Blair can be read here and here.
The Dunning-Kruger Times
The Dunning-Kruger Times is a satirical website with an about page (archived here) that has the following disclaimer:
About Us

Dunning-Kruger-Times.com is a subsidiary of the 'America's Last Line of Defense' network of parody, satire, and tomfoolery, or as Snopes called it before they lost their war on satire: Junk News

About Satire

Before you complain and decide satire is synonymous with 'comedy':

sat·ire ˈsaˌtī(ə)r noun: The use of humor, irony, exaggeration, OR ridicule to expose and criticize people's stupidity or vices, particularly in the context of contemporary politics and other topical issues.

Everything on this website is fiction. It is not a lie and it is not fake news because it is not real. If you believe that it is real, you should have your head examined. Any similarities between this site's pure fantasy and actual people, places, and events are purely coincidental and all images should be considered altered and satirical. See above if you're still having an issue with that satire thing.
The website is named after the Dunning-Kruger effect, a term from a psychology experiment that describes the phenomenon of being ignorant of one's own ignorance. (That experiment has been disputed by a math professor.)
It is run by self-described liberal troll Christopher Blair.