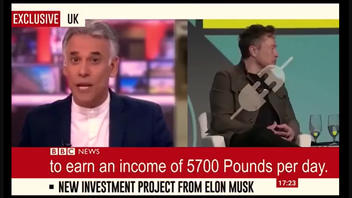 Did BBC News broadcast "breaking news" with guest Elon Musk who announced a new AI investment project powered by a supercomputer that closes deals with a 98 percent success rate? No, that's not true: This is a fake BBC newscast and the video footage of Musk was taken from an appearance at the EEI (Edison Electric Institute) 2023 conference. He did not speak about a trading platform at this event -- an AI-generated voice has been added to the video of Musk.
The video was posted on Facebook (archived here) on August 8, 2023, by the page SlenderPan. It was captioned:
🚀 𝐌𝐮𝐬𝐤: "𝐉𝐮𝐬𝐭 𝐨𝐧𝐞 𝐬𝐦𝐚𝐫𝐭 𝐢𝐧𝐯𝐞𝐬𝐭𝐦𝐞𝐧𝐭 𝐜𝐚𝐧 𝐜𝐡𝐚𝐧𝐠𝐞 𝐲𝐨𝐮𝐫 𝐰𝐡𝐨𝐥𝐞 𝐥𝐢𝐟𝐞!

Watch the video and sign up if you can!

Up to 5700£/day

pen an account with only 250£

Specially designed for beginners
This is what the post looked like on Facebook at the time of writing:

(Source: Facebook screenshot taken on Thu Aug 10 19:11:27 2023 UTC)
The video begins with BBC news presenter Matthew Amroliwala (pictured above) purportedly introducing the upcoming segment and seeming to stall for time while a technical problem with the live connection with Elon Musk is resolved -- this was indicated by a graphic of an unplugged electrical cord (visible in the left screenshot below). His presentation:
Breaking news on BBC News and welcome. All the British residents no longer need to work. That's the announcement made by our guest today, Elon Musk, who will unveil a new investment project. While the connection is going on, I will tell you more. This project opens new opportunities for British people to receive a return on investment. More than three billion dollars were invested in the new project and is already up and running at the moment. This project is based on a supercomputer. Artificial intelligence was integrated in the trading software. The new supercomputer analysis can trade every millisecond and closes the deal with a 98 percent success rate. Also Elon said that each resident will be able to earn an income of 5,700 pounds per day. No matter who you are, whether you're a housewife, a worker or a waiter.
This is not a real BBC newscast. Amroliwala's voice has been dubbed and it appears that a deepfake AI program (such as this example) was used to synchronize mouth movements with the text-to-speech transcript. The fake BBC subtitles have been added, and the purportedly live guest appearance with Musk was actually recorded at EEI 2023 in Austin, Texas, on June 13, 2023, (posted on YouTube on June 23, 2023). The screenshot (below right) was taken from the 51:50 mark of the Musk interview with Pedro J. Pizarro, president and CEO of Edison International.
This clip was from the end of the interview. Musk waved goodbye to the EEI audience (at the 52:06 mark). This was the clip was used to fake a wave hello to the BBC News audience (at the 1:07 mark in the Facebook video).

(Source: Lead Stories composite image comparing Facebook and YouTube screenshots taken on Thu Aug 10 21:19:58 2023 UTC)
As with the video of Amroliwala, the video of Musk has been manipulated -- the mouth made to move in sync with the text-to-speech audio. While the fake BBC video has Musk saying the word "software" nine times, a search of the transcript of the 52-minute 21-second EEI video does not show him saying it even once. Plus, in the fake BBC video, viewers are prompted to "Follow the link in description," but there is no link.
Advanced Google search results on the day of writing, August 10, 2023, for the exact phrase, "New investment project from Elon Musk," do not return a match (archived here). A BBC page for the news topic of Elon Musk also did not feature any articles about an AI-powered trading software (archived here).
Lead Stories has debunked many false claims about Elon Musk in the past, several include deepfake manipulated videos. These can be found here.