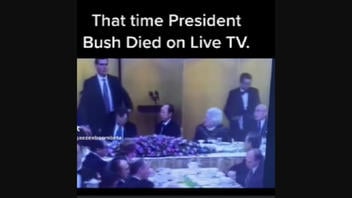 Does video footage show when then-President George H.W. Bush died on live TV? No, that's not true: The president lived for 26 more years after an incident in Japan in 1992 when he vomited and fainted at a banquet hosted by the Japanese prime minister.
The claim appeared in a video (archived here) on TikTok on January 6, 2022, but went viral again in 2023. It opened with a chyron on the video that said:
That time President Bush died on Live TV.
This is what the post looked like on TikTok at the time of writing: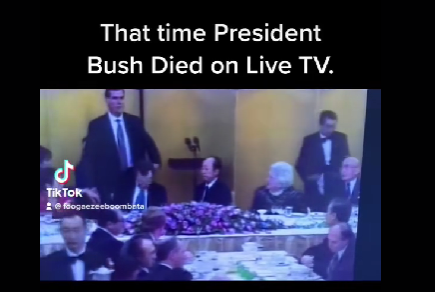 (Source: TikTok screenshot taken on Tue Aug 1 18:41:35 2023 UTC)
On January 8, 1992, Bush was attending a banquet in Japan when he vomited on Prime Minister Kiichi Miyazawa's lap and then passed out. Multiple news outlets covered the incident at the time it occurred. The History Channel noted he was revived and left the dinner:
Prime Minister Kiichi Miyazawa was hosting a dinner for the president in honor of his state visit. Bush, who was 67 at the time, appeared to be in fine health, playing doubles tennis with the Emperor of Japan and his son that morning. During the dinner, however, Bush suddenly fell ill. He leaned forward, then fell to his side, vomiting into the lap of his host, the Prime Minister. Bush then fainted as his wife Barbara, his aides, and members of the Secret Service swiftly attended him. He was revived within moments and was able to leave the dinner under his own power, apologizing for the incident.
Bush, the 41st president of the United States, died on November 30, 2018, at his home in Houston at the age of 94. His state funeral on December 5, 2018, was covered by news outlets, decades after the vomiting incident in Japan. Obituaries for Bush included numerous photos of him in years after his presidency, including a New York Times photo of Bush with other presidents in 2009 -- 17 years afer he fell ill in Japan. CBS News posted video from the 2018 funeral on their YouTube page.