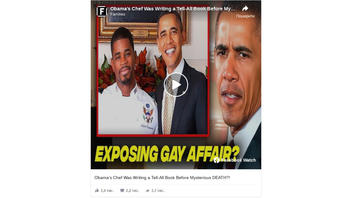 Was the Obamas' personal chef writing a tell-all book before his "mysterious death"? No, that's not true: There is no proof shown in a video making the claim that Tafari Campbell was writing a book about the former president and first lady at the time of his death near their Martha's Vineyard home. The video purports to be from "Inside Edition" but most of the footage from the show was not included in the video posted on social media.
The claim appeared in a video (archived here) on Facebook on August 21, 2023, under the title "Obama's Chef Was Writing a Tell-All Book Before Mysterious DEATH?!" It opened with a video of "Inside Edition" host Deborah Norville saying:
Barack and Michelle Obama say their hearts are broken after their personal chef died in a paddleboard accident near their estate on Martha's Vineyard.
This is what the post looked like on Facebook at the time of writing:
(Source: Facebook screenshot taken on Thu Aug 24 18:26:57 2023 UTC)
At nine seconds into the video a voice that is not Norville's says:
Disturbing details are coming out about the suspicious death of Barack Obama's personal chef Tafari Campbell and reports recently appeared that Tafari was writing a tell-all book before he drowned last month.
No proof or evidence is given in the 7:46-minute video to support the claim that Campbell was writing a "tell-all book" before his tragic drowning on July 23, 2023. His death was ruled "accidental drowning," as CBS News reported.
The video posted on Facebook is not a legitimate episode of "Inside Edition." The first nine seconds of the video matches the footage from July 25, 2023, with Norville. However, the rest of the "Inside Edition" footage is about paddleboard risks and safety. The "Inside Edition" video from their website can be found here.
From 10 seconds forward, the footage and audio posted on Facebook did not air on "Inside Edition." It includes the unsubstantiated claim that Campbell was writing a "tell-all book" and audio that added to social media rumors about 1982 Obama letters that surfaced about his attraction to men.
Other Lead Stories fact checks about Tafari Campbell can be found here and about Barack Obama can be found here.