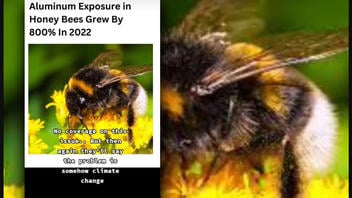 Did aluminum exposure in honeybees grow by 800 percent in the year 2022? No, that's not true: This claim, presented without sourcing, seems to pull this fact from thin air. Lead Stories could not find any evidence reporting statistical changes in Honeybee exposure to aluminum in 2022, let alone a ninefold increase in one year and among all honeybees. Honeybee experts from Kentucky State University and Perdue University told Lead Stories there was no substance to this claim.
The claim appeared in a reel published by the Facebook page Holistic Health (archived here). It was captioned:
Honey 🐝 exposure to illuminum should concern everyone
Text captioning on the video reads:
Aluminum Exposure in Honey Bees Grew By 800% In 2022
No coverage on this issue.. But then again they'll say the problem is somehow climate change
This is what the post looked like on Facebook at the time of writing: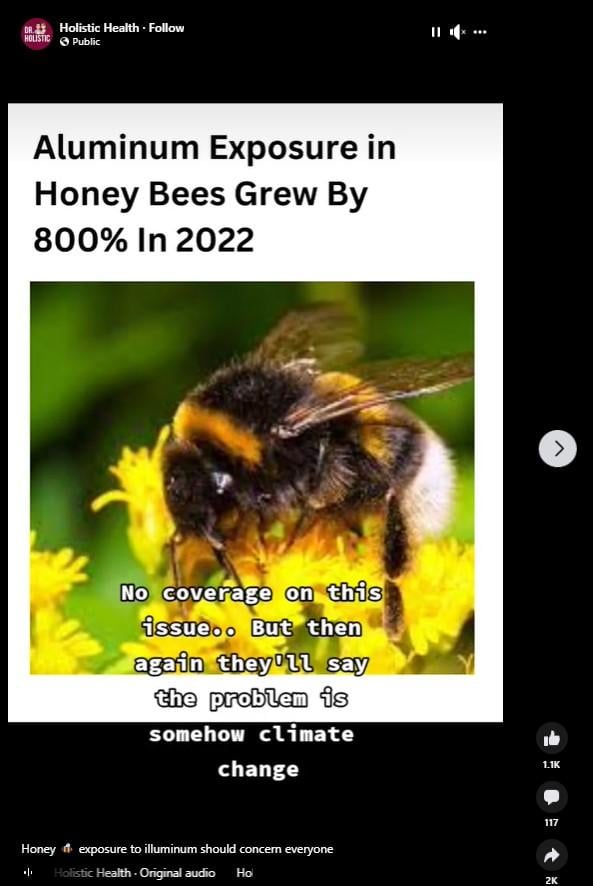 (Image source: Facebook screenshot taken on Fri Aug 18 14:52:39 2023 UTC)
The lack of coverage on this issue is not evidence of a coverup -- there is no coverage because there is no evidence to support this claim.
Lead Stories searched for academic papers on the topic and there have been several researchers who were looking into aluminum levels and bees but none that support this claim. One study published in the science journal Plos One on June 4, 2015, was titled, "Bumblebee Pupae Contain High Levels of Aluminium." This study did receive press attention and United Press International (UPI) featured it in Science News on June 5, 2015. This study collected samples in 2013 from colonies of commercially produced bumblebees, not honeybees, which had been distributed to sites around East Sussex in south east England.
The study's discussion begins with the statement that "Bumblebee pupae were found to be heavily contaminated with aluminium." This measure is not offered as a measure of rise or decline in aluminum levels, at the time of publication the study's authors stated they did not have any other data to compare:
The origin of the aluminium is likely to be pollen [7] and possibly nectar [8]. There are no other comparable data for aluminium content of bumblebees, pupae or adults, or indeed any other pupae of terrestrial insects. There are data for adult honeybees (Apis mellifera) and these indicate aluminium content between 4.6 and 15.5 μg/g dry wt. [10]. The range for the adult worker honeybees is considerably lower than for bumblebee pupae studied here and might reflect a difference between species, lifecycle stages or even methods for the measurement of aluminium in living tissues. Our data provide preliminary evidence that exposure to aluminium may be having an adverse effect on bumblebees, for colonies with high concentrations in the pupae tended to have smaller pupae. However, no other strong effects were observed, and our data set is small. We suggest that further investigation is needed, both to find out the generality and extent of exposure of pollinators to aluminium, and to determine the consequences.
Lead stories reached out to Brock Harpur, assistant professor in the Department of Entomology at Purdue University, with some questions. Harpur responded by email on August 21, 2023. He had not heard anything about a purported 800 percent increase of Aluminum in honeybees. To our question if aluminum levels in honeybees are consistent around the world Harpur mentioned the 2015 study from East Sussex:
This isn't regularly monitored so I don't know. However, it seems reasonable to presume that if an area has heavy metal contamination then local honey bees will also be contaminated. This could, for example, happen in areas with acid rain or mining. This is discussed in Exley et al. 2015 (plos one).
Lead Stories also reached out to Thomas Webster, a professor at Kentucky State University specializing in honeybees. We spoke to him by telephone on August 21, 2023. Webster said that there was no substance to this claim. He had just returned from a conference attended by honeybee experts from all over the world and there was no discussion about this purported 800 percent rise in aluminum exposure. He said that aluminum levels in bees would not be something regularly monitored unless it was in a specific research setting. Webster also mentioned mining as a potential source of aluminum exposure for local populations of bees. In a follow-up email, Webster pointed out that the bee pictured in the meme is not even a honeybee. Bee taxonomist Kristin Conrad identified the bee:
This is definitely a Bombus, and it looks to me to be a Bombus lucorum (white-tailed bumble bee)
The second frame of the meme (pictured below) shows a passenger jet with a dramatic contrail being curled by the wingtip vortices of a 787.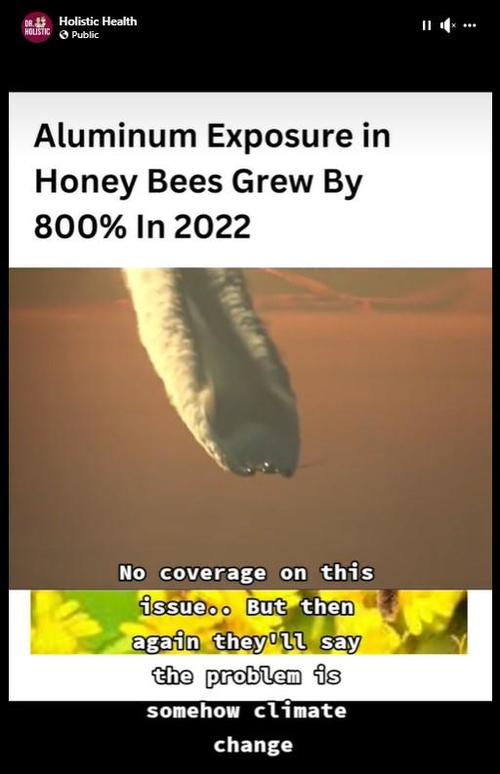 (Image source: Facebook screenshot taken on Mon Aug 21 18:18:41 2023 UTC)
This video is frequently used by conspiracists to represent "chemtrails," a conspiracy theory that attributes any and all visible lines left in the sky by passing aircraft, to a massive secret program spraying chemicals. For the people who believe that planes are spraying chemtrails, aluminum is one of the primary substances of concern. Although not explicitly spelled out in the Facebook post, it is clear why this clip was associated with the claim about aluminum exposure in bees. The plane in this video clip is not spraying 'chemtrails." The contrails (PDF fact sheet here) are made almost entirely of water vapor with a small amount of the particles from the jet fuel exhaust. This footage was filmed by pilot @LouB747 and was posted on YouTube on June 19, 2017. The video is captioned:
Crossing traffic 1000 feet below as seen from a 747. This was over the east coast of Russia.
Lead stories had debunked several claims about chemtrails in the past, they can be found (here) on Leadstories.com.