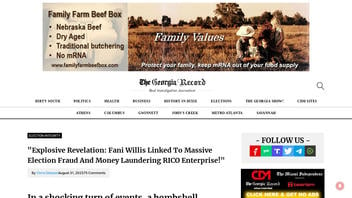 Do 222 contributions with "zero donor information" to the campaign of Fulton County, Georgia, District Attorney Fani Willis prove there was fraud? No, that's not true: An Emory University political science professor emeritus told Lead Stories, "Looks like they're all very small donations for which donor info is not required under Georgia law." Other political scientists said the same.
The claim appeared in an article (archived here) published by The Georgia Record on August 31, 2023, titled "Explosive Revelation: Fani Willis Linked To Massive Election Fraud And Money Laundering RICO Enterprise!" This is how the story opened:
In a shocking turn of events, a bombshell investigation has uncovered jaw-dropping connections between Fani Willis and a sprawling web of election fraud and money laundering activities.
This is what the article looked like on The Georgia Record website at the time of the writing of this fact check: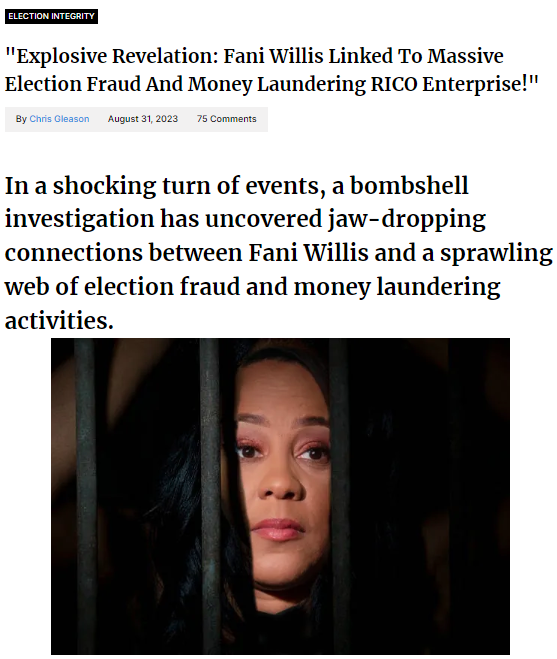 (Source: The Georgia Record screenshot taken on Thu Sep 7 18:41:20 2023 UTC)
While The Georgia Record article covers various topics, this fact check will specifically address the claim that numerous campaign contributions without contributor information indicate fraud. The story says:
The first item we identified in the Fani Willis campaign finance report was that there were 222 contributions to her campaign that had ZERO donor information.
Disclosure reports
The Georgia Report is largely correct in that there were contributions to the Willis campaign with no donor information -- but 220 contributions, not 222. Two additional lines on the spreadsheet with no donor information were described as "Transfer Balance from Legacy System." These are carryover amounts from an earlier report, not new donations during the reporting period.
By Lead Stories' calculations, contributions on lines with no donor information added up to $5,758.95, or about 2.5 percent of the total donations to Willis' campaign. Details of the contributions can be found on and downloaded from the Georgia Campaign Finance System website.
Lead Stories downloaded the information into a spreadsheet. The information can also be found in these documents (here, here and here) the Willis campaign filed with the state.
Campaign finance experts
A valid reason exists for there being no donor information about 220 of the contributions. For donations of less than $100, donor information isn't required under Georgia state law. In a September 7, 2023, email to Lead Stories, Jeffrey M. Glas, a lecturer in the Department of Political Science at the University of Georgia, said, "I see no red flags here."
Here's what "Chapter 189-3 DISCLOSURE REPORTS" says under the Georgia Administrative Code:
Rule 189-3-.01. Campaign Contribution Disclosure Reports

(1) Contributions. Contributions of more than $100.00, including contributions of lesser amounts when the aggregate amount from a contributor is more than $100.00 for the calendar year in which the report is filed, shall be listed on each report as follows:

(a) For contributions by any individual list:

the individual's name in alphabetical order by last name;
the individual's occupation;
the complete mailing address of the individual;
the amount of the contribution;
the date of receipt of the contribution,
the individual's employer; and,
the election for which the contribution has been accepted and allocated.
Political campaigns in Georgia and elsewhere are required to file campaign contribution disclosure reports periodically. But donor information is not required for contributions of $100 or less to the Willis or any other Georgia-based campaign. In dozens of cases, this information was included, but it didn't have to be.
Lead Stories also asked Alan Abramowitz, a professor emeritus of political science at Georgia's Emory University, to look at the disclosure report. In a September 7, 2023, email, Abramowitz responded:
Looks like they're all very small donations for which donor info is not required under Georgia law.
Lead Stories also contacted Charles S. Bullock, III, a University of Georgia political science professor. In another September 7, 2023, email, Bullock said there was nothing remarkable about the information found in the donor's list:
Fani Willis had lots of contributors. That there were [those] who gave less than $100 and therefore did not have to report background information is not surprising. High profile campaigns now regularly get money from hundreds or thousands of people who contribute just a few dollars online. Campaigns often brag about the number of small contributions they have received. Some report that the average contribution is well under $100.
In the conclusions of his email response, University of Georgia political-science lecturer Glas said he didn't see "any evidence of fraud or 'money laundering' as [The Georgia Record] story alleges." He continued:
The story these allegations came from is not from a credible outlet and the story itself contains a variety of mischaracterizations and propaganda techniques. The finance side of campaigns typically use recording software to track a campaign's donors to ensure compliance with state and federal campaign finance laws. The campaign has the names, addresses, employer, and occupation information for all of those donations under $100. Only if/when the sum total of contributions from a source reaches that $100 level will the reporting software populate that information into the campaign finance disclosure.
Additional Lead Stories fact checks of claims related to Willis can be found here.