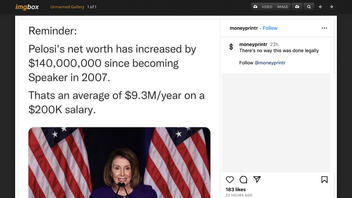 Is a massive jump in Rep. Nancy Pelosi's net worth proof that she engaged in some sort of illegal activity? No, that's not true: Although it may be true that Pelosi's net worth has increased sharply since 2007, when she became the first female speaker of the U.S. House of Representatives, such an increase does not prove her gains were ill-gotten. In addition to her congressional salary, Pelosi and her husband have multiple sources of income, including stocks, real estate and other investments.
The claim about Pelosi's assets appeared in a post on Instagram (archived here) on September 6, 2023. Alongside a caption that read, "There's no way this was done legally," the post read:
Reminder: Pelosi's net worth has increased by $140,000,000 since becoming Speaker in 2007. Thats an average of $9.3M/year on a $200K salary.
This is what the post looked like at the time of the writing of this fact check: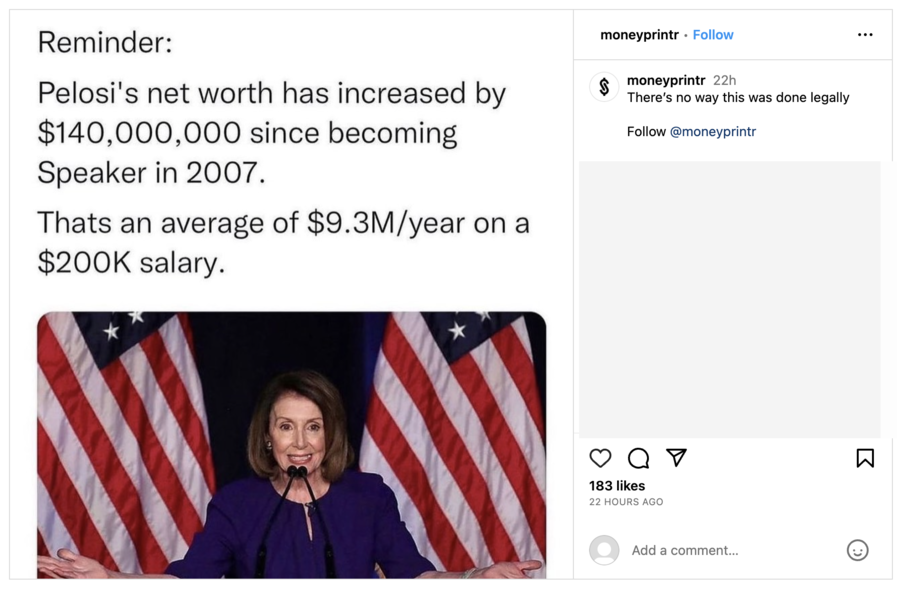 (Source: Instagram screenshot taken Thurs Sept 7 10:32:11 UTC 2023)
The post's claim that Pelosi's net worth increased dramatically since 2007 may be true, although such numbers are notoriously squishy.
OpenSecrets, a nonprofit that tracks money in politics, attempts to estimate lawmakers' net worth based on their financial disclosure reports. In 2008, the first year it reported such figures, the organization put Pelosi's estimated net worth at $31,378,542 in 2008 (archived here). Her assets that year were anywhere between $25,276,095 and $108,731,000, while her liabilities were anywhere between $12,750,011 to $58,500,000, according to OpenSecrets' calculations.
OpenSecrets explains its methodology on its website:
Net worth was calculated by summing the filer's assets and then subtracting any listed liabilities. Filers report the amount of each of their assets, transactions and liabilities as falling within one of several ranges. The minimum possible values for each asset were added together as were the maximum possible values. Likewise, minimum and maximum liability amounts were summed. The maximum debt figure was then subtracted from the minimum asset figure and the minimum debt figure was subtracted from the maximum asset figure. The resulting range represents the extremes of how much a filer could be worth, and his or her actual net worth should fall somewhere within that range. The midpoint or average of the two limits was also calculated and used for purposes of ranking the filers by wealth.
Although OpenSecrets' online estimates only cover the 10 years between 2008 and 2018, the group continues to track lawmakers' disclosure reports. Contacted by Lead Stories, OpenSecrets estimated Pelosi's 2022 net worth was $178,122,029, which represents a difference of close to $147 million since 2008. Pelosi's assets in 2022 were anywhere between $83,093,064 and $397,651,000, while her liabilities were anywhere between $33,500,006 and $91,000,000, based on the nonprofit's assessment.
In an email dated September 8, 2023, Alex Baumgart, a researcher at OpenSecrets, explained the significance of the ranges and their impact on estimated net worth.
The big caveat with the financial disclosure data is that these forms are not in anyway designed to allow for an accurate net worth calculation. The massive ranges for the values are the big cause of this but also members are only required to disclose assets that are actively generating them income. So things like boats, yachts, cars, art, gold bullion etc are generally not disclosed unless they're generating some kind of active income like rent (or if the member just voluntarily chose to disclose). Our methodology tries to work around this to provide rough estimates but for someone like Pelosi who has a lot of very large assets but also big liabilities, there can be a huge discrepancy in the min and max estimates to the point that [the] estimate is so broad that it's almost uninstructive. In Pelosi's case subtracting the minimum possible asset value with the max liability value to get the low end of the range leaves us with -$8 million while the max possible value is $364 million.
In other words, the post's claim that Pelosi's net worth jumped $140 million since 2007 may be true. It's within the very wide range of what's possible, based on her official financial disclosure reports.
However, no evidence supports the post's claim that Pelosi engaged in some sort of illegal activity in order to increase her wealth. Here is a copy of Pelosi's disclosure report for 2022 (archived here). It details the various streams of income she and her husband, Paul, a successful business and real estate investor, received. In addition to Financial Leasing Services, Paul's San Francisco-based investment firm, the couple reported that they owned shares of Apple, Visa, Netflix, the Walt Disney Company and others.
Pelosi served as House speaker from 2007-11 and then again from 2019-23. As of 2023, the House speaker was paid an annual salary of $223,500; a House member made $174,000.

Additional Lead Stories debunks of false claims that mention or target Rep. Pelosi can be found here.