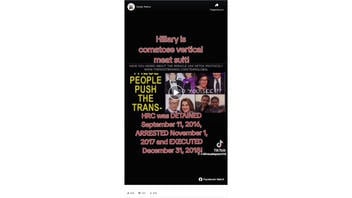 Was Hillary Clinton executed on December 31, 2018? No, that's not true: The former U.S. senator and secretary of state has been seen numerous times since that date in public settings. She has been photographed, videotaped and given live interviews that prove that she was alive, as of September 1, 2023.
The claim appeared in a video (archived here) on Facebook on August 27, 2023. It opened with a text overlay that read:
Hillary is comatose vertical meat suit! HRC was DETAINED September 11, 2016, ARRESTED November 1, 2017 and EXECUTED December 31, 2018!
This is what the post looked like on Facebook at the time of the writing of this fact check:
(Source: Facebook screenshot taken on Fri Sep 1 22:10:36 2023 UTC)
In the 10-minute video, the claim begins at the 2:02 mark. It alleges that Hillary Clinton was detained, arrested and then "put to death" in Guantanamo Bay in Cuba. This is false. On August 14, 2023, Hillary Clinton appeared live on MSNBC's "The Rachel Maddow Show," a video posted on MSNBC's official YouTube channel shows.
While the speaker in the video on Facebook claims to have a photo of her "shortly after the execution was handled," the image at the 2:09 mark in the video appears to be a face with closed eyes on a body that is under a blue sheet. There is no proof that this photo is legitimate or is of Hillary Clinton.
At the 2:17 mark in the video, the narrator says, in reference to former President Donald Trump, that "President 45 actually witnessed that execution that night." Trump, however, was working in the White House on December 31, 2018, during a partial government shutdown, and was not in Guantanamo Bay. This video posted on YouTube shows him stating where he was on that date:
An archive of Trump's tweets from December 31, 2018, makes no mention of the execution of Hillary Clinton -- an event he likely would have mentioned at the time, given the rancor between the two 2016 candidates for president.
Had Hillary Clinton been detained, arrested and executed this would be major international news. A Google search of the terms "hillary clinton executed" yields no legitimate news stories about such an event, however.
Clinton was seen in public on September 11, 2016, at a 9/11 memorial service that she left early after feeling "overheated" while suffering from pneumonia, as NBC News reported. She returned to the campaign trail and was seen numerous times in public following that date. There is no evidence she was "detained" that day.
Other Lead Stories fact checks of claims about Hillary Clinton can be found here.