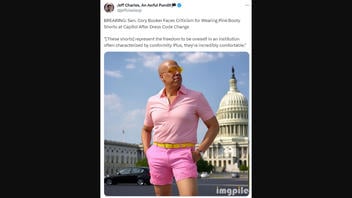 Did New Jersey Sen. Cory Booker wear pink booty shorts at the Capitol after the Senate changed its dress code? No, that's not true: The account that posted the image of Booker in hot pink shorts is clearly labeled satire. It later posted a message calling out the fact that people were not getting the joke.
The claim about Booker appeared on September 21, 2023, in a post (archived here) on the X (formerly Twitter) account of Jeff Charles, a podcaster. The post said:
BREAKING: Sen. Cory Booker Faces Criticism for Wearing Pink Booty Shorts at Capitol After Dress Code Change '[These shorts] represent the freedom to be oneself in an institution often characterized by conformity. Plus, they're incredibly comfortable.'
This is what the post looked like on Twitter at the time of writing: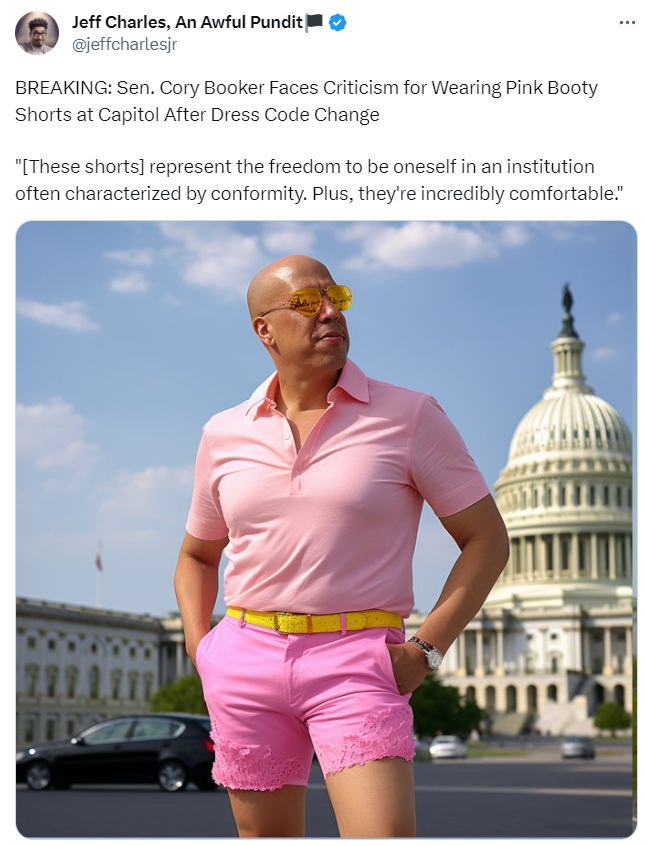 (Source: X screenshot taken on Fri Sep 22 20:15:57 2023 UTC)
Charles' account profile states plainly that "BREAKING = satire," as the screenshot below shows: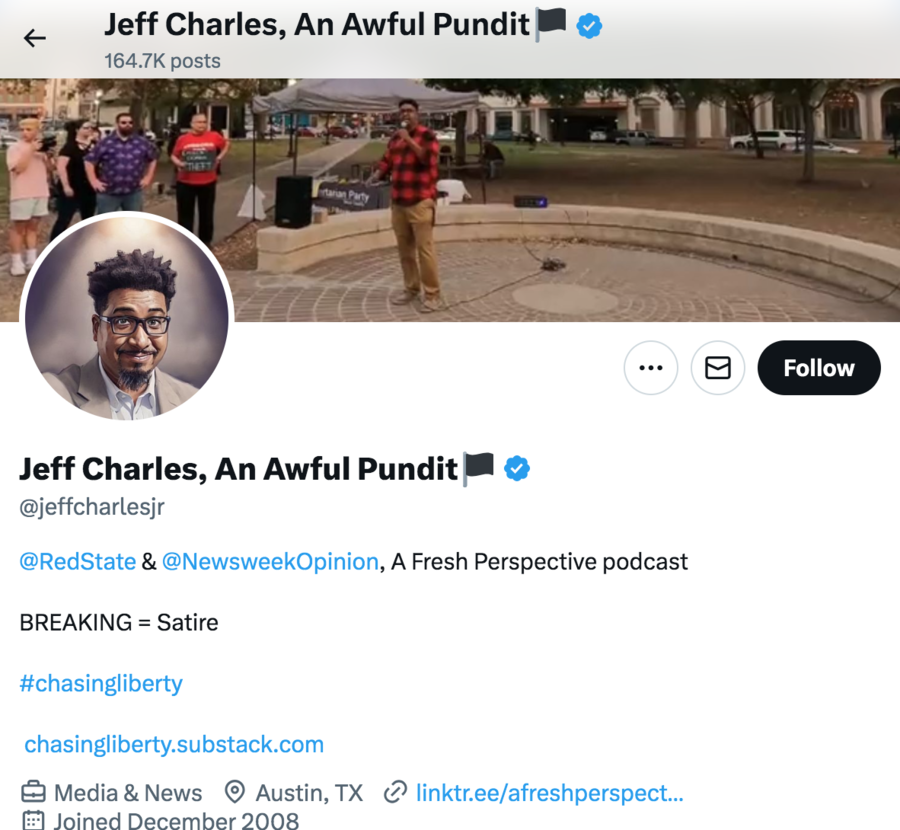 (Source: X screenshot taken on Fri Sep 22 20:12:34 2023 UTC)
The post has a link to an article (archived here) that goes to The Smattering News website, where a disclaimer states that the content is satire:
'The Smattering' is a refreshing oasis of political satire that adds a humorous twist to the world of politics. We take on the latest news, events, and politicians without a hint of mercy or seriousness.
The Jeff Charles, An Awful Pundit account features photos of other elected officials in outrageous outfits, such as Texas Republican Sen. Ted Cruz in "Cancun wear":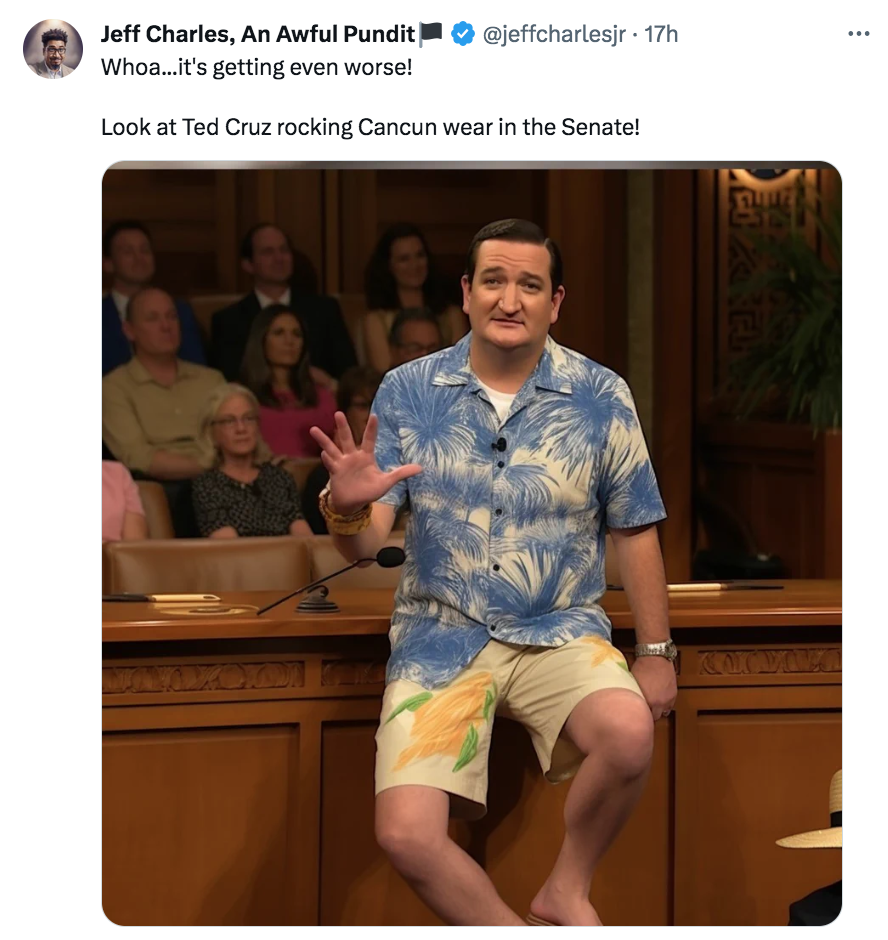 (Source: X screenshot taken on Fri Sep 22 20:17:44 2023 UTC)
Arizona Democratic Sen. Kyrsten Sinema was shown wearing a "weird red Mary Poppins get up":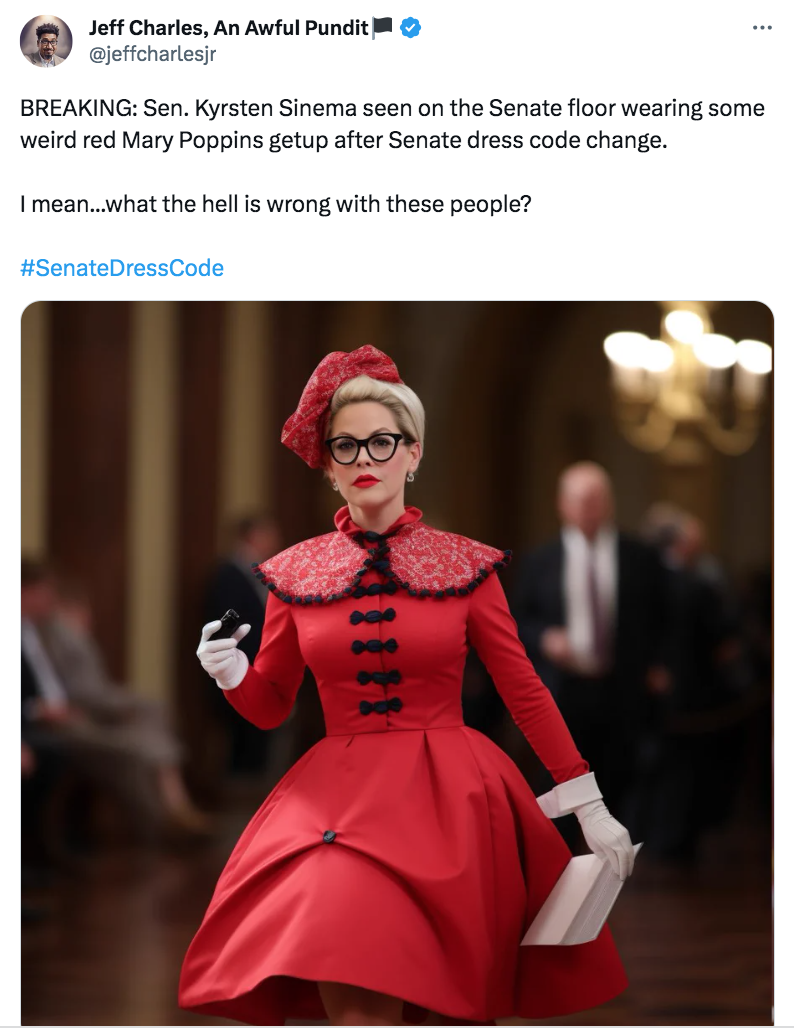 (Source: X screenshot taken on Fri Sep 22 20:13:04 2023 UTC)
The account even reposted a tweet with the Booker post and a message that said, "The amount of people who don't realize this is fake alarms me."
The Senate relaxed its dress code for members on September 18, 2023, the Associated Press reported. The decision followed the return to work of Democratic Pennsylvania Sen. John Fetterman, who has worn shorts and hoodie sweatshirts in the Capitol since treatment in a clinic for depression earlier this year.