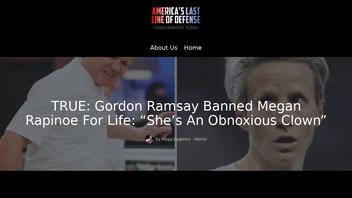 Did celebrity chef Gordon Ramsay ban soccer player Megan Rapinoe from his restaurants for life? No, that's not true: This claim is from a satirical website with a disclaimer that tells readers everything on the website is fiction. There is no evidence from legitimate news sources that Ramsay has banned Rapinoe from his restaurants.
The claim appeared in an article published by Conservative Tears on October 6, 2023, titled "TRUE: Gordon Ramsay Banned Megan Rapinoe For Life: 'She's An Obnoxious Clown'" (archived here). It opened:
According to reports from a trusted source, Chef Gordon Ramsay has banned loudmouth Megan Rapinoe from his restaurants for life.
Users on social media only saw this title, description and thumbnail:

(Source: Conservative Tears screenshot taken on Wed Oct 18 14:59:27 2023 UTC)
The article alleges that Ramsay banned Rapinoe after she entered one of his restaurants being "loud, disruptive, and rude" in Barron, Italy.
A Google News search of the phrase, "Megan Rapinoe banned for life AND Gordon Ramsay" did not yield any results that would back up this claim (archived here).
Barron, Italy, is not an incorporated municipality (archived here). Christopher Blair, creator of Conservative Tears, likes to pay homage to a deceased friend named Barron by adding the name to stories.
Lead Stories reached out to Rapinoe's and Ramsay's representatives and will update this article when we receive a relevant response.
Further down in the article, "Food Reporter Tara Newhole" gives the article away as being untrue. The article reads, "... there's a good chance the encounter between Rapinoe and Ramsay never happened. "The story comes from the SpaceX Mania guy, so it very well might be a random headline spit out by a fairly run-of-the-mill AI program," said Newhole, "I can't find any evidence that this happened in real life."
Lead Stories could not find any evidence (archived here) that Newhole exists as a "Food Reporter."
Conservative Tears is affiliated with the Dunning-Kruger Times, a website that often spreads fake news as satire. Lead Stories has debunked Dunning-Kruger articles before here.
Conservative Tears is a satirical website with an about page (archived here) that has following disclaimer:
About Satire

Before you complain and decide satire is synonymous with 'comedy':

sat·ire ˈsaˌtī(ə)r noun: The use of humor, irony, exaggeration, OR ridicule to expose and criticize people's stupidity or vices, particularly in the context of contemporary politics and other topical issues.

Everything on this website is fiction. It is not a lie and it is not fake news because it is not real. If you believe that it is real, you should have your head examined. Any similarities between this site's pure fantasy and actual people, places, and events are purely coincidental and all images should be considered altered and satirical. See above if you're still having an issue with that satire thing.
It is run by self-described liberal troll Christopher Blair.
More Lead Stories fact checks on Megan Rapinoe are here.
Another Lead Stories fact check on Gordon Ramsay is here.
Other Lead Stories fact checks debunking Conservative Tears articles are here.