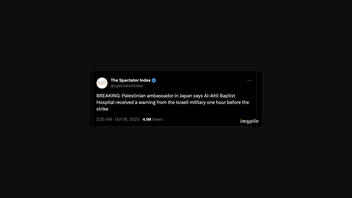 Did the "Palestinian ambassador in Japan" say that the Al Ahli Baptist Hospital in Gaza had received a warning from Israel before an explosion on October 17, 2023? Yes, that is true. However, the representative, Waleed Siam, later corrected himself, clarifying that his words about the warning were related to previous airstrikes, not this particular one.
The story appeared in a post (archived here) published on X, formerly known as Twitter, on October 18, 2023. It said:
BREAKING: Palestinian ambassador in Japan says Al-Ahli Baptist Hospital received a warning from the Israeli military one hour before the strike.
This is what the post looked like on X at the time of writing:

(Source: X screenshot taken on Wed Oct 18 15:44:52 2023 UTC)
The account on X that published this entry appeared to have been posting live updates during a press conference held by Palestine's mission to Japan at approximately the same time.
A recording of the event on Facebook revealed that Siam did say what was attributed to him on social media (at the 19:49 mark:)
Israel -- from the start of its bombardment of Gaza -- has always ... called and issued evacuations of hospitals in (inaudible). So they called this hospital one hour before the bombing. There was a statement from the head of the hospital, Dr. Maher. Dr. Maher that he said he received the call and (inaudible), that the Israelis said evacuate the hospital immediately. ...
But at the 52:25 mark, the representative retracted his words:
I just got a telegram from overseas that, yes, the doctor has received an early warning but it wasn't for last night -- it was for earlier nights. But for last night, he did not receive any calls.
Afterwards, Siam's account on X reposted an entry citing him, saying that there was no warning: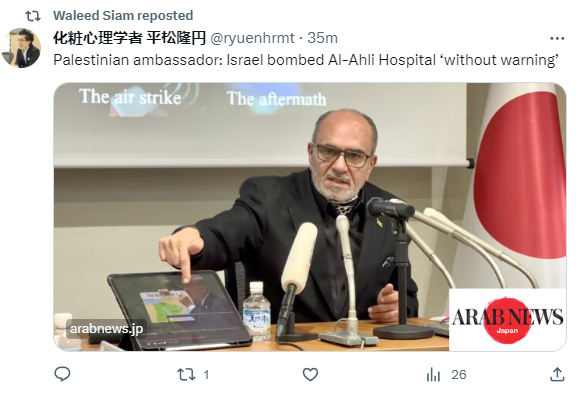 (Source: X screenshot taken on Wed Oct 11:08 2023 UTC)
The post on X that is the focus of this fact check did not reflect the update and was shared by social media users as if Siam had not retracted his earlier statement.
As of this writing, Israel and Palestinians blamed each other for the hospital explosion in Gaza.
During the October 18, 2023, visit to Israel, President Joe Biden said that, based on the data presented to him by the U.S. Department of Defense, Israel was not the party responsible for the attack.
Lead Stories reached out to Palestine's mission to Japan for comments. When we receive a response, this article will be updated as appropriate.
Other Lead Stories fact checks related to the Hamas-Israel conflict are here.