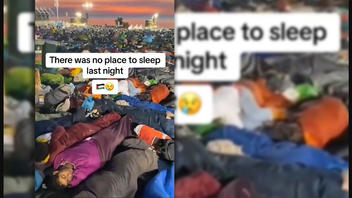 Does a video show displaced Palestinian people who had no place to go sleeping outdoors on the ground? No, that's not true: The video was filmed in early August 2023 in Lisbon, Portugal, during World Youth Day, an international Catholic pilgrimage and gathering with the pope. The video is unrelated to the Hamas-Israel conflict and Israel's October 13, 2023, evacuation order for civilians in the northern part of Gaza to relocate to the southern part.
The miscaptioned video was posted on TikTok (archived here) by @usakhan92 on October 16, 2023. It was captioned:
last night free free Palestine

#freepalestine

#today

#Hamas

#gaza

#fypシ゚

#fyp

#palestine

#makkahmadinah🕋

#news

#viral

#foryou

#fypシ゚viral

#uae🇦🇪

#🇲🇾🇹🇷🇵🇰🇵🇸🇬🇩🇯🇴🇸🇩🇰🇼🇧🇭🇺🇸🇬🇶🇪🇪🇩🇯🇩🇲🇨🇺🇨🇴🇨🇼🇪🇨🇪🇬🇨🇿🇨🇮🇩🇯🇲🇨🇳🇵🇸🇬🇶🇦🇾🇪🇿🇼🇧🇩🇦🇿🇰🇭
This is how the post appeared on TikTok at the time of writing:
(Source: TikTok screenshot taken on Wed Oct 18 14:15:55 2023 UTC)
A text caption on the video includes a Palestinian flag and crying face emoji. It reads:
There was no place to sleep last night
There is also an audio track added to the video, marked "original sound - USA 🇺🇸 khan." This is not the original soundtrack of the original video. This track originated in another video (archived here) showing a rubble-filled street and damaged buildings. The audio begins with a droning sound like that of an airplane flying overhead, two men greet each other and finally a track of guitar music with a female singer is added.
The original 16-second video of World Youth Day attendees sleeping was posted on YouTube (archived here) and TikTok (archived here) on August 6, 2023, by Solo Catecumenos. The title and caption, translated from Spanish by Google, reads:
This is how the million and a half young people spent the night in #Lisbon #Lisbon2023 #WYD2023

This is how the million and a half young people spent the night in #Lisbon #Lisbon2023 #JMJ2023 #JMJ2023Lisbon
#lisboaportugal #youth #day #pilgrims #worldyouthday2023 #popefrancis #popefrancisco #youngchristians #jmj2023 #seoul2027 #seoul
World Youth Day has taken place in different locations every several years since 1986. The website for WYD Lisbon 2023 describes the event this way:
World Youth Day (WYD) is the gathering of young people from all over the world with the Pope. It is also a pilgrimage, a celebration of youth, an expression of the universal Church and an intense moment of evangelization for the youth world. Although its Catholic identity is clearly evident, WYD opens its doors to everyone, no matter how close to or distant from the Church they are.

It is celebrated at the diocesan level on Palm Sunday, and every two, three or four years as an international gathering in a city chosen by the Pope, with the presence of the Holy Father. It brings together millions of young people to celebrate their faith and sense of belonging to the Church.
Other Lead Stories fact checks pertaining to the Hamas-Israel conflict are here.