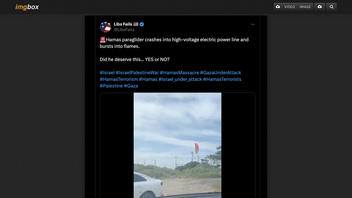 Did a viral video capture a "Hamas paraglider" falling on electric transmission lines during the Hamas attack on Israel that started on October 7, 2023? No, that's not true: The footage began circulating on social media months before that in a different country. It showed a deadly incident in South Korea in June 2023.
The claim appeared in a post (archived here) on X, formerly known as Twitter, on October 11, 2023. It opened:
🚨

Hamas paraglider crashes into high-voltage electric power line and bursts into flames. Did he deserve this... YES or NO?
The caption ended with a series of hashtags implying that the shared video was related to the October 7, 2023, Hamas attack on Israel or its aftermath:
#Israel #IsraelPalestineWar #HamasMassacre #GazaUnderAttack #HamasTerrorism #Hamas #Israel_under_attack #HamasTerrorists #Palestine #Gaza
This is what the post looked like on X at the time of writing: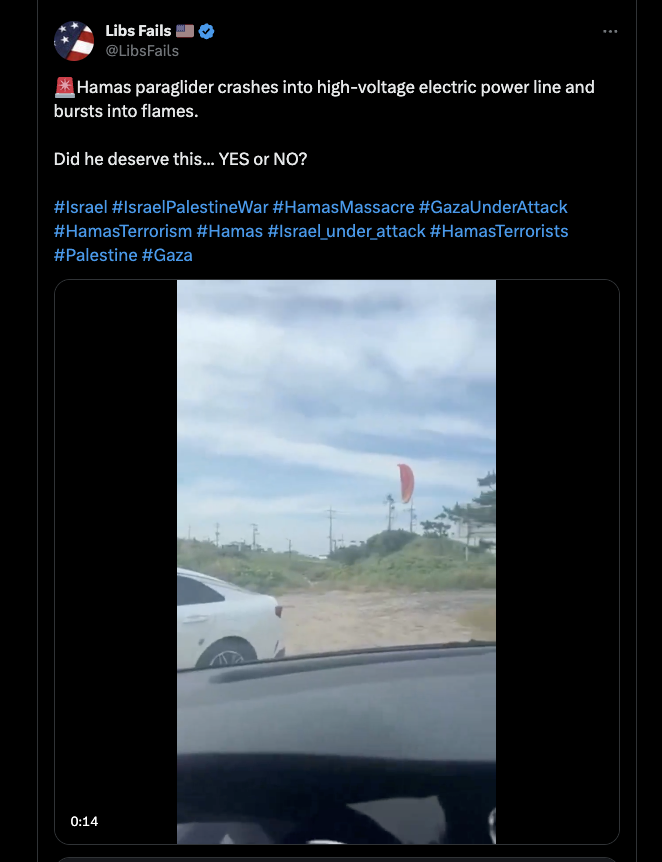 (Source: X screenshot taken on Thu Oct 12 15:23:47 2023 UTC)
The 15-second video apparently shot from a parked vehicle showed a paraglider crashing into a power line, which resulted in an immediate blaze.
The footage did not contain the natural sound of the scene -- only a short music fragment that seemed to have been added later.
Credible media outlets covering the situation in Israel (for example, here, here, here and here) reported that Hamas indeed used paragliding equipment as one of the means to carry out the attack on October 7, 2023.
However, the footage shared on X did not show a paragliding incident related to the most recent escalation in the region: It started to circulate (archived here) on the Chinese platform Weibo more than three months before the Hamas-Israel conflict began.
One of the earliest such posts discovered by Lead Stories was published on June 17, 2023 (archived here.) The region of the uploader was publicly displayed as Hebei, China, but the caption, as automatically translated by Chrome, did not tie the incident to any particular location in China or elsewhere: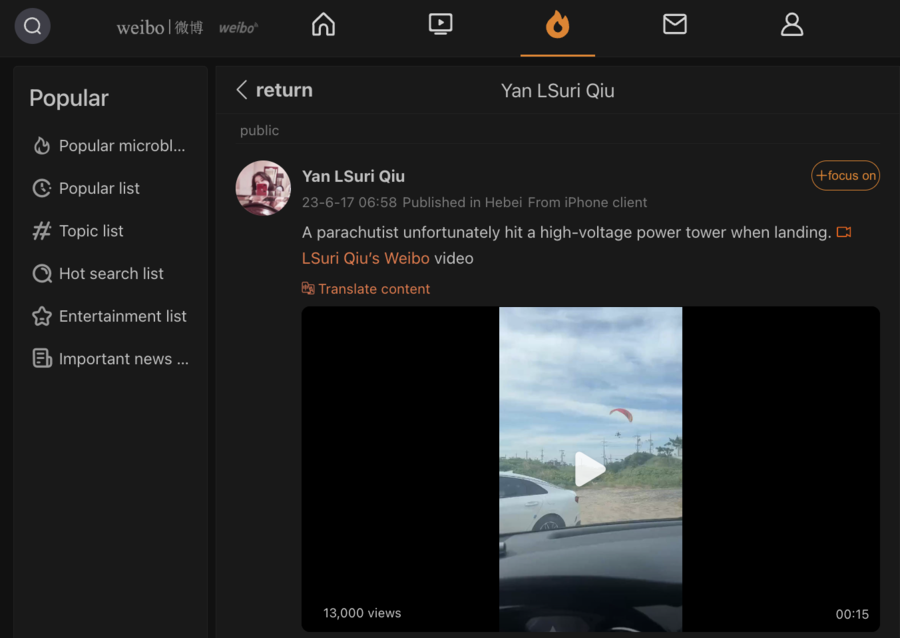 (Source: Weibo screenshot taken on Thu Oct 12 15:53:42 2023 UTC)
This version of the video contained behind-the-camera comments in Mandarin. As translated by Lead Stories Mandarin-speaking staff, the exchange did not contain any specific references and was simply a string of exclamations between two people witnessing a tragic incident.
One of Sina's news websites (Sina owns Weibo, too) published a story (archived here) with a comment from Chinese authorities from a particular region who denied the incident took place in their locality. As translated by Chrome, it reads:
On June 17, many media released a video of a paraglider falling onto a high-voltage wire and catching fire, and pointed out that the location was in Laibin, Guangxi. On June 18, the Cyberspace Administration of Laibin Municipal Committee announced on its official Weibo that after verification, no relevant accidents occurred within the city's jurisdiction.
A search for the key terms in Korean limited to June 2023 results revealed that the incident was covered by multiple South Korean outlets (for example, here and here.) An article (archived here) published by The JoongAng, a major Seoul-based newspaper, described the event in detail, citing official sources. As translated by Chrome, it reads:
According to the Jeju Eastern Fire Department on the 16th, at around 4:35 p.m. on this day, a report was received that Mr. A, who was riding a powered paraglider near Seopjikoji Beach, Seongsan-eup, Seogwipo-si, Jeju-do, got caught in a high-voltage wire and suffered an electric shock.

It was found that a high-voltage current of 22,900V was flowing through the utility pole in question.

The rescue team dispatched after receiving the report began cutting off power through Korea Electric Power Corporation and mobilized an elevated vehicle to rescue Mr. A.

Mr. A hung on the wire for nearly two hours and fell while KEPCO was checking the status of electricity at around 6:24 p.m.

Person A was pronounced dead at the scene at approximately 6:29 p.m.
Most of those stories contained a photo shared by the local fire department that depicted surroundings that matched the footage in the video.
Other Lead Stories articles on claims pertaining to the 2023 Hamas-Israel conflict are here.