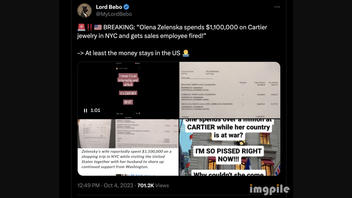 Did Ukrainian first lady Olena Zelenska, the wife of Ukrainian President Volodymyr Zelenskyy, spend over a million dollars on Cartier jewelry in New York City while accompanying her husband on his recent official trip to the United States? No, that's not true: Zelenska was in Canada on the day of the purported shopping spree. Media provided extensive coverage of the Ukrainian presidential couple's busy schedule in Ottawa and Toronto.
The claim appeared in a post (archived here) on X, formerly known as Twitter, on October 4, 2023. It stated:
🚨‼️🇺🇸 BREAKING: 'Olena Zelenska spends $1,100,000 on Cartier jewelry in NYC and gets sales employee fired!'

-> At least the money stays in the US 🤷‍♂️
This is what the post looked like on X at the time of writing: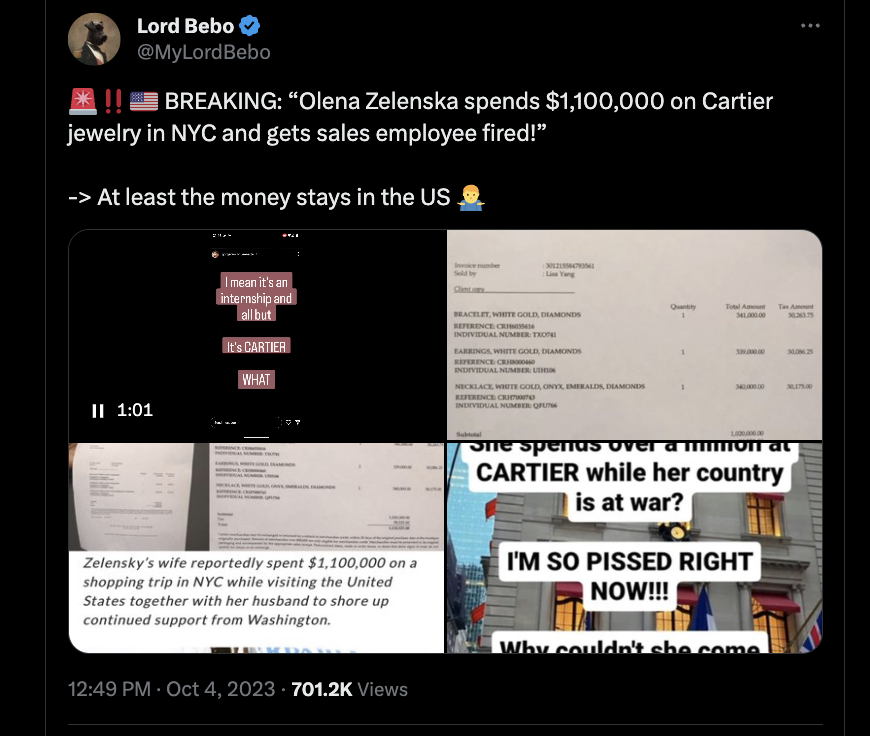 (Source: X screenshot taken on Fri Oct 6 15:03:41 2023 UTC)
The entry contained an image of what looked like a receipt from a Cartier store on Fifth Avenue in Manhattan, dated September 22, 2023. The supposed receipt showed that a Visa card was used offline to pay for the purchase: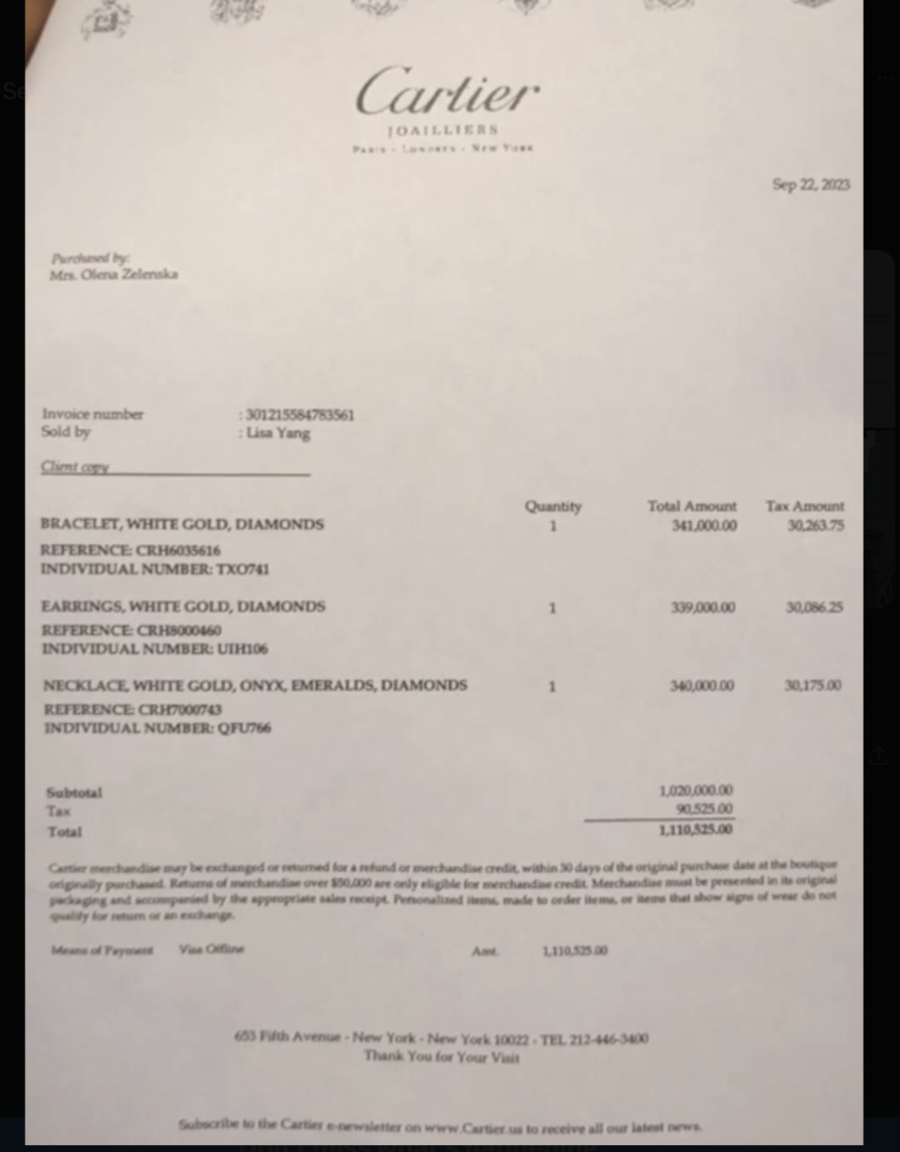 (Source: X screenshot taken on Fri Oct 6 14:20:02 2023 UTC)
However, on September 22, 2023, Zelenska was in a different country: Canada, where her husband addressed the parliament in Ottawa that afternoon (archived here.) Saved recordings of the event show that Zelenska was in the chamber for the entire event. For example, here she is seen in a black suit, sitting to the right of Canadian Prime Minister Justin Trudeau while her husband delivers his speech: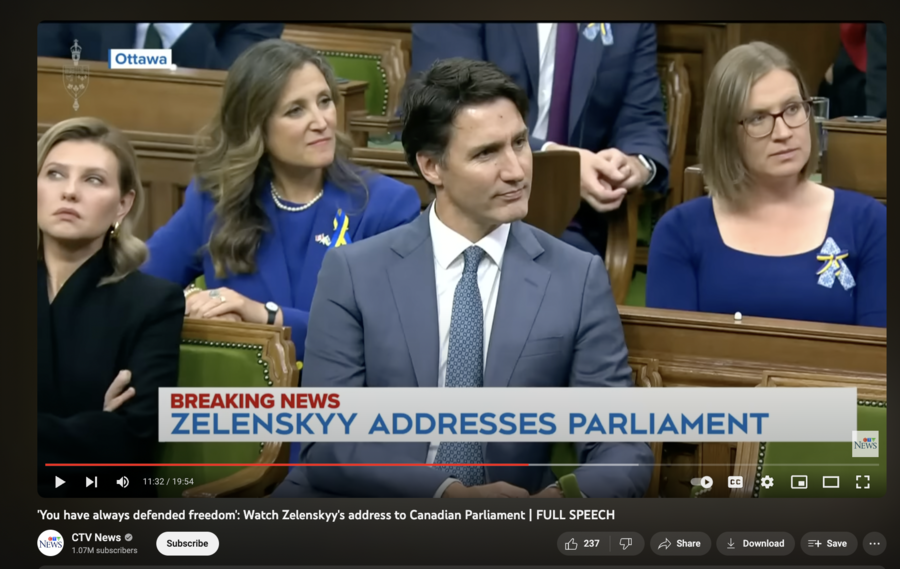 (Source: YouTube screenshot taken on Fri Oct 6 17:57:16 2023 UTC)
September 22, 2023, was a Friday, and the caption of the Associated Press video uploaded to the news agency's website shortly after midnight on that day clearly says that Zelenskyy and his wife had arrived in Ottawa hours before, on late Thursday, which was September 21, 2023: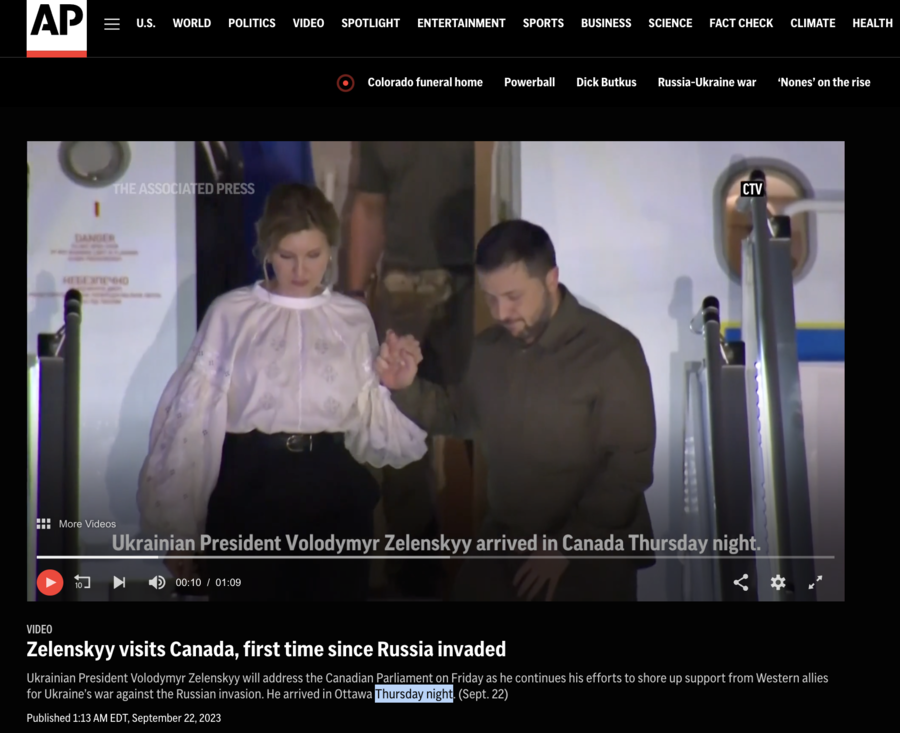 (Source: AP News screenshot taken on Fri Oct 6 18:12:23 2023 UTC)
In addition to attending the Canadian parliament, Zelenska participated in multiple, well-documented meetings.
Around 4:40 p.m. (archived here) on September 22, 2023, Zelenskyy and his wife concluded their time in Ottawa and traveled to Toronto, Canada's business hub, where, as reported by the local press (archived here), his wife was seen with him.
Having been in the public eye for the entire day in Canada, Zelenska had no opportunity to go on a shopping spree in New York City in person on September 22, 2023.
Had the claim about a quick stop at the Cartier store on Fifth Avenue been true, it would be unlikely to go unnoticed, given the security measures implemented anywhere first couples go, especially during their trips abroad.
The three particular jewelry models shown on the "receipt" appeared on the Cartier website, though their reference numbers lacked the "CR" seen in the reference numbers on the supposed sale documentation.

Prior to traveling to Canada, Zelenskyy and his wife visited New York City and Washington, D.C., where they were in the spotlight for the entire time. No credible report surfaced about a trip to Cartier's.
The story about the purported stop at the Cartier store originated from a now-private Instagram account where a user with the handle "gorgeous.bb.jeanette" stated that Zelenska had "snapped" at her, when she, supposedly an intern at Cartier, made a suggestion during the first lady's alleged visit to the store. "gorgeous.bb.jeanette" claimed that the Cartier store dismissed her the next day. (The same video was still available on YouTube, as of this writing.)
The woman did not explain how she subsequently had obtained a copy of the receipt of Zelenska's supposed purchases to post with her complaint online.
She never revealed her full name or spoke to credible media organizations.
The story started to receive traction online only when the Nigerian news site The Nation (archived here) retold the content of the video on Instagram without making an attempt to verify its content independently. The very last line in that story said: "Advertisement."
Many Russian-language media websites that generally promote the Kremlin's line on Ukraine and other topics (for example, here) repeated the claim, too.
Previously, Lead Stories debunked a similar rumor about a supposed Zelenska shopping spree in Paris.
Claims of Zelenskyy, his wife or Ukrainian government officials buying luxury items or properties are one example of the narratives disseminated by Russia to cast doubts on how Ukraine spends Western aid.
Lead Stories contacted Cartier for additional comments. The company acknowledged the request in writing but did not respond further. If we receive a response, this fact check will be updated as appropriate.
Other Lead Stories fact checks of claims related to the war in Ukraine can be found here.