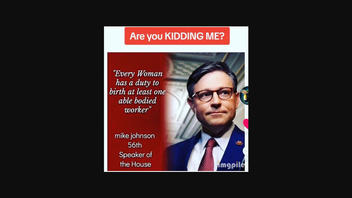 Did House of Representatives Speaker Mike Johnson say that "Every woman has a duty to birth at least one able-bodied worker"? No, that's not true: Johnson's director of media affairs told Lead Stories that he "never said anything of the kind." Johnson made reference to "able-bodied workers" during a congressional hearing in 2022, but did not say the words attributed to him in a social media post. His words were taken out of context and embellished.
The claim appeared on Instagram (archived here) on November 13, 2023, with the caption: "Yep he really said it! And he's the new speaker of the house! #TeamDl." The on-screen text read:
Are you KIDDING ME?

'Every Woman has a duty to birth at least one able bodied worker'

mike johnson 56th Speaker of the House
This is what the Instagram post looked like at the time of writing: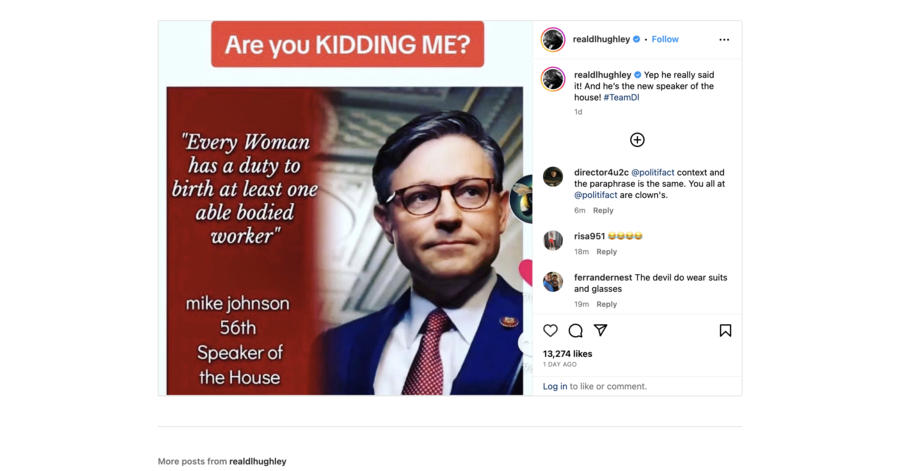 (Source: Instagram screenshot taken on Tue Nov 14 17:41:43 2023 UTC)
Other than implications by placings the words adjacent to a photo of Johnston, the Instagram post does not provide any evidence of this quote coming from him nor does it state when he supposedly said this.
This quote as presented in the Instagram post distorts anti-abortion comments Johnson made during a House Judiciary Committee hearing in May 2022, and includes words he did not say during the hearing. Here is the YouTube video of the hearing (archived here). At 2:40:15 (archived here), he speaks about the effects of Roe v. Wade being passed, saying "... if you're under the age of 50, your [high school] class should've been twice as large, or maybe a third larger than it was. Your classmates were not allowed to be born." He continued, "You think about the implications of that. ... We're all struggling here to cover the bases of Social Security and Medicare and Medicaid and all the rest. If we had all those able-bodied workers in the economy, we wouldn't be going upside down and toppling over like this."
When Johnson talked about able-bodied workers during this hearing, he did not say anything about women having the duty to birth at least one.
Lead Stories reached out to Johnson's office. In a November 14, 2023, email, Corinne Day, the director of media affairs for Johnson wrote to Lead Stories:
He never said anything of the kind. This has been proven false a few times over now.
A Google News search of keywords, "Speaker Mike Johnson AND 'Every woman has a duty to birth at least one able-bodied worker'" (archived here) did not yield results that would back up this claim.