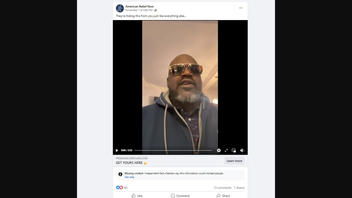 Did former basketball star and current media personality Shaquille O'Neal promote a stimulus check card? No, that's not true: The video making this claim uses a fake voice. O'Neal did not actually contribute his likeness or his voice to an advertisement for the so-called stimulus check card. The claim is the latest effort in a continuing scam to deceive online users into thinking that celebrities have promoted made-up federal benefits.
The claim appeared in a post (archived here) on Facebook on November 7, 2023. The post featured a video that started with a clip of O'Neal, along with a voice that sounded similar to his dubbing the clip and other clips that followed. The narrator began:
Hey, this Shaq listen up. Now's your chance to load your account with another stimulus check until this Friday. The state is giving these $6,400 cards by the thousands.
This is how the post looked on Facebook at the time of writing: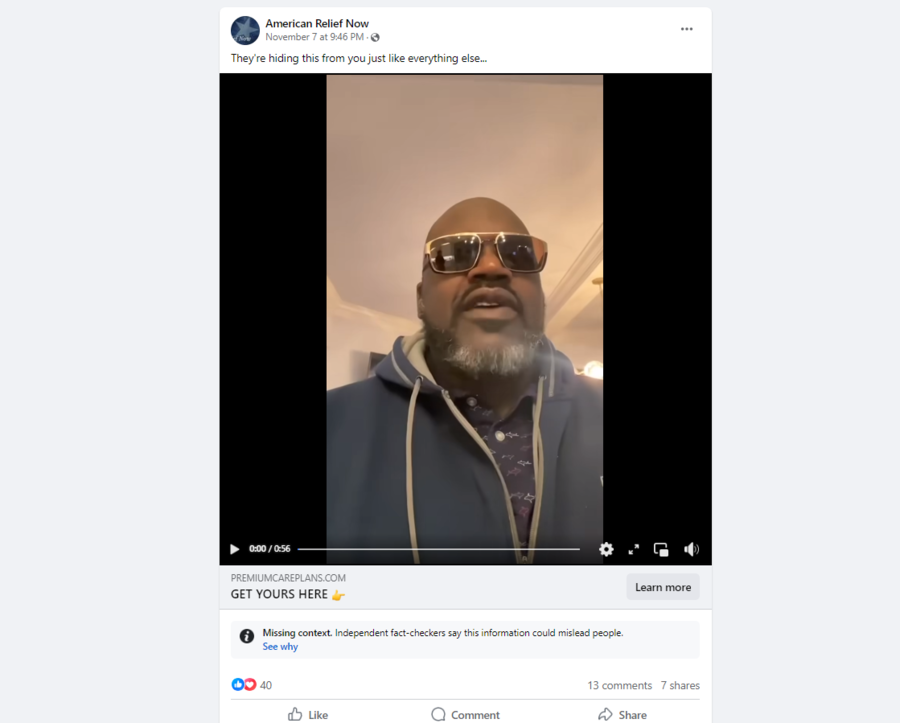 (Source: Facebook screenshot taken on Wed Nov 15 15:58:29)
However, the video does not actually show O'Neal endorsing the alleged stimulus card. Since the narrator's voice does not match O'Neal's mouth movements in the opening clip, it is clear that the voice was not originally a part of the clip.
Lead Stories used Yandex's image search (archived here) with a still from the clip, which pointed us to O'Neal's official Instagram account. After searching his Instagram posts, we found the post (archived here) that contained the original video, which was published on November 30, 2021. He was not promoting a stimulus card; rather, he was sharing information about a philanthropic partnership between his foundation and the apparel company Reebok. The caption of the post read:
Today is Giving Tuesday and to celebrate, my @Reebok family is giving $10 from every UNLOCKED member purchase on Reebok.com to Boys & Girls Club of America up to $250,000. This campaign ends December 31st and a portion of the funding will go towards bringing @bokskids to @bgca_clubs. In the spirit of the season, @shaqfoundation will match Reebok dollar-for-dollar to double down on the donation to BGCA. Let's give back to those who need it this holiday season!
Lead Stories used Google to search for the phrases "Shaquille O'Neal promotes stimulus" (archived here) and "Shaq endorses stimulus card" (archived here) and did not find any results that matched the claim.
Lead Stories also reached out to O'Neal's management team to request a comment about the claim. We will update the story with any relevant response.
There is also no evidence that the stimulus card described in the claim is real. A Google search for "$6,400 stimulus card" (archived here) returned no results that corroborated the claim. Lead Stories also searched the federal government's resources website for "$6,400 stimulus card" (archived here) and did not see any results that matched the claim.
The URL included in the post making the claim led to a website that does not contain a top-level domain for government organizations (in other words, the URL does not end in ".gov"). The website attached to the claim (archived here) provides no statement clarifying whether or not it is actually affiliated with the federal government.
Lead Stories has debunked several claims that have used a celebrity's likeness to promote federal benefits scams, including claims that actor Anthony Hopkins advertised a Medicare flex card and that rapper Lil Wayne and actor Michael B. Jordan endorsed health benefits cards.