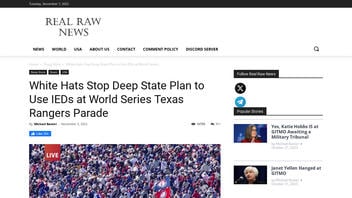 Did U.S. Army Rangers stop an improvised explosive device (IED) attack at the World Series parade for the Texas Rangers? No, that's not true: This story is from a satirical website. Google News also did not show any relevant results to this claim.
The claim appeared in an article published by Real Raw News on November 5, 2023, titled "White Hats Stop Deep State Plan to Use IEDs at World Series Texas Rangers Parade" (archived here) which opened:
White Hats this week prevented the Deep State from staging a False Flag attack that could have injured or killed thousands of spectators at the World Series champion's Texas Rangers parade in Arlington, sources in General Eric M. Smith's office told Real Raw News.
Users on social media only saw this title, description and thumbnail: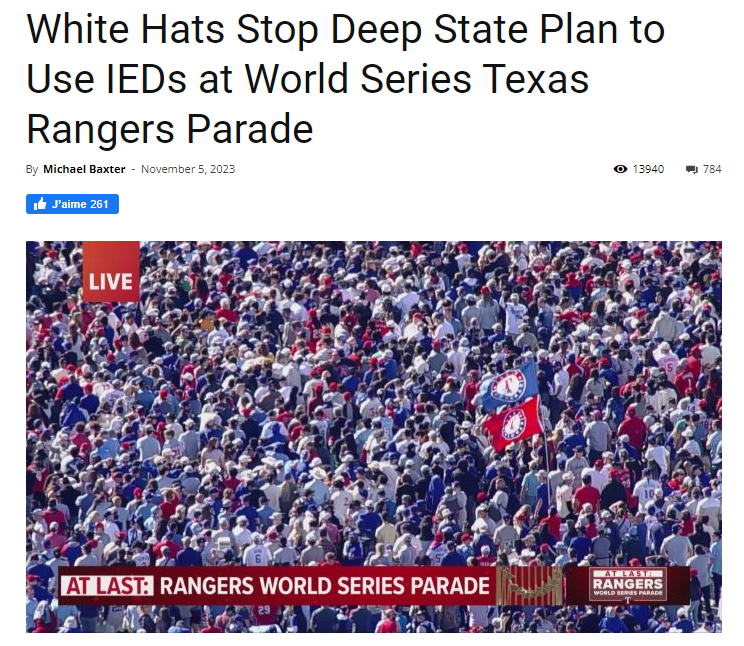 (Source: Real Raw News screenshot taken on Tue Nov 7 15:06:57 2023 UTC)
According to the article, U.S. Army Rangers allegedly busted three rogue FBI agents masquerading as Texas Rangers fans in a hotel room. The agents purportedly had assembled an unspecified number of improvised explosive devices (IEDs) to set off at the World Series parade.
The World Series parade (archived here) took place on November 3, 2023, in Arlington, Texas. Lead Stories could not find a relevant result in Google News searching the phrase, "World Series parade AND US army rangers AND attack AND explosives" (archived here).
We have contacted the U.S. Army's media team and will update this fact check when a response is received.
The city of Arlington, Texas' website has a news section. Nowhere in this section does it mention a thwarted attack at the World Series parade (archived here) honoring the Series winning Texas Rangers. We contacted the Arlington Deputy Police Chief of Staff and the city's media relations team and will update this fact check if a response is received.
Real Raw News
Real Raw News is a website that consistently publishes made-up stories about U.S. politics. The well-written English and news-style layout of the website make it look like a legitimate news source, so it often fools people into believing the stories are real. Screenshots and copies of the stories regularly turn up on other websites or on social media where they are presented as real.
It bills itself as "humor, parody and satire" on the "about" page (archived here):
Disclaimer:

Information on this website is for informational and educational and entertainment purposes. This website contains humor, parody, and satire. We have included this disclaimer for our protection, on the advice on legal counsel.
The same "about" page claims the main author is a man named Michael Baxter. In 2021 a PolitiFact article (archived here) identified the writer as a "Michael Tuffin" in Texas based on records found in a GoFundMe campaign set up to support the site.
NewsGuard, a tool that provides credibility ratings for websites, published a five-page PDF report (archived here) in 2021 describing realrawnews.com as, "An anonymously run website that has published baseless and debunked conspiracies about COVID-19 and U.S. politics." It cautioned that the website severely violates basic journalistic standards."
Lead Stories has covered claims published by Real Raw News in the past. Previous Lead Stories debunks of Real Raw News items are collected here.