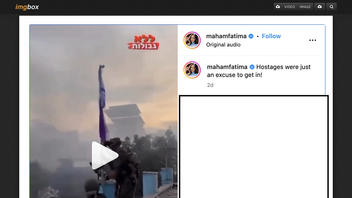 Does a video show Israeli soldiers placing their national flag atop the Al Shifa hospital in Gaza? No, that's not true: Al Shifa buildings seen in other photos didn't appear to have any UN markings on the rooftops, while the building in versions of the flag-raising scene did have clear UN markings on its roof. A representative for the United Nations Relief and Works Agency (UNRWA) would not confirm to Lead Stories whether the location in the post was,instead, a UN school.
The story appeared in a post (archived here) published on Instagram on November 18, 2023. It opened:
Hostages were just an excuse to get it!
A white banner placed over the shared video continued:
They set up their flag atop the Al Shifa hospital...
This is what it looked like at the time of writing: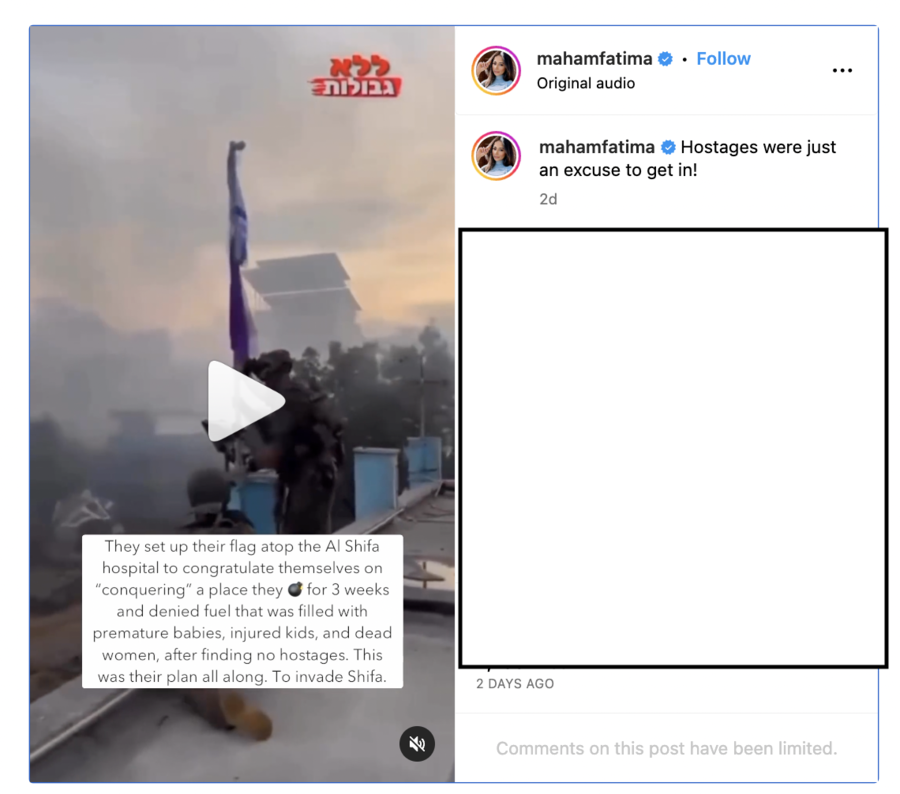 (Source: Instagram screenshot taken on Mon Nov 20 22:52:23 2023 UTC)
The footage showed two men placing an Israeli flag on top of a buiding.
Lead Stories found an earlier version of the video (archived here) posted on Telegram on November 14, 2023. Its caption placed the footage somewhere in Gaza and did not mention the hospital, as automatic translation by Chrome shows: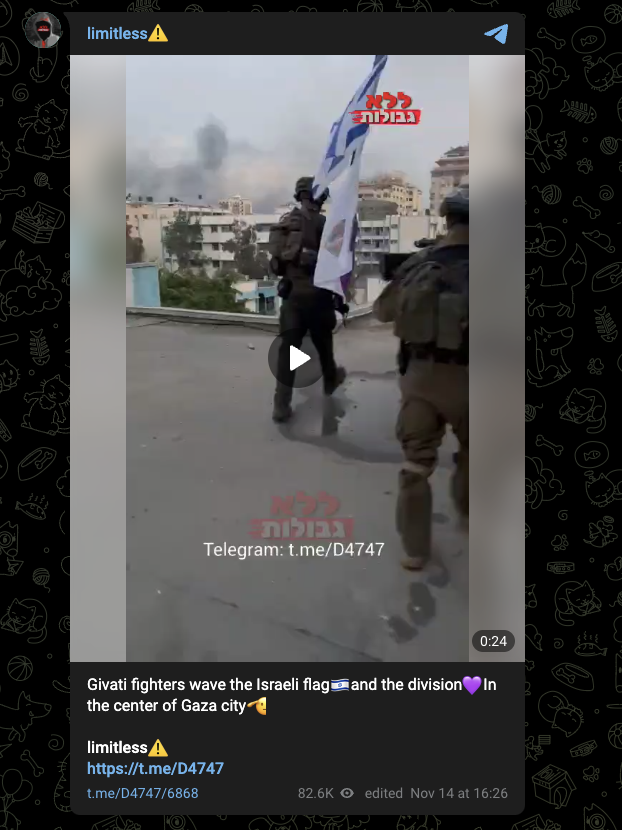 (Source: Telegram screenshot taken on Mon Nov 20 18:17:58 2023 UTC)
A November 16, 2023, post on TikTok (archived here) that mentioned the Telegram post above as the source said nothing about the hospital, either.
A textbox added to the video on Instagram (below, left) partially covered the UN markings on the rooftop of the building in question, but the U.N. mark was visible in the post (below, right) on Telegram: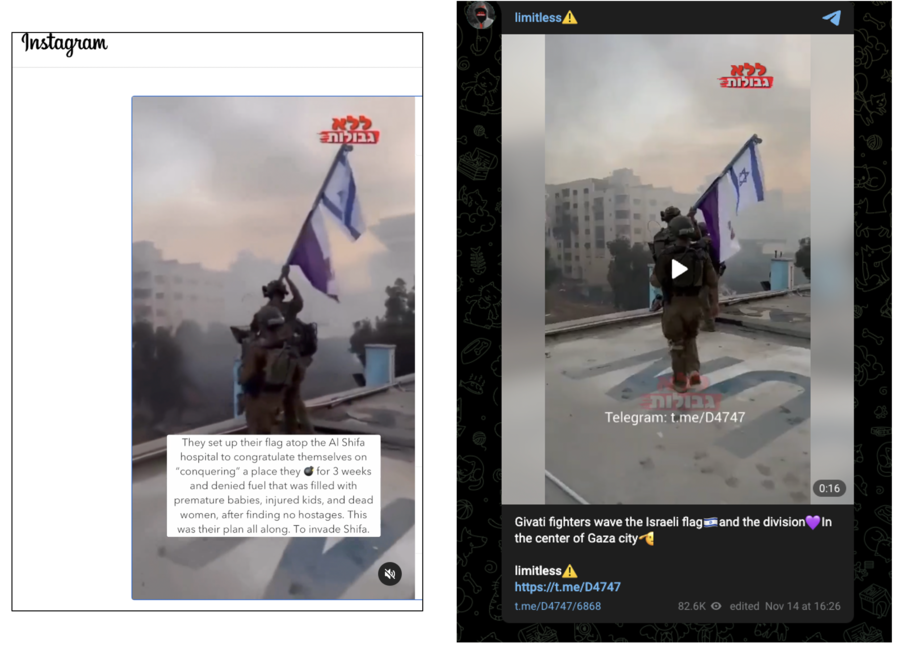 (Sources: Instagram screenshot taken on Mon Nov 20 18:42:32 2023 UTC; Telegram screenshot taken on Mon Nov 20 18:42:01 2023 UTC; composite image by Lead Stories)
Al Shifa is a major hospital in Gaza City consisting of multiple units that occupy an entire block, as seen on a screenshot of a November 11, 2023, New York Times article (archived here.) It provides one of the most recent confirmed satellite views of the location: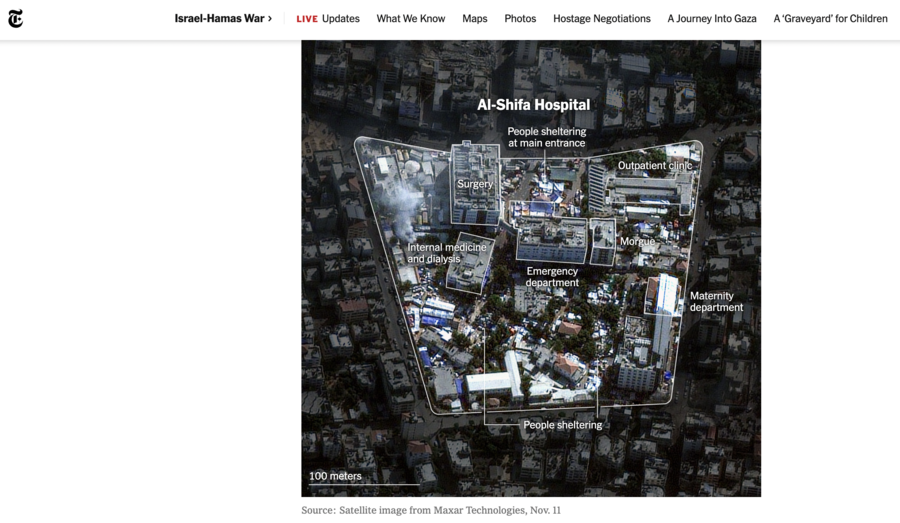 (Source: NYTimes screenshot taken on Mon Nov 20 17:00:09 2023 UTC)
While several buildings, including the Department of Internal Medicine, share some similarities with layout of the building seen in the footage claiming it's a hospital, no apparent UN markings are recognizable in fresh image in The Times.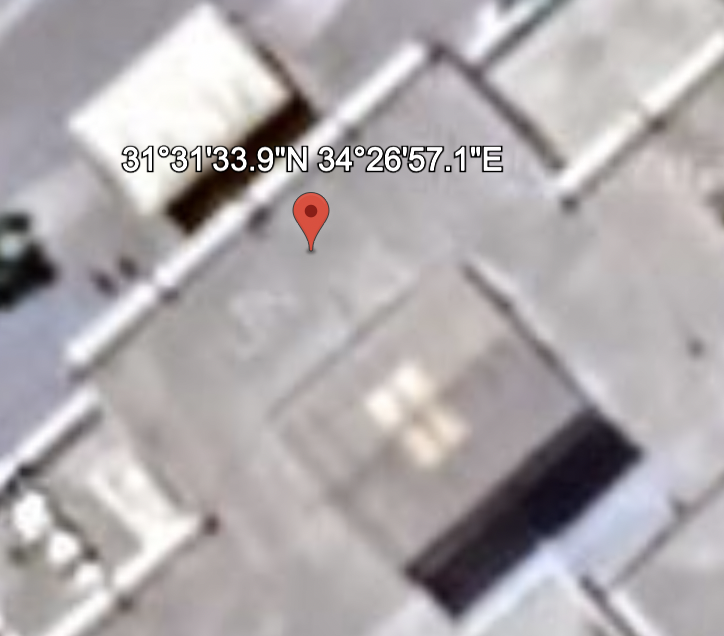 (Source: Google screenshot taken on Mon Nov 20 22:08:48 2023 UTC)
United Nations Relief and Works Agency runs
183 schools
across the Gaza Strip.
When asked whether the footage showed a UN school or Al Shifa hospital, a UNRWA representative told Lead Stories via a message on Whatsapp on November 20, 2023:
Sorry we cannot confirm any photos or videos coming from other sources than UNRWA.
When asked specifically about the UN markings in a follow-up question, a UNRWA representative said that it might look "like an UNRWA school," but repeated that the agency couldn't confirm it.
A 2021 Al Jazeera article (archived here) mentioned several other UN-affiliated organizations located near Al Shifa:
Surrounding the hospital are several UN compounds including UNRWA (The United Nations Relief and Works Agency for Palestine Refugees in the Near East), UNSCO (The office of the United Nations Special Coordinator for the Middle East Peace Process) and UNDP (UN Development Programme) compounds.
In 2023, Google Maps still showed all of them, but a lack of available recent images showing those locations from different angles did not produce conclusive results.
Other Lead Stories fact checks about the Hamas-Israel conflict can be found here.