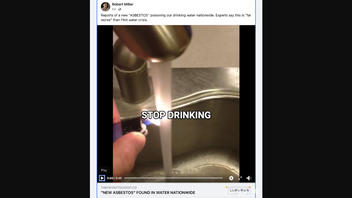 Did former President Donald Trump advertise a water filter on Facebook? No, that's not true: Outside of the post making such a claim, Lead Stories did not find any evidence confirming that. A video with a Trump-sounding narration likely utilized a so-called "cloned" version of the former president's voice generated by AI.
The claim originated from a post (archived here) on Facebook on November 15, 2023. It opened:
Reports of a new 'ASBESTOS' poisoning our drinking water nationwide. Experts say this is 'far worse' than Flint water crisis.
The video made from a generic B-roll seemingly featured Donald Trump's voice:
Stop drinking the tap water! They're poisoning you! Have your joints been aching lately? Do you feel like there's sawdust in your brain? Are you struggling to shed some pounds? Well, it's all because of the tap water. My trusted researchers have found this extremely toxic chemical in our tap water. They're calling it the next asbestos but it's actually much, much worse. It's even been found in three of the most popular bottled water brands. Thankfully, my dear friend Teddy Daniels and his wonderful team of researchers made an eye-opening documentary to inform Americans about this next asbestos and how to get this dangerous chemical out of your body. Go watch it on the next page to make sure you and your family stay safe. Your health is on the line here. So go watch it now!
This is what the post looked like on Facebook at the time of writing: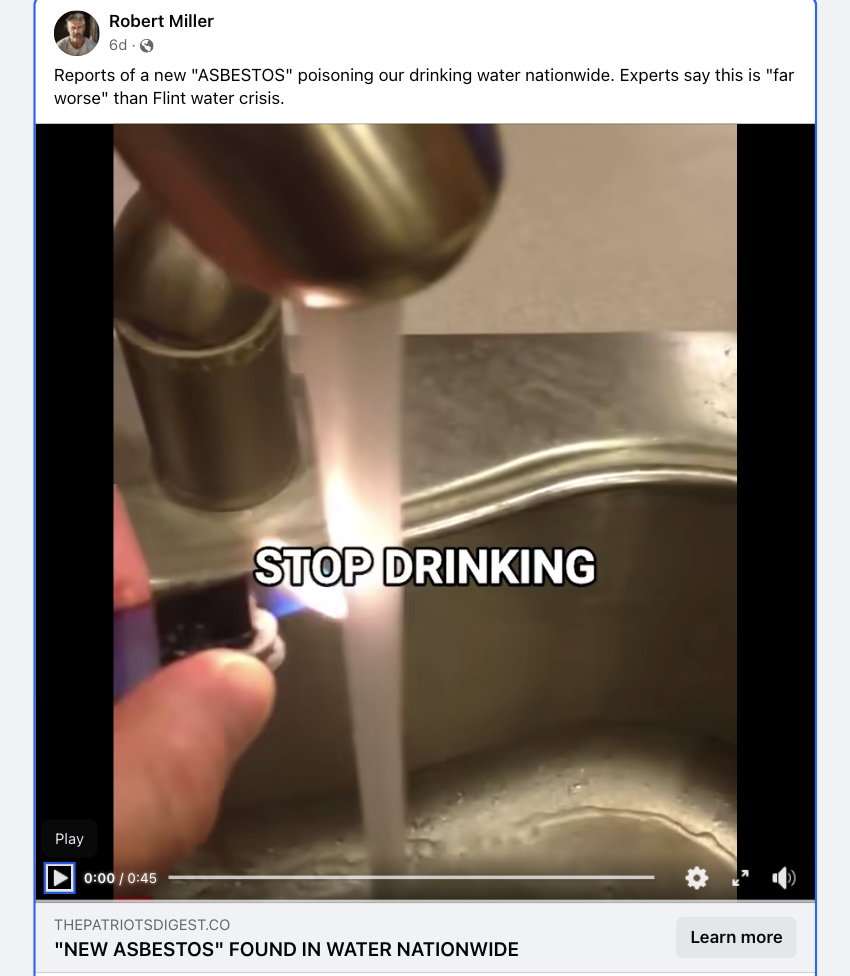 (Source: Facebook screenshot taken on Tue Nov 21 15:00:17 2023 UTC)
The link under the video led to a lengthy "documentary" in which Teddy Daniels, a 2022 candidate for Pennsylvania lieutenant governor (archived here), was claiming that no filter other than the one invented by an unnamed "Utah scientist" could protect against "compound p" -- perfluoroalkyl, a synthetic chemical mentioned in the video only once.
The filter's price was $297.
A disclaimer below the "documentary" stated:
THIS IS AN ADVERTISEMENT AND NOT AN ACTUAL NEWS ARTICLE, BLOG, OR CONSUMER PROTECTION UPDATE.
According to the National Institutes of Health website, exposure to per- and polyfluoralkyl substances (PFAS) that have been used in many consumer products since the 1950s is a known problem.
Ironically, it was the Trump administration that created a loophole that allowed companies to not report the discharge of such chemicals before its amount reached a minimum threshold, which became a reason for concern, as reported by the Guardian (archived here.)
There is no evidence that Trump ever endorsed the water filter advertised in the post on Facebook.
A search across Factba.se, a resource that tracks all words ever said by recent U.S. presidents, shows that Trump did not urge the public to "stop drinking tap water" (archived here) and never publicly mentioned Teddy Daniels (archived here).
A search across Google (archived here) for the key terms used in the voiceover on Facebook did not produce any matches, either.
The post on Facebook was an ad. In fact, as of this writing, the same page ran two ads using the exact same generic B-roll and the voiceover that sounds like Trump: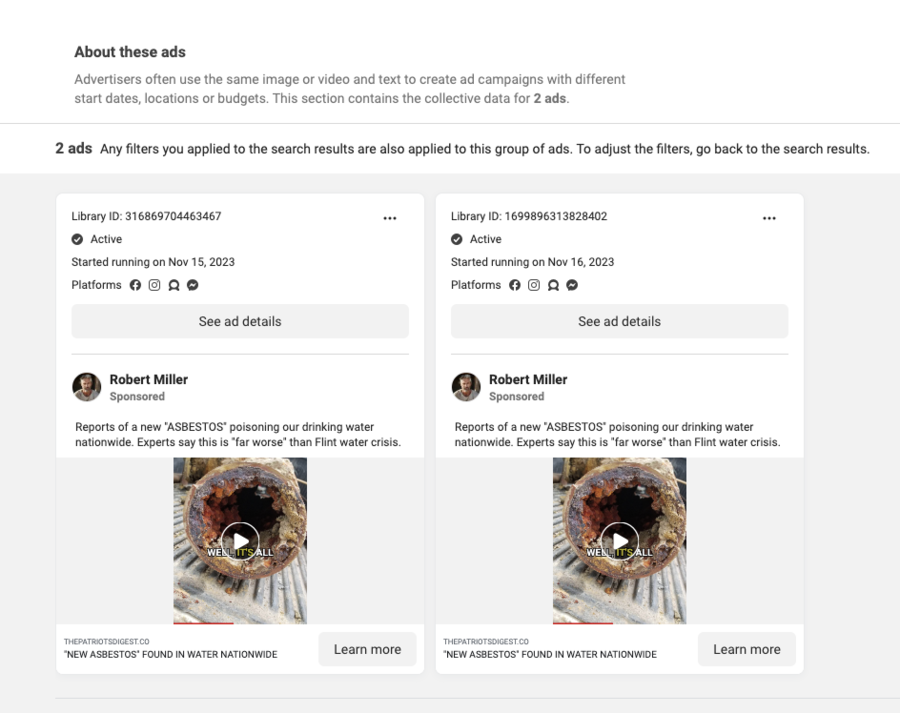 (Source: Facebook screenshot taken on Tue Nov 21 18:00:23 2023 UTC)
Numerous recordings of Trump available on C-SPAN indicate that his authentic voice tends to slightly fluctuate between registers, frequently demonstrating hoarseness.
But in the post on Facebook, the voiceover sounds more flat, which can be another sign of a deep audio fake.
In 2023, the internet offers multiple types of AI-generated software mimicking the voices of celebrities, including Trump. It's called voice cloning. Surprisingly, however, there are not many tools to help detect synthetic audio.
Cloned voices have become so hard to distinguish from real humans that they managed to fool the speech recognition system (archived here) used in early 2023 by the Australian Taxation Office to verify people's identities.
Other Lead Stories fact checks about Donald Trump can be found here.