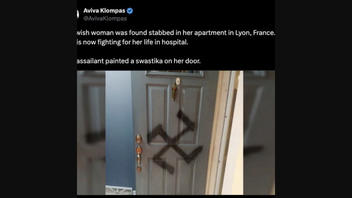 Does an image shared on social media document a 2023 attack on a French Jewish woman in her home during this year's escalation of Israeli-Palestinian tensions in the Middle East? No, that's not true: The photo predates the 2023 Hamas-Israel war. It was taken in 2017 in Michigan.
The claim appeared in a post (archived here) on X, formerly known as Twitter, on November 4, 2023. It stated:
A Jewish woman was found stabbed in her apartment in Lyon, France. She is now fighting for her life in hospital. The assailant painted a swastika on her door.
This is what the post looked like on X at the time of writing: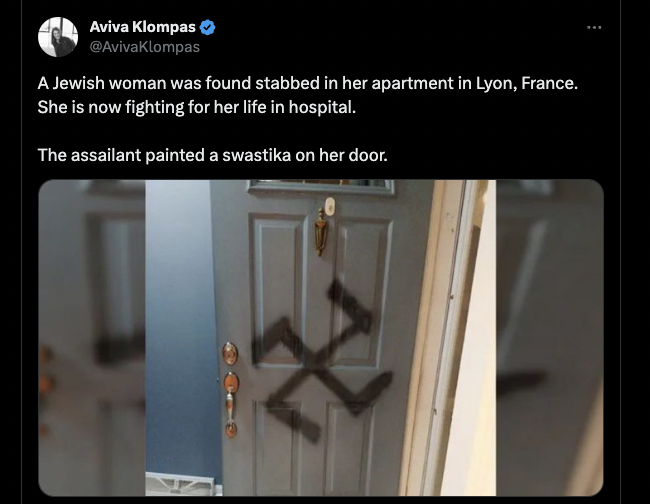 (Source: X screenshot taken on Fri Nov 10 18:53:57 2023 UTC)
While this crime did take place in France in November 2023, as reported by Reuters (archived here), the image posted on social media was unrelated to it.
The photo, published by The Telegraph in February 2017, captures a swastika drawn on a Michigan resident's door. She wrote on her Facebook account that she decided to respond by covering it with a piece of cardboard that featured a quote from Dumbledore, a character from the Harry Potter saga:
(Source: Archive.Today screenshot taken on Fri Nov 10 18:31:19 2023 UTC)
The article said the photo came from the Michigan woman's Facebook account.
As of this writing, that image was not available with unrestricted public access on her account. But TinEye, a reverse-image-search tool, does not show this picture used before 2017: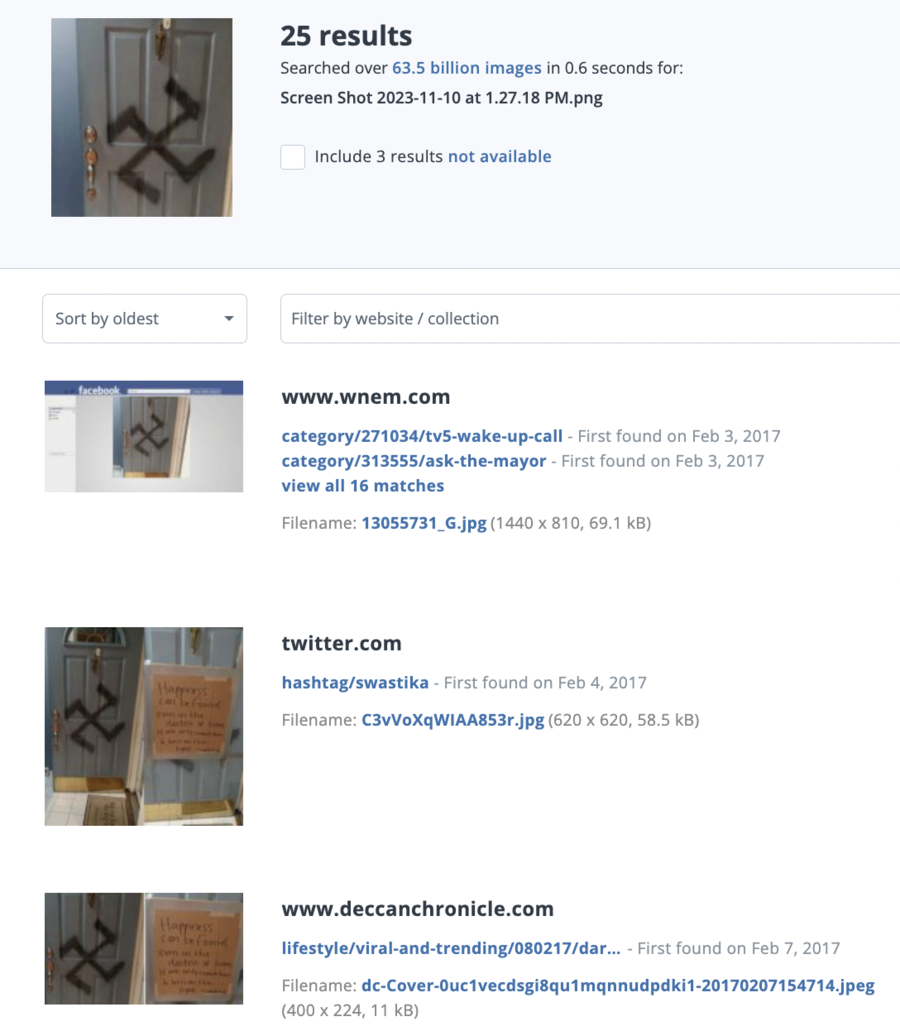 (Source: TinEye screenshot taken on Fri Nov 10 19:54:54 2023 UTC)
In 2017, the same story was reported by Metro UK and the Jewish news website Forward.com.
In 2023, however, The Telegraph reused the image to illustrate a different article about the attack in France: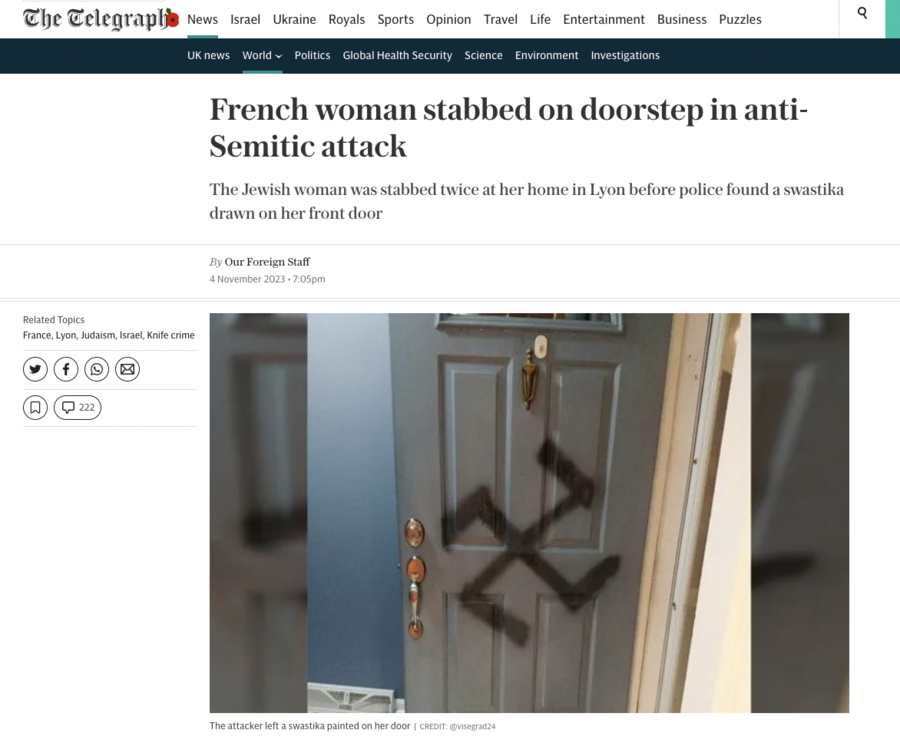 (Source: Archive.Today screenshot taken on Fri Nov 10 20:03:16 2023 UTC)
The newspaper's caption stated that the photo came from a social media account named @visegrad24. It describes itself on X as a "media company" but the link in the bio asks readers to fund it by buying virtual coffee. That is not a typical practice of credible newsrooms, which operate with a predetermined budget.
As of this writing, visegrad24's website could not be reached, but a saved copy of its home page showed that it mostly published stories from Eastern Europe and Ukraine, not from France. A November 2, 2023, archived copy showed that the website was not functioning two days before the attack in Lyon.
The 2023 Hamas-Israel war has led to major concerns about the rise of antisemitism and islamophobia around the globe. But in the case of the Lyon attack, police did not confirm whether they investigated it as a hate crime.
Other Lead Stories fact checks mentioning the Hamas-Israel conflict can be found here.