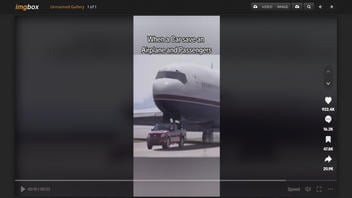 Does a video on social media show a truck saving an airplane and passengers by catching the aircraft's crippled landing gear in its bed? No, that's not true: The clip is from a 2011 Nissan commercial for its Frontier pickup. The dramatic but fictitious events in the advertisement were created using a combination of live-action and special effects.
The claim appeared in a post and video (archived here) published by greenlandhome on September 13, 2023, under the title "When a Car save an Airplane and Passengers." The post's caption said:
When a Car save an Airplane and Passengers.

#airplane

#pickup

#truck

#passengers

#greenlandhome

#catastrophe
This is what the post looked like on TikTok at the time of writing: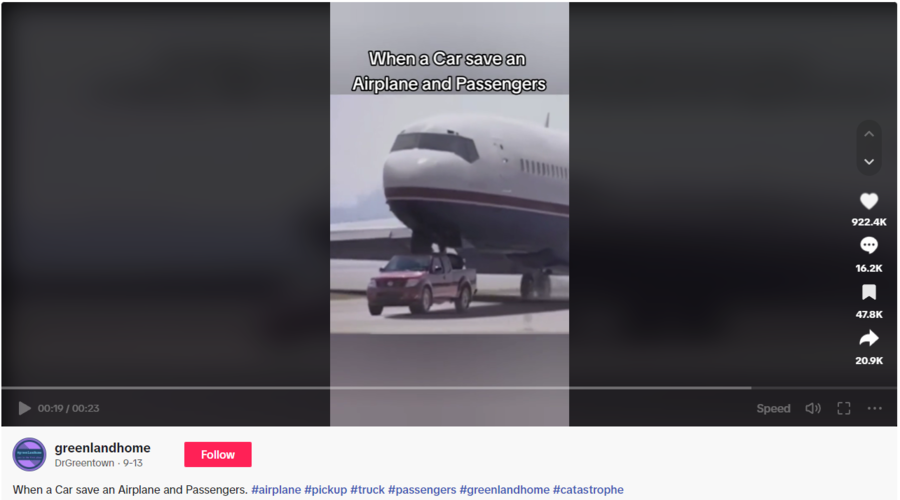 (Source: TikTok screenshot taken on Fri Nov 10 15:54:31 2023 UTC)
Old commercial
Taking a still image from the TikTok video and using a Google Lens search (archived here), Lead Stories found clues to the origins of the video. One of the links pointed us to a September 27, 2011, image gallery, called "Video Find: Nissan Frontier Saves the Day," on the Motor Trend website. The gallery shows screenshots from a Nissan TV ad. The gallery's description said:
A new commercial shows a Nissan Frontier pickup saving the day when the front landing gear of a passenger jet fails. Nissan is using the commercial, shot like a home video, to promote the payload of its midsize pickup.
Using that information, Lead Stories found a version of the TV ad (archived here) on YouTube published by PeopleLoveRandom on January 3, 2012, under the title "The Nissan Frontier Airplane Commercial." The video is embedded below:
Zoic Studios
Also through the Google Lens search, Lead Stories was able to find the creative team behind the advertisement. The Zoic Studios website (archived here) provides production credits for the ad it calls "Nissan 'Landing Gear.'" Here's a screenshot of the page: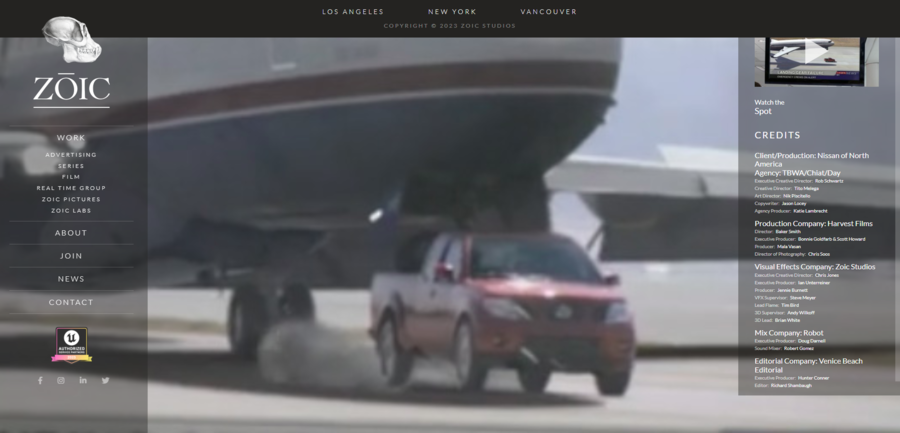 (Source: Zoic Studios screenshot taken on Fri Nov 10 18:06:36 2023 UTC)
Zoic Studios also has a channel on YouTube showing the original video (archived here) as well as a video showing the special effects (archived here) that went into creating the commercial. Both can be found embedded below:
Nissan Frontier 'Landing Gear'
(Source: Zoic Studios Channel/YouTube )


Nissan Frontier 'Landing Gear' Before and After


(Source: Zoic Studios Channel/YouTube)