STORY UPDATED: check for updates below.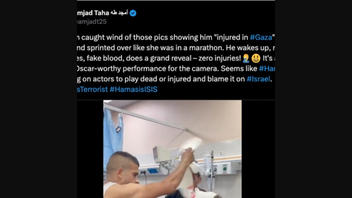 Does a video show a Gaza man giving "an Oscar-worthy performance for the camera" with fake injuries? No, that's not true: According to translated audio, the footage shows a group of people saying that the man's wounds are not as serious as they could be, in an apparent effort to reassure a relative or friend. Viral posts spreading the claim online did not provide any verifiable details proving that the scene was staged.
The story appeared in a post (archived here) published on X, formerly known as Twitter, on November 12, 2023. It opened:
His mom caught wind of those pics showing him "injured in #Gaza" online and sprinted over like she was in a marathon. He wakes up, no bandages, fake blood, does a grand reveal - zero injuries! 🤦‍♂️😃 It's all just an Oscar-worthy performance for the camera. Seems like #Hamas is splurging on actors to play dead or injured and blame it on #Israel. #HamasTerrorist #HamasisISIS
This is what the post looked like on X at the time of writing: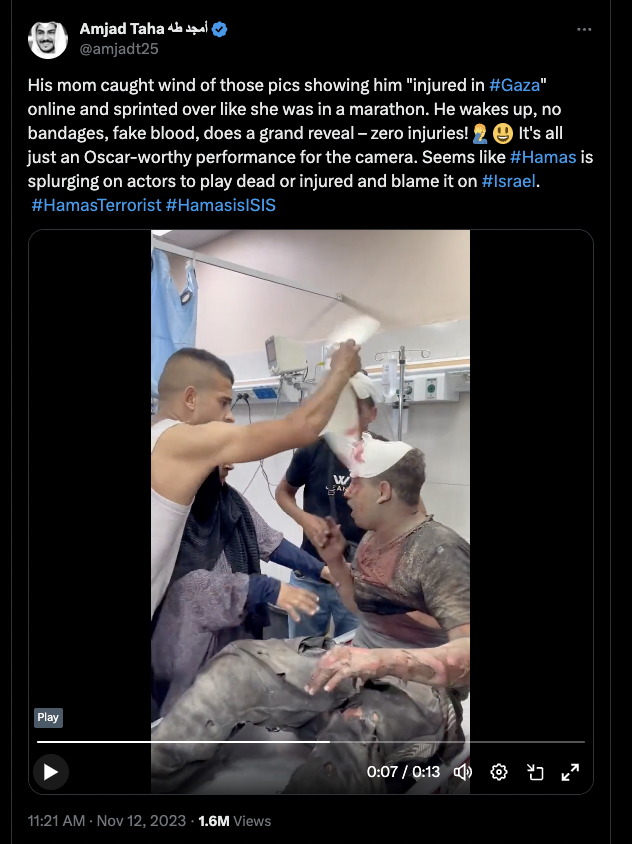 (Source: X screenshot taken on Mon Nov 13 14:07:41 2023 UTC)
The recording showed a man on a hospital bed with a woman in a dark scarf by his side. They were surrounded by a group of other men engaged in what seemed to be an emotional exchange as a result of which one of them removed a wound dressing from the patient's head.
The video was also shared on X (for example, here) with the caption describing the footage as "Pallywood."
In both cases, those were "verified" accounts with blue checkmarks next to their handles.
But those posts did not contain any evidence to support the claim that the footage was staged.
No filming equipment indicating that the scene could be a part of a movie set was present in the frame, either.
As translated from Arabic by Lead Stories staff, the dialogue and natural sound in the video reveal that its content is not what posts on social media claim.
One of the men who approached the hospital bed tells the woman in a dark scarf who appears to be a relative of the patient:
He got nothing serious, only some burns.
A different man in a black T-shirt continued:
Here he is, you see him now, nothing serious, nothing serious.
The wounded man himself tells the woman in the dark scarf:
Don't be scared; nothing serious, I got nothing serious.
He continues to repeat that as the first man in a white sleeveless undershirt unwraps the wound dressing on the patient's head.
The angle from where the video was recorded does not show that the patient has a major head injury, but the presence of what appears to be blood on the dressing indicates that there could be some cuts, even though it is not evident from the recording.
But as the screenshot of a post in question shows, apparent burns mentioned in the natural sound are visible on the man's left hand in the footage.
Furthermore, the same doctor was captured taking care of another wounded person in a photo (archived here) uploaded on the internet, as indicated by the address line, in late October 2023, more than two weeks before the claim started to circulate on social media: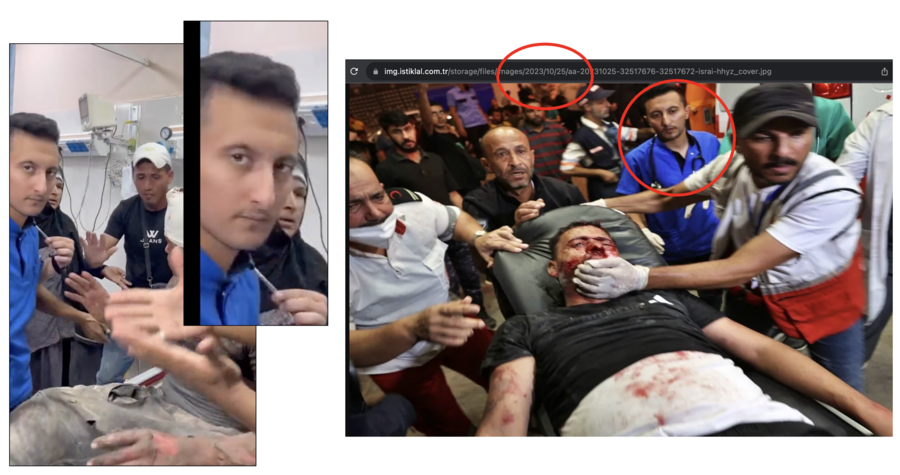 (Sources: X screenshot taken on Mon Nov 13 23:51:35 2023 UTC; Istiklal Tv screenshot taken on Mon Nov 13 00:12:51 2023 UTC; composite image by Lead Stories)
Besides X, the claim was posted on November 12, 2023, on nairaland.com. It's an English-language Nigerian forum. In 2014 and 2020, it was one of the platforms used by conspiracy theorists to promote their claims, according to articles written at the time.
The language of the post on Nairaland was remarkably similar to the examples of the claim on X, which is a sign pointing to a coordinated campaign: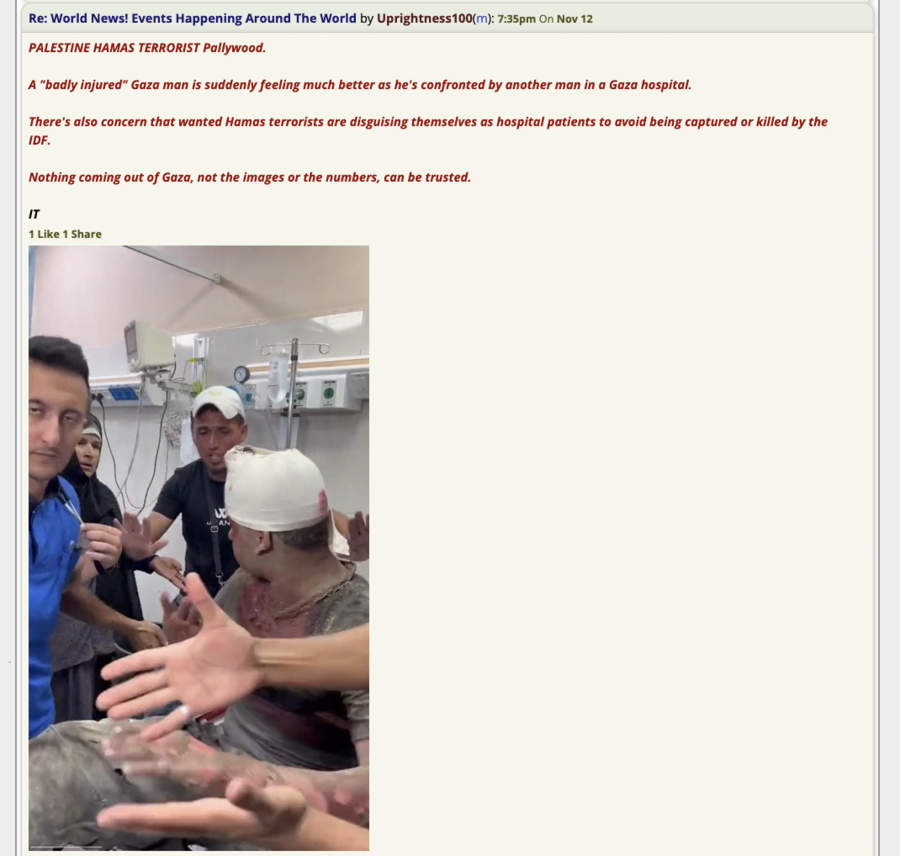 (Source: Nairaland screenshot taken on Mon Nov 13 15:02:46 2023 UTC)
"Pallywood" is a controversial term that has been in use since 2005. It implies that Palestinians stage their injuries with the help of Western camera crews and then promote those clips as news. In 2023, as reported by Rolling Stone (archived here), this oftentimes unsupported narrative returned to social media again. Several of those claims were debunked by Lead Stories here.
Other Lead Stories fact checks about the 2023 Hamas-Israel war can be found here.
2023-11-15T01:25:42Z

2023-11-15T01:25:42Z

This story has been updated with an image showing the doctor seen in the claim post treating another patient on a different day, and the headline has been revised to more closely reflect content of the story.