This is getting very meta. Automated hoax website Mediamass.net reports: '"Chris Cornell dead 2017" : Soundgarden frontman killed by internet death hoax' and claims the celebrity is not dead but just fell victim to an internet celebrity death hoax:
News of singer Chris Cornell's death spread quickly earlier this week causing concern among fans across the world. However the May 2017 report has now been confirmed as a complete hoax and just the latest in a string of fake celebrity death reports. Thankfully, Soundgarden frontman is alive and well.
They updated the story to say it is false, meaning Chris Cornell is actually dead:
UPDATE 18/05/2017 : This story seems to be false.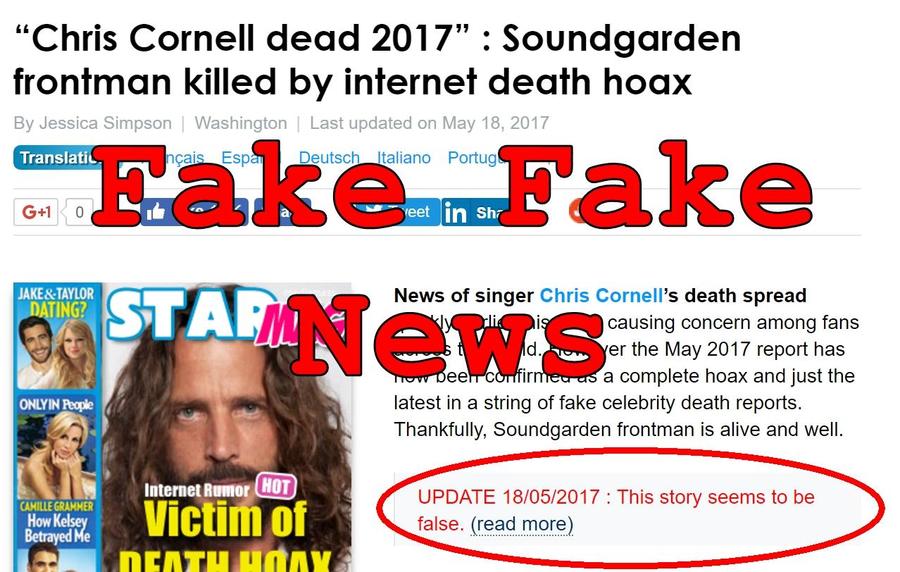 Cornell's death has indeed been confirmed by CNN: http://www.cnn.com/2017/05/18/entertainment/chris-cornell-dead/index.html
Mediamass is a satire/art project as explained on their about page:
The concept is to select the most typical, representative and recurrent articles across Gossip magazines and to make them available for all the celebrities in our database.

The 'People' section is a humorous parody of Gossip magazines, all stories are obviously not true.

Thus thousands of celebrities, Bill Gates in USA, Zhang Ziyi in China, Ranbir Kapoor in India, etc. all have a dog called "Spinee" recovering from successful surgery.
This means they have dozens of identical articles about celebrities falling victim to internet death hoaxes, including this one about Chris Cornell. However now that he is actually dead hundreds of people seem to have been sharing the now-false death hoax debunking story it as you can see in the Trendolizer graph at the bottom of this article. They are probably sharing the article because the short summary that is shown on social media does not show the retraction so it looks real.