Australian satire website The Betoota Advocate posted an article titled: "Amy Schumer Confirmed As Lead Star In All-Female Remake Of 'Saving Private Ryan'" on May 19th 2017 which went viral. It opened:
Amy Schumer has today confirmed that she will be joining Sarah Silverman, Rebel Wilson, Melissa Mcartney and several other caucasian female stand-up comedians as the lead star in an upcoming Hollywood all-female Spielberg remake.

Last month, Paul Feig, director of "Bridesmaids" and co-creator of "Freaks and Geeks" (along with Judd Apatow), took to Twitter to confirm perhaps the biggest movie news of the fall season: a new "Saving Private Ryan" film is officially in the works--and will have a cast of all women.

The film, which is set to be 'vaguely similar' to the original 1998 war epic starring Tom Hanks and Matt Damon, has already been met with criticism online, with historians taking to social media to question how a movie that is based on true events can be remade with an all-female cast.
Of course no such movie is in the works since The Betoota Advocate is a well known satire website. Wikipedia describes it as follows:
The Betoota Advocate is an Australian satirical news website. Started in 2014 by former journalists Archer Hamilton and Charles Single under the pen-names Clancy Overell and Errol Parker, the site puts a comedic spin on current news topics and broader social observations.[1] While based in Sydney, the site takes its name from the deserted town of Betoota, Queensland, and purports to be "Australia's oldest newspaper".[2]
None of this is clear to people who just see the summary of the post when it is shared on social media: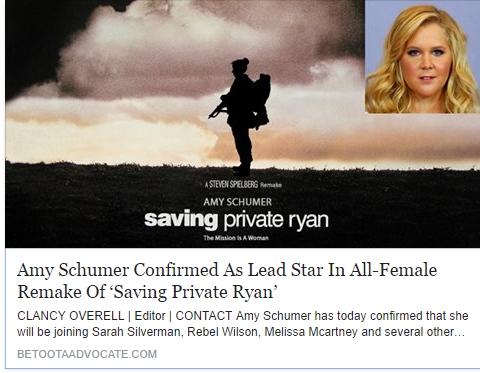 It didn't help that the Betoota Advocate website briefly went down sometime after posting the article so people couldn't (or didn't) click through to examine the rest of the website before passing on the article to their friends on Facebook. As you can see in the Trendolizer graph at the end of this article thousands of people liked and shared it anyway. If you have friends believing the 'news' just send them over here to get informed.