STORY UPDATED: check for updates below.
Jesus Campos was not arrested, and neither was "Jesus Compos" as he is mistakenly refered to in a fake article titled "Police Arrest Mandalay Security Guard Jesus Compos As Second Shooter In Las Vegas Massacre" which was posted by a site named cnn-internationaledition.com and which opened:
(CNN) Breaking News - Mandalay Bay security guard Jesus Compos has been arrested accused of being an accomplice and second shooter in the Las Vegas massacre that claimed the lives of 59 people and injured more than 500.

Jesus Campos had originally been praised for his apparent heroics on October 1st, as he supposedly rushed to Paddock's suite, was shot in the upper thigh through the door, and continued to help get people to safety despite his wounds. However, FBI officials involved in the investigation now believe he was an accomplice of Paddock's, and was involved in the initial shooting as a second gunman from the other broken window in Paddock's 32nd-floor room. (archived copy of article)
The website cnn-international.com was only registered two days ago according to WHOIS records and has nothing to do with the real cnn.com:
DOMAIN INFORMATION
Domain:cnn-internationaledition.com
Registrar:GoDaddy.com, LLC
Registration Date:2017-10-10
Expiration Date:2018-10-10
Updated Date:2017-10-10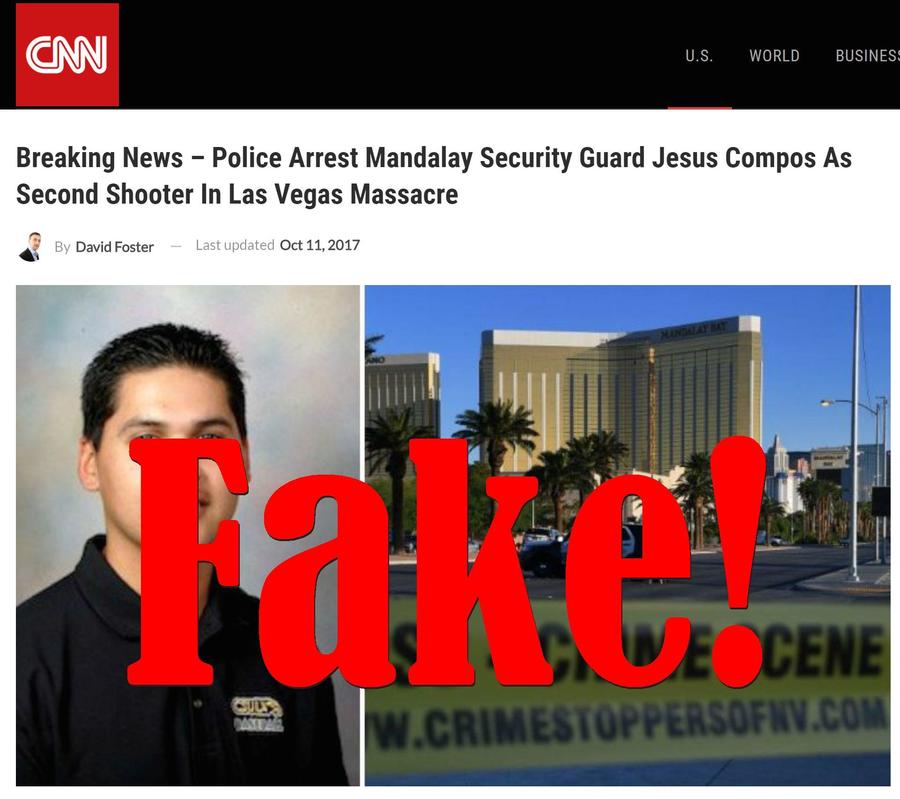 Meanwhile the real CNN has reported that Campos was actually shot in the leg by the Mandalay Bay shooter and called in a warning to hotel security. No report has been made about his supposed arrest by any official source or mainstream news source.
The fake CNN site is part of a network of sites designed to look like local news outlets but which actually create and spread fake news, including:
jacksontelegraph.com
sundayinquirer.com
sundaypost.org
vancouverinquirer.com
Earlier the network also ran www.cnn-globalnews.com (now defunct) which was used to peddle a Clint Eastwood death hoax. Typically these sites try to keep the fake stories off their front pages in order to mislead casual visitors. Usually they are filled with regular news stories copied from other websites. Don't fall for this hoax and warn people you see spreading it on Facebook or other social media.
2017-10-13T14:42:16Z

2017-10-13T14:42:16Z

2017-10-13T14:41:04Z

2017-10-13T14:41:04Z

2017-10-13T14:39:40Z

2017-10-13T14:39:40Z

2017-10-13T00:30:20Z

2017-10-13T00:30:20Z

We've never seen this before, but now the copy of the fake story

archived at the archive.is service

appears to be trending instead:

2017-10-12T22:17:14Z

2017-10-12T22:17:14Z

Facebook seems to have marked the entire domain cnn-internationaledition.com as spam meaning we won't see any more fake news from them:

2017-10-12T14:16:22Z

2017-10-12T14:16:22Z

2017-10-12T13:33:40Z

2017-10-12T13:33:40Z