Fans of the cult classic British sci-fi show Blake's 7 briefly got their hopes up from this article at The Studio Exec titled "BENEDICT CUMBERBATCH TO DIRECT TOM HARDY IN BLAKE'S 7 MOVIE". It opened:
HOLLYWOOD - Benedict Cumberbatch is to make his directorial debut with a big screen adaptation of BBC cult sci-fi show Blake's 7.
Fans of BBC cult show Blake's 7 were celebrating today, when Benedict Cumberbatch announced that he would be directing a movie of the 80s science fiction series. He spoke EXCLUSIVELY with The Studio Exec about his long-cherished project:

"Of course I was a bit young for Blake's 7 when it was first shown (1978-1981), but my uncle had them all on video cassette because he worked for the BBC and I got hooked. For me it was a little bit more sci-fi than Doctor Who, which I also loved. Blake's 7 was just something else though."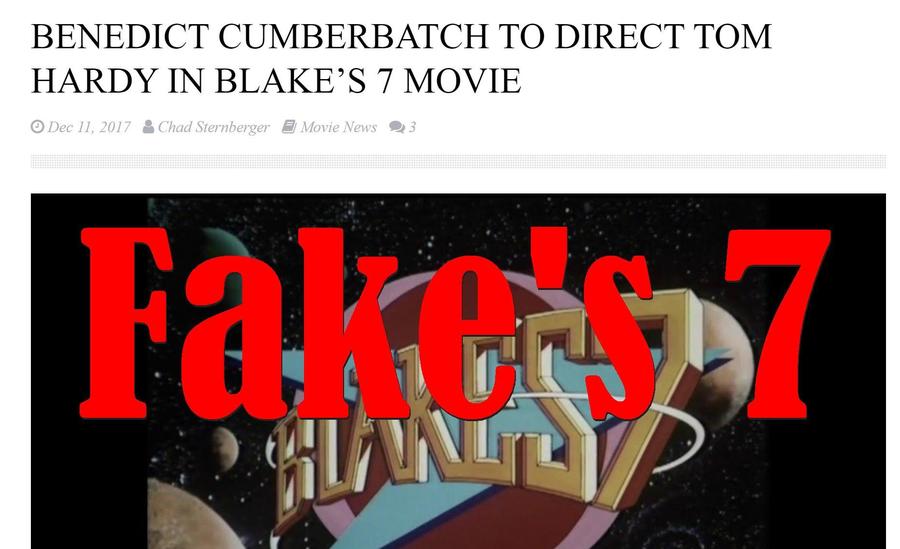 Unfortunately for the fans the story is entirely fictional. There are no plans for a Blake's 7 movie and Benedict Cumberbatch is not involved with any such project. How do we know? Because The Studio Exec has following disclaimer on its about page:
Established in 2012, the Studio Exec is a satirical movie based website, publishing spoof news, reviews and comedy masterpieces.
Our work has been reported internationally and we have been directly responsible for three marital breakups, the sacking of fifteen copy editors and the devaluation of the word 'satire.'
We do use profanity so if you're under 18 go away.
If you wish to advertise with us or give us free money the email address is [email protected] and if you wish to contribute ideas, articles or give us free money the email address is [email protected] but if you wish to sue us or otherwise try to hurt us then the email address is [email protected]
However not all is lost for Blake's 7 fans who also like Benedict Cumberbatch. He has voiced several parts in audiobooks related to the show's characters, you can find one example here.