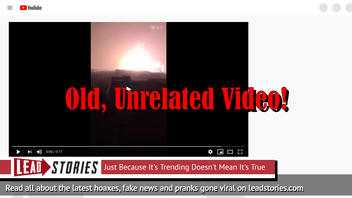 Did a new video show a large explosion in Wuhan, China, the epicenter of the Coronavirus outbreak responsible for killing dozens and sickening thousands? No, that's not true: The video, which is recirculated footage, is actually of a massive explosion in Tianjin, China, in August of 2015 that killed scores of people, including 104 firefighters. But it appears to have resurfaced to drum up conspiracies surrounding the coronavirus outbreak at a time that the world is on edge due to the rapid escalation of the virus.
The footage making its way around social media can be found in a video published January 25, 2020, on YouTube, titled "Large Explosion in Wuhan, China 武汉 病毒" (archived here) which opened:
#coronavirus 武汉 病毒 Large Explosion in Wuhan, China just happened about an hour ago #wuhan #WuhanCoronavirus 1/24/2020
Users on social media only saw this title, description and thumbnail:
#coronavirus 武汉 病毒 Large Explosion in Wuhan, China just happened about an hour ago #wuhan #WuhanCoronavirus 1/24/2020
The explosion shown in the video has no relation to the Coronavirus outbreak, which has so far killed 80, sickened many thousands more and has caused large portions of China affecting 56 million people to be locked down while other countries scramble to get their citizens out of the area. So far, the virus has spread to 10 other countries, and there have been five confirmed cases in the United States.
New hospitals are being built to care for the thousands of sickened people near the epicenter of the health crisis, but there have been no official reports of accidents tied to that construction.
The video making the rounds now is actually traced to an August 12, 2015, series of explosions in Tianjin, China, that killed more than 160 people. Another eight were reported missing and nearly 800 people were injured when a series of explosions rocked the area. The real explosion, or series of explosions, happened at a container storage station at the Port of Tianjin. The first explosion is the one being shown in the recirculated video.
But the following explosions in the Binhai New Area of Tianjin, China, were far larger, involving the detonation of about 800 tons of ammonium nitrate. More explosions in Tianjin continued through August 15, 2015, as the initial explosions burned out of control. The cause, according to an investigation that concluded in February of 2016, was an overheated container of dry nitrocellulose.
Here is a video from BBC, submitted by witnesses, of the actual explosions:
We wrote about youtube.com before, here are our most recent articles that mention the site: