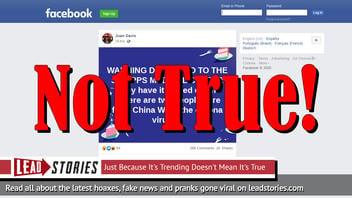 Was a Scripps Urgent Care in Southern California put under lockdown because it was treating two patients with the coronavirus? No, that's not true: Scripps Health has taken to social media to deny these claims, which have been made repeatedly on Twitter, at least. The company says there are currently no cases at any of its walk-in clinics or facilities, which are all located near the San Diego area.
The claim originated from a post (archived here) published by Juan Davis on January 27, 2020. It opened:
WARNING DO NOT GO TO THE SCRIPPS MEDICAL CENTER they have it locked down ...there are two people here from China WITH the corona virus.....
Users on social media saw this:
The post is not accurate. In response to the concerns being shared on social media, Scripps Health posted these tweets:
Hi Alma, Scripps Urgent Care in Vista never stopped seeing patients and remains open. While one person was screened for coronavirus yesterday, within 30 minutes we were able to determine that they had the flu.

-- Scripps Health (@ScrippsHealth) January 28, 2020
Hi Jefferson, we want to assure you that there are no coronavirus cases at our Chula Vista facility nor anywhere else at Scripps.

-- Scripps Health (@ScrippsHealth) January 28, 2020
As of January 28, 2020, according to The New York Times, at least 106 deaths in China had been blamed on the current coronavirus, which originated in Wuhan, China, about a week ago. There are five current cases of the virus in the United States, and all of the patients recently traveled from Wuhan.
We have written other stories about fake news related to the coronavirus outbreak. Here are our most recent articles: