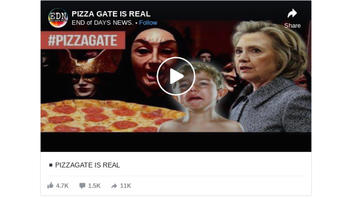 Is "Pizza Gate" real? No, that's not true: So-called proof for Pizzagate is unsubstantiated and speculative. It relies on tricks of the trade common to people pushing unproven allegations. Authorities have described Pizzagate as a "fictitious online conspiracy theory."
The claim appeared in a post (archived here) published on Facebook on August 21, 2020. The post contains a nearly hour-long video, titled "PIZZA GATE IS REAL." It opens with a narrator saying the following:
I did not enjoy making this video at all and, if you have any humanity, you're probably not going to enjoy watching this.
This is what the post looked like at the time of writing:
(Source: Facebook screenshot taken on Tue Sep 22 15:04:29 2020 UTC)
Pizzagate is the theory that holds that a particular pizza place in Washington, D.C. -- Comet Ping Pong -- is a front for a child sex-trafficking ring tied to Hillary Clinton and other leading Democrats. The unsubstatiated theory went viral during the 2016 election and jumped to front-page news when a man traveled to the area and fired an assault rifle inside the restaurant, determined to investigate the claims himself. No one was injured.
Edgar Maddison Welch, of Salisbury, North Carolina, was arrested and charged. In a statement, police said:
During a post arrest interview this evening, the suspect revealed that he came to the establishment to self-investigate "Pizza Gate" (a fictitious online conspiracy theory)."
Welch subsequently said he found no evidence to substantiate the claims.
"The intel on this wasn't 100 percent," he told The New York Times in a jailhouse interview shortly after his arrest. Welch expressed regret for his actions, saying:
I just wanted to do some good and went about it the wrong way."
He later pleaded guilty and was sentenced to four years in prison.
Despite all this being known, the video in the Facebook post attempts to make the case that Pizzagate is real. It employs tactics commonly used by people pushing conspiracy theories online, namely bait-and-switch and raising questions to suggest that something sinister is happening.
The video spends a good bit of time examining the purported Instagram account of the pizzeria's owner, James Alefantis. Around the 4-minute mark, the video's narrator says the following:
Many of the comments and hashtags made on the images of his Instagram account, and many other accounts linked to Mr. Alefantis and Comet Pizza, include code words well known and established by the Federal Bureau of Investigation to be codes used by those engaged in acts of pedophilia. For instance, cheese equals little girl. Pizza equals girl. Hot dog equals boy. You get the point."
While the narrator speaks, the video flashes an FBI document, implying that the document supports what's being said. It doesn't. We found the real FEDERAL BUREAU OF INVESTIGATION INTELLIGENCE BULLETIN, dated January 31, 2007, titled "Symbols and Logos Used by Pedophiles to Identify Sexual Preferences":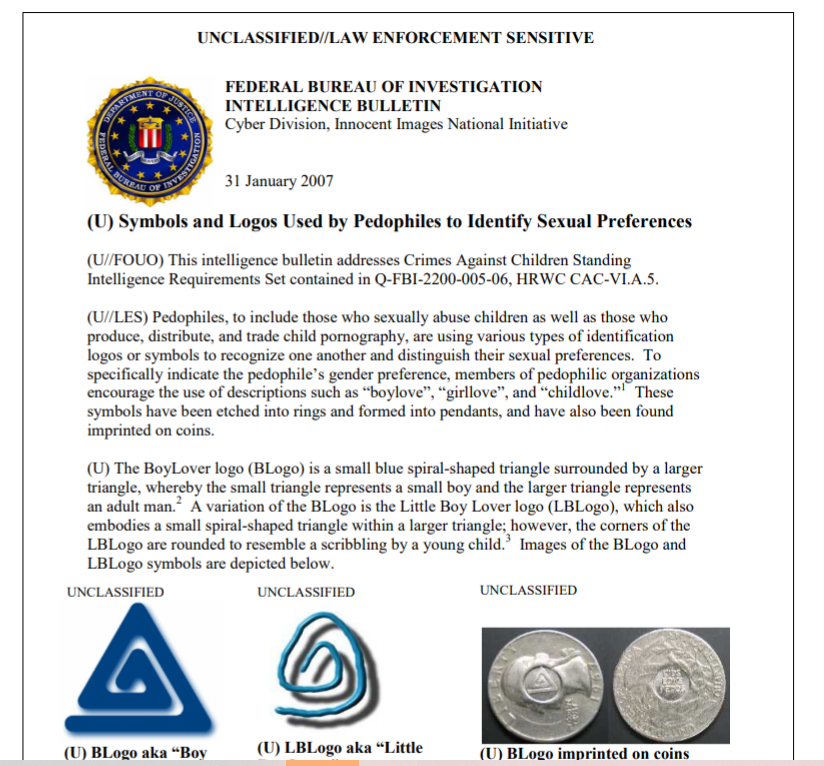 It discusses symbols and logos used by pedophiles, but makes no mention of code words related to pizza. That claim comes from an anonymous post on a discussion board -- not the FBI -- citing a WikiLeaks page: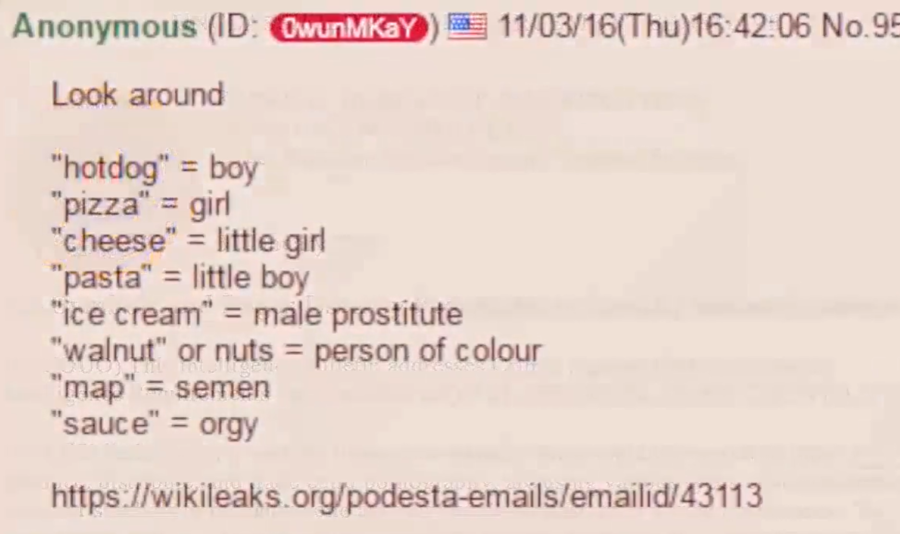 The video goes on to show several posts of children and then poses the following:
Now, one or two pictures of a few girls on an Instagram account isn't really a big deal, but when you get so many like this, it really starts to raise questions."
Without saying so outright, the statement clearly implies something nefarious. It uses speculation to plant seeds of the conspiracy. It's a tactic that's used again when the narrator discusses a hashtag that appeared on some of Alefantis's purported posts. The narrator says:
Please note that this is pure speculation but interesting nonetheless. Researchers had mentioned that since the hashtag #carisjames did not seem to be addressing any specific person, "Caris" might possibly be a reference to the drug Carisoprodal, which is a muscle relaxer that might be used on alleged victims."
Although offering no evidence, the narrator's mere suggestion implies something heinous. It does not, however, prove his case -- as even the narrator notes.
In the wake of the attack at Comet Ping Pong, Alefantis posted a message on Facebook, denying the conspiracy claims and stressing their real-world consequences. He wrote:
I hope that those involved in fanning these flames will take a moment to contemplate what happened here today, and stop promoting these falsehoods right away."