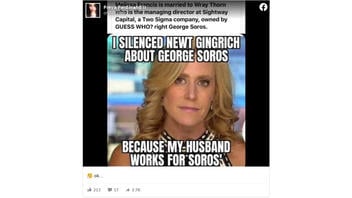 Does George Soros own Two Sigma Investments? No, that's not true: The company's federal filings with the Security and Exchange Commission state that Soros has never been part of any ownership of the investment firm.
The claim appeared in a post (archived here) published on Facebook on Sept. 19, 2020. It opened:
Melissa Francis is married to Wray Thorn who is the managing director at Sightway Capital, a Two Sigma Company, owned by GUESS WHO? right George Soros.
This is what the post looked like on Facebook at the time of writing:
(Source: Facebook screenshot taken on Tue Sep 22 20:27:51 2020 UTC)
Over a photo of Fox Business anchor Melissa Francis, the text read:
I silenced Newt Gingrich about George Soros because my husband works for Soros"
According to filings in May 2020 with the federal Securities and Exchange Commission, George Soros does not have any ownership stake in Two Sigma Investments.
Soros, an investor and philanthropist who Forbes says is worth $8.6 billion, has donated $6.845 million to the Democratic Party through September 2020, according to the opensecrets.org watchdog group.
The SEC filings state that the principal owners of Two Sigma are chief investment officer and co-chairman John Overbeck and co-chairman David Siegel.
Overbeck and Siegel started the firm in 2001, focusing on technology and computing as much as investment management. Two Sigma now manages about $60 billion, making it one of the largest hedge fund firms in the world.
Wray Thorn, mentioned in the Facebook post, is chief investment officer of Sightway Capital, which is owned by Two Sigma. Sightway Capital, launched in 2018, focuses on private equity investments.
Thorn is married to Francis, whose photo is included in the Facebook post about Soros. She is an anchor with Fox Business news channel and Fox News. Francis is also known for portraying Cassandra Cooper Ingall on the popular TV program "Little House on the Prairie" from 1981-82.
The post also references former House Speaker Newt Gingrich. A controversy arose when Gingrich tried to link the philanthropist to recent unrest. In addition to the vast attention the story got on social media, The New York Times also reported the story.
The No. 1 post among public Facebook pages on Friday morning was an article about Mr. Soros published by the far-right website Breitbart. The article said Fox News had "attempted to silence" Newt Gingrich, the former Republican House speaker, on a show that aired Wednesday when Mr. Gingrich brought up Mr. Soros's role in supporting local prosecutors in elections.

On the show, Mr. Gingrich claimed that the main cause of violence at the recent Black Lives Matter protests was the "George Soros-elected, left-wing, anti-police, pro-criminal district attorneys who refuse to keep people locked up."

Melissa Francis, a Fox News anchor, then said, "I'm not sure we need to bring George Soros into this."

The Breitbart article, which was published on Thursday, quickly went viral across the far-right online community. It generated nearly 300,000 likes, comments and shares on Facebook, reaching nearly 10 million people.