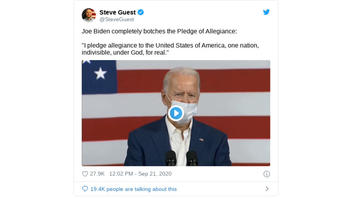 Did Joe Biden completely botch the Pledge of Allegiance during a campaign speech? No, that's not true and the comments were taken out of context. GOP rapid response director Steve Guest claimed that Biden "completely botches" the pledge during a campaign speech in a tweet that went viral. The Democratic nominee for president was criticizing Donald Trump and saying he would be a president for all of the people, not just people that live in blue or red states, and used the words from the Pledge of Allegiance to make his point, but he was not reciting the pledge.
The claim originated as a post (archived here) where it was published by Steve Guest on Twitter on September 21, 2020. It opened:
Joe Biden completely botches the Pledge of Allegiance
This is what the post looked like on Twitter at the time of writing:
(Source: Twitter screenshot taken on Wed Sep 23 03:16:08 2020 UTC)
Biden was referring to President Donald Trump's comments about coronavirus deaths in the United States hitting 200,000 people.
Trump argued that the death toll from coronavirus was not that high if the deaths of people who lived in states that vote for Democrats -- "blue states" -- were taken out of the equation, during a September 16, 2020, press conference, The Washington Post reported.
"If you take the blue states out, we're at a level that I don't think anybody in the world would be at. We're really at a very low level."
Guest's out-of-context claim went viral on Facebook and Instagram, too.
Biden responded to Trump's comments during his speech in Manitowoc, Wisconsin, on September 21, 2020.
A video from Biden's event revealed the context within which Biden was speaking.
Begging at 22:30 in the video, Biden begins addressing Trump's comments and says he will be a president of all the people, not just ones in the states where people voted for him, using the words of the Pledge of Allegiance, not specifically reciting the Pledge of Allegiance.
Biden's remarks with the comments about the Pledge of Allegiance are not completely botching the pledge.
You know, just a few days ago when I was asked about the death count approaching 200,000...the president said if you take out the blue states run by democratic governors and just look at the red states, republican governors are doing quite well. Of course, it's a simple factual matter, it's just not true.If you just count all the deaths in the red states, we are number two in the world in deaths just behind Brazil.
But more fundamentally it reflects on the part of Donald Trump a deeply flawed and divisive view of this nation and the job he holds.
Think about what Trump is saying. He's saying if you live in a state like Wisconsin, or Michigan, or Pennsylvania - states with Democratic Governors - you're not his problem. He has no obligation. He's not responsible for you as president. Your family, your well-being.
I don't see the presidency that way.
I don't pledge allegiance to Red States of America or Blue States of America. I pledge allegiance to the United States of America - one nation, indivisible, under God, for real.
I am running as a proud Democrat. But I'm not going to govern as a Democratic president, I'm going to govern as president. I get criticized for saying that sometimes from some in my party. I'm going to fight as hard for those who support me as those who did not support me. This is not a partisan moment, for God's sake. This has to be an American moment."