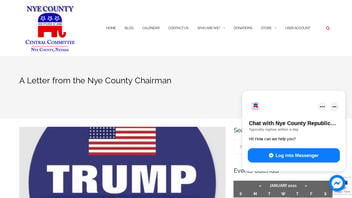 Does a letter published by the chairman of a Nevada county Republican Central Committee, disputing the outcome of the presidential election, include evidence for the conspiracy theories proposed? No, that's not true: the widely viral article cites several unproven and disproven conspiracy theories, including "vote dumps", servers in Germany switching votes, President Trump escaping Washington on a "Doomsday" plane and Antifa rioters being responsible for the January 6, 2021 events at the Capitol in Washington DC.
The letter was published on the Nye County, Nevada, Republican Central Commitee website on January 9, 2021 titled "A Letter from the Chairman" (archived here) which opened:
As I write to you today, I have no doubt that this letter will find many of you crushed under the weight of despair or perhaps lost in a maze of confusion. It is my hope that by the time you finish reading this letter you will be able to confidently join millions of others who support the president and another four years.

Let me be clear: Trump will be president for another four years. Biden will not be president. Yes, I know those are shocking words in these crazy days.
While originally unsigned, a clarification was later added:
Update: some have asked why I didn't sign my name to this post. The answer is simple: the intended audience was our rural membership and they all know me.
That would seem to indicate Chris Zimmerman is the author, as that is the name signed under the "Message from the Chairman" (archived here) on another page of the site.
The article repeats several claims about the election and subsequent events that have been looked at by investigators and fact checkers and were found to be false or highly misleading. Take this one:
For example, he announced on election night in the early hours of the morning that he "didn't want a dump of ballots at 4AM." What happened in just a few short hours at almost exactly 4AM? A huge ballot dump took place which showed that he already knew that it was going to take place.
Lead Stories wrote about tales of "ballot dumping" here, as did Associated Press and PolitiFact. These cases are nothing more than the result of the normal counting process, with large batches of mail-in or absentee ballots being counted throughout the evening and night and then added to the online tally when the counting was done, as had often been announced would happen by election authorities.
Speaking of the riot that engulfed Capitol Hill and the Capitol Building on January 6, 2021 the writer claims most of the people who breached the Capitol were Antifa:
...It would be very clear that the disguised Antifa people were 95%+ of the people in the building..
We've written extensively about these supposed disguised Antifa people and it turns out the most prominent of the ones that were being misidentified as Antifa turned out to be QAnon-believing Trump supporters and/or White Nationalists. No credible proof has been found so far of any organized Antifa activity, despite false rumors of buses of Antifa being escorted in (which turned out to have been based on old video footage).
The letter also calls conspiracy-spreading lawyer Lin Wood a "fountain of information" and supports that assertion by quoting Wood making claims about President Trump flying to Texas in a "Doomsday" aircraft on January 6, 2021:
Now, nobody has been more supportive of Trump than Lin Wood. ... Lin Wood has become a fountain of information... But did you know that he also said that the president, following the capitol incident, left DC on a "Doomsday" aircraft (used for communications in the event of a nuclear war) with his family and was in Abilene, TX. This aircraft was confirmed by both flight trackers and eyes on the ground.
We debunked that story here, as there is video evidence of Trump still being in the White House at the time..
The letter also repeats the misleading claim that the "Stimulus Bill" only sent $600 to Americans but billions to other countries:
Want to show what Congress thinks of you? Highlight that the stimulus bill only sent $600 to each American but billions to other countries (payoffs, money laundering).
What this neglects to say is that this "Stimulus Bill" was part of the entire U.S. Government budget (which includes funding for arts, education, foreign aid, farm subsidies, roads, healthcare and basically everything the government does) and it also fails to mention that the total budget for foreign aid is far smaller than the "Stimulus Bill". There is also no evidence provided for the claims the foreign aid money is for "payoffs" or "money laundering", which would be serious crimes if proven.
The letter ends with talk of a new variant of an old election conspiracy hoax: that votes were changed somehow by Dominion voting machines using servers in foreign countries:
Even this week we have sworn testimony out of Italy that the Leonardo defense contractor used satellites to change the votes from our election in the USA from Italy. These Dominion voting machines were actively sending data to Germany, Serbia, China, Iran, and now Rome.
The latest variation of the "foreign servers" hoax indeed mentions an Italian connection and satellites but it offers no plausible explanation how those satellites connected to foreign servers could even begin to alter the paper ballots stored in the United States at various county offices without anyone ever noticing anything during the several recounts that happened in several states. Dominion has recently sued former Trump campaign lawyer Sidney Powell asking for $1.3 billion in damages for making similar claims.