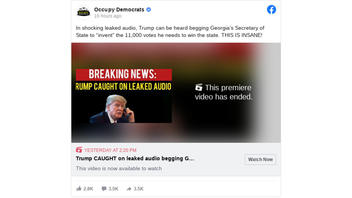 Did Donald Trump literally beg the Georgia secretary of state to "invent" 11,000 votes? No, that's not true: The president did not utter "invent" during an hour-long phone call with Brad Raffensperger. To be clear, Trump repeatedly pressured Raffensperger to recalculate the vote in Georgia so that the state would flip in his favor -- he used the words "find" and "need" in connection with 11,000 votes -- but Trump did not say "invent."
The "invent" claim appeared in a Facebook post (archived here) published by Occupy Democrats on January 3, 2021. The post read:
In shocking leaked audio, Trump can be heard begging Georgia's Secretary of State to "invent" the 11,000 votes he needs to win the state. THIS IS INSANE!
This is what the post looked like on Facebook at the time of writing:
(Source: Facebook screenshot taken on Mon Jan 4 14:30:55 2021 UTC)
The full transcript of the January 2, 2021 phone call, which was first obtained by The Washington Post, shows that Trump did not say "invent" in connection with the approximate number of votes that separate him from Joe Biden in Georgia. He used the words "find" and "need." For example, Trump said:
I just want to find 11,780 votes, which is one more than we have.
He also said:
Look, we need only 11,000 votes.

I only need 11,000 votes. Fellas, I need 11,000 votes. Give me a break. You know, we have that in spades already.

All we have to do, Cleta, is find 11,000-plus votes.
In that last quote, Trump was addressing one of his attorneys, Cleta Mitchell, who was also on the call. At no point did he utter "invent."
He did, however, repeat a number of claims about the 2020 election that Lead Stories has previously debunked. Among those claims were unsubstantiated allegations around the shredding of ballots, Dominion Voting Systems, a pipe break, dead people voting, suitcases filled with ballots, the absence of poll watchers and widespread fraud in Fulton County, which includes Atlanta.
During the call, Raffensperger challenged Trump and defended the integrity of the election, telling the president "our numbers are right" and "the data you have is wrong."
Raffensperger, a Republican, recertified the results of the presidential election last month. He did so after recounts -- including a hand recount -- upheld the original outcome of the vote. Biden is scheduled to be sworn into office on January 20, 2021.