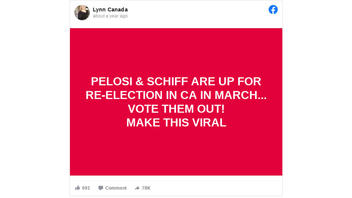 Are Speaker of the House of Representatives Nancy Pelosi and U.S. Rep. Adam Schiff up for re-election in March of 2021? No, that's not true: Both were re-elected November 3, 2020. Since House members serve two-year terms, they would not have to run again until 2022. Both Pelosi and Schiff won in the March 3, 2020 Democratic primary in California to be on the November General Election ballot.
The claim appeared in a Facebook post (archived here) published January 23, 2020, which said:
PELOSI & SCHIFF ARE UP FOR RE-ELECTION IN CA IN MARCH...

VOTE THEM OUT!

MAKE THIS VIRAL
This is what the post looked like on Facebook at the time of writing:
(Source: Facebook screenshot taken on Wed Feb 3 18:01:51 2021 UTC)
This is a case of a more than 1-year-old post again going viral, with recent shares and likes disregarding the fact that "March" in the post referred to the California primary in March 2020.
To vote for or against Pelosi, who represents the 12th Congressional District, which includes San Francisco; and Schiff, whose 28th Congressional District includes suburban Los Angeles, voters will have to wait until 2022. There is a chance Schiff won't stand for re-election. He is said to be lobbying to be appointed California's attorney general, according to recent news reports, including a February 2, 2021, Axios.com article. President Biden has nominated current California AG Xavier Becerra to become secretary of Health and Human Services.
All 435 House seats come up for election every two years, as required by in the U.S. Constitution. Article I Section 2 states:
The House of Representatives shall be composed of Members chosen every second Year by the People of the several States, and the Electors in each State shall have the Qualifications requisite for Electors of the most numerous Branch of the State Legislature.

No Person shall be a Representative who shall not have attained to the Age of twenty five Years, and been seven Years a Citizen of the United States, and who shall not, when elected, be an Inhabitant of that State in which he shall be chosen.