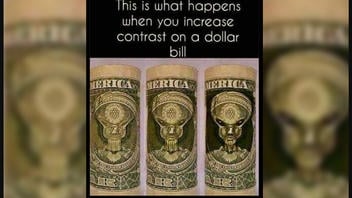 Is there an image of an extraterrestrial or humanoid hidden in plain sight on a dollar bill, which will appear if you "change the contrast"? No, that's not true: This transformation of the Great Seal of the United States on a dollar bill into an image of a stereotypical sci-fi extraterrestrial was created by an artist darkening some areas and de-emphasizing others.
The picture appeared in an Instagram post (archived here) on May 26, 2021, captioned with many hashtags:
#kemeticscienceinstitute

#ksi

#charlottenc

#knowthyself

#supportmelanatedbusiness

#yoruba

#ase

#power

#divine

#gods

#goddesses

#manifest

#affirmations

#ascension

#takeback

#regain

#mind

#body

#spirit

#gemstones

#crystals

#awakening

#creation

#blackempowerment

#blackpromo

#blackpromotion
The text on the meme reads:
This is what happens when you increase contrast on a dollar bill
This is how the post appeared on Instagram on May 28, 2021: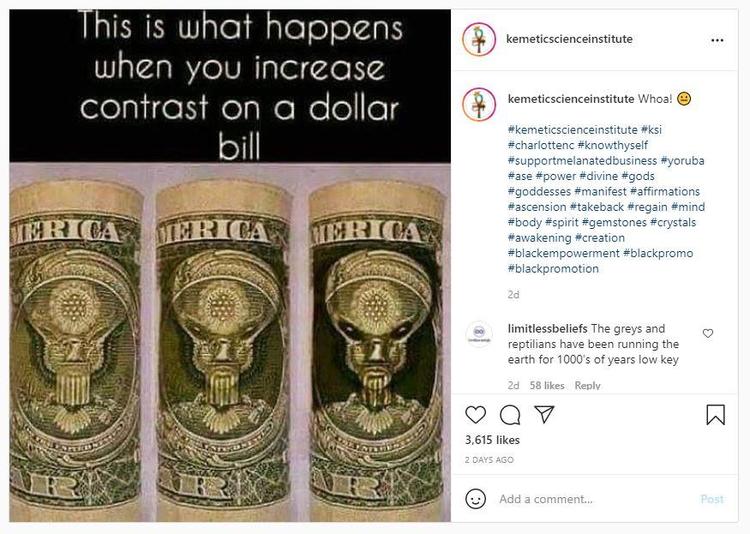 (Source: Instagram screenshot taken on Fri May 28 15:34:59 2021 UTC)
The appearance of the humanoid figure is not a matter of simply turning up the contrast. This is apparent when comparing the dollar's lettering at the top and bottom of each of the three phases of the transformation -- it remains the same. The contrast is not changed. An artist has colored some areas darker and covered the top of the olive branch and tips of the arrows. The outline of the eagle's wings are blended to merge with the background in order to smooth the outline of the shoulders and enhance the shape of the head.

Lead Stories conducted our own control experiment to see how the appearance of a dollar changes when Adobe Photoshop is used to add contrast. Adding contrast to a color photo of a dollar makes the mid-tones appear darker and intensifies the originally subtle colors. With contrast added, the points of the arrows stand out even more, they do not disappear.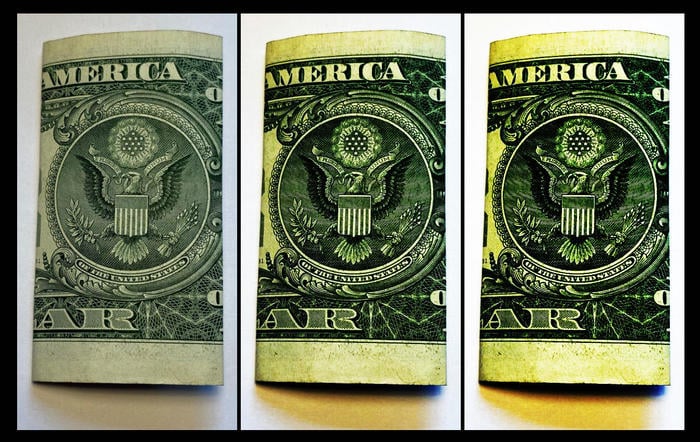 (Source: Lead Stories Photoshop experiment Fri May 28 17:11:23 2021 UTC)
In a second experiment Lead Stories used Photoshop to first desaturate the photo of the dollar bill (to turn it black and white) before progressively adding more contrast. This experiment also failed to produce an image of an alien.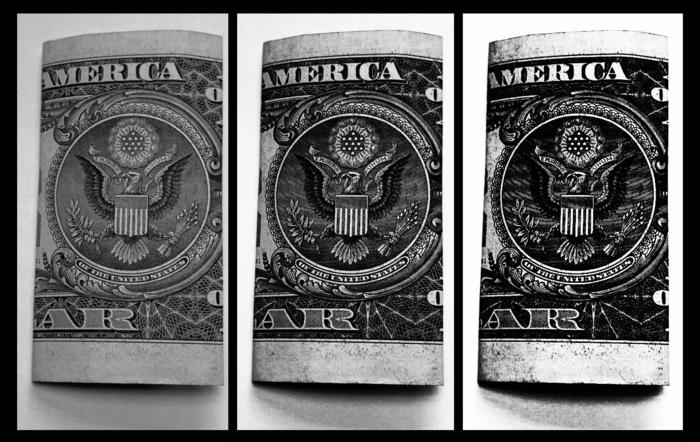 (Source: Lead Stories Photoshop experiment Fri May 28 17:11:23 2021 UTC)
Finally, Lead Stories compared our photo of a dollar bill to the first panel of the alien transformation meme. In our photo the bill is folded flat, not curved, so there is not an exact match. However, side by side it is clear that the artist's transformative shading has already begun in the first panel of the meme. This is a subtle deception that suggests the meme's first panel is an unaltered dollar bill.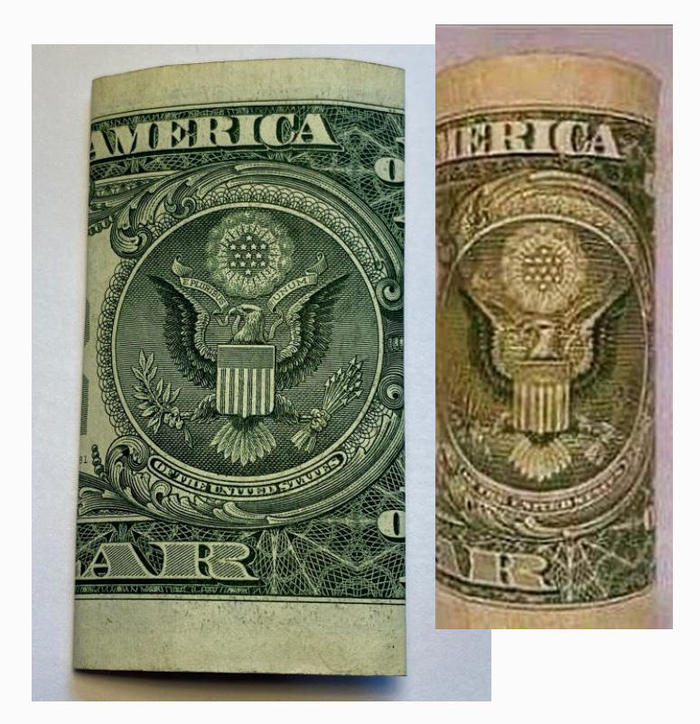 (Source: Lead Stories Photoshop experiment using photo and meme screenshot Fri May 28 17:11:23 2021 UTC)