STORY UPDATED: check for updates below.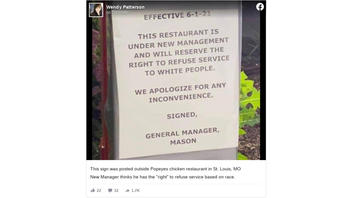 Did a local Popeyes post a sign saying they reserve the right to refuse service to white people? No, that's not true: Lake St. Louis, Missouri, police say the sign was a prank posted by someone who does not work for the company and that they are currently looking for the person who did it.
The story originated from a Facebook post (archived here) on May 26, 2021. The sign read:
Effective 6-1-21

This restaurant is under new management and will reserve the right to refuse service to white people.

We apologize for any inconvenience.

Signed,

General Manager,
Mason
This is what the post looked like on Facebook on May 28, 2021:
(Source: Facebook screenshot taken on Fri May 28 15:48:26 2021 UTC)
Lt. Pat Doering spoke to local media about the social media uproar over the sign, telling KMOV that investigators were pretty confident someone other than a Popeyes' employee posted the sign.
The local CBS affiliate wrote that "Lake St. Louis police said they believe the sign was part of a bad prank. Police checking to see if there's any connection to recent vandalism at the restaurant."
The Lake St. Louis police posted on Facebook that "unknown subjects posted an inappropriate sign on the drive-through window, unbeknownst to the business. We are asking for assistance identifying those subjects."
RBI Brands, which owns Popeyes, told Lead Stories by email on May 27, 2021:
"We have been made aware of the situation and are investigating the matter immediately. This type of behavior does not align with our brand values and we take such allegations very seriously. The Franchise is cooperating with local authorities regarding this ongoing investigation."
Lead Stories has independently reached out to the Lake St. Louis police for further detail, and will update this story if appropriate.
2021-05-28T17:31:33Z

2021-05-28T17:31:33Z

Chief Chris DiGiuseppi of the Lake St. Louis Police Department responded to LeadStories on Friday, May 28th, 2021 with the following update: Currently we are still investigating, however, we have verified that the business did not post the sign. We believe someone posted it, took a picture and then remove the sign. We are unsure if the person who posted the sign is the same person who took the initial picture. Additionally, the business had some vandalism which occurred earlier this month to their menu drive-through signs, which may be related. As of now, we have not determined the motive of the subject who posted the sign. We Are attempting to attain video and possibly still-photos from the business. Once those are attained we will try to update the post.