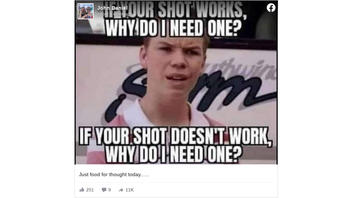 Is it true that whether a vaccine works or doesn't work for other people, you don't need one? Paradoxically, neither of these claims is true: You need protection even if others are vaccinated and especially when the vaccine, like many others, fails to work in some individuals.
The consensus of medical experts, based on lab and clinical studies, is that vaccination is necessary to reduce your chances of getting infected, reduce your chance of dying if you do get infected and to make your body inhospitable to the virus, which reduces everyone else's chances of being infected by you. Whether or not the shot works for each patient is immaterial in the context of pandemic fighting, since even a partially effective vaccine slows the spread of infection, improving the odds that people with life-threatening cases will find space in a hospital and cutting down on deaths and the other impacts of widespread serious illness.
The implication that it's illogical to get vaccinated circulates in memes like this one posted to Facebook July 25, 2021 (archived here) under the caption "If your shot works, why do I need one?" It continued:
If your shot doesn't work, why do I need one?
This is what the post looked like on Facebook at the time of writing:
(Source: Facebook screenshot taken on Wed Aug 4 16:49:14 2021 UTC)
You need one because it prevents and reduces symptoms of COVID-19 disease:
Alex Azar, who served as former President Donald Trump's secretary of health and human services and oversaw production and distribution of the vaccines through Operation Warp Speed, is a longtime Republican. He is no political ally of President Joe Biden, who in August 2021 stepped up measures requiring vaccination. Azar wrote about the vaccines in an essay published in the August 3, 2021, New York Times:
They work incredibly well, and more than 160 million fully vaccinated Americans are proof ... Any claims that the vaccines are unsafe or ineffective, or that corners were cut are not true. ... we made sure that there was no compromise on safety by conducting some of the largest and most extensive vaccine clinical trials ever. ... More than 600,000 Americans have died of Covid-19, but vaccines can prevent more loss. Getting vaccinated is an absolute necessity to end the pandemic. ... Hundreds of millions of doses of these vaccines have now been given to Americans over the past year, providing us with some of the most robust real-world evidence of their safety and efficacy that we've ever had for new vaccines.
That matches the Centers for Disease Control and Prevention (CDC) guidelines, which say the large majority of those vaccinated are protected against infection: "COVID-19 vaccination is recommended for everyone 12 years and older for the prevention of coronavirus disease 2019 (COVID-19) in the United States."
It reduces the amount of virus you carry and can pass along, which slows spread of the infection in the population at large:
As of August 4, 2021, the CDC provided 186 published studies and research letters documenting its declarations that viral load, a key driver of transmission, is lower among vaccinated people than those not vaccinated. Summarizing, the CDC says: "Data from multiple studies in different countries suggest that people vaccinated with Pfizer-BioNTech COVID-19 vaccine who develop COVID-19 have a lower viral load than unvaccinated people.(41-44) This observation may indicate reduced transmissibility, as viral load has been identified as a key driver of transmission.(45) " The citations, and others, can be found in this copy of the footnotes, stored on DocumentCloud by Lead Stories.
You need one because vaccination builds immunity better than does exposure to the virus:
The National Institutes of Health (NIH) has dismissed the claim that "natural immunity" developed by getting infected is better than immunity developed by getting injected.
COVID-19 vaccines, NIH says, more effectively prevent serious illness, hospitalizations and deaths than immunity acquired from surviving an infection. Dr. Francis Collins, a geneticist and director of the NIH, says vaccine immunity provides greater protection than naturally acquired immunity, based on a study published in June 2021 in Science Translational Medicine. Collins, who led the human genome project, wrote in the NIH blog:
The new evidence shows that protective antibodies generated in response to an mRNA vaccine will target a broader range of SARS-CoV-2 variants carrying 'single letter' changes in a key portion of their spike protein compared to antibodies acquired from an infection. These results add to evidence that people with acquired immunity may have differing levels of protection to emerging SARS-CoV-2 variants. More importantly, the data provide further documentation that those who've had and recovered from a COVID-19 infection still stand to benefit from getting vaccinated.
Even if it "doesn't work" and you have a "breakthrough infection," vaccination reduces the severity of your infection:
University of Arizona researchers are among those who have documented the vaccine's positive effect on so-called "breakthrough infections," which are those that strike people who have been vaccinated. In a June 30, 2021, report on the university's website, university scientists said they found that vaccinated people who contract COVID-19 after vaccination are likely to have a smaller viral load, shorter infection time and milder symptoms than the unvaccinated. Researchers there are focusing on high-exposure front-line workers' experiences with the vaccine and the virus in a project called AZHEROES. Breakthrough infections are not unique to COVID-19 and are common with other diseases we fight with vaccinations.
But, as the delta variant of the SARS-CoV-2 becomes the most common cause of hospitalization in the U.S., the CDC warns that vaccinated persons with a breakthrough delta infection can carry as heavy a viral load as the unvaccinated. The CDC revised its guidance on masks on July 31, 2021, saying that fieldwork at the sites of delta variant outbreaks indicates vaccinated people exposed to the delta variant can carry -- and spread -- as much viral material as the unvaccinated. Notwithstanding that, it is still true that the vast majority of people admitted to hospitals for COVID treatment are not vaccinated.
CDC data doesn't break down the percent of those hospitalized who were vaccinated, but Kaiser Family Foundation researchers have analyzed available state data and found breakthrough cases are about 1% of the total in the 20 states for which data is available. As for the death rate, Kaiser wrote:
The rates of death among fully vaccinated people with COVID-19 were even lower, effectively zero (0.00%) in all but two reporting states, Arkansas and Michigan where they were 0.01%. (Note: Deaths may or may not have been due to COVID-19.)