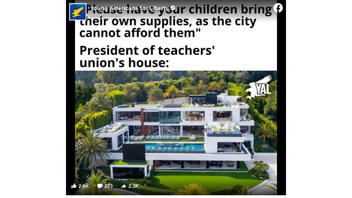 Does the president of a teachers' union live in a lavish Los Angeles mansion? No, that's not true: There is no evidence that a president of a teachers' union lives in the mansion, which at one time may have been the most expensive residential property listing in the country.
The claim appeared in a Facebook post (archived here) published on August 4, 2021. It featured a graphic that read:
'Please have your children bring their own supplies, as the city cannot afford them'
President of teachers' union's house:
The graphic showed an image of a mansion located at 924 Bel Air Road in Los Angeles, which at one point was listed at $250 million, with the developer claiming that it was the most expensive residential property listing in the country at the time.
This is what the post looked like on Facebook on August 5, 2021:
(Source: Facebook screenshot taken on Thu Aug 5 15:57:14 2021 UTC)
According to the Los Angeles County Local Assessor portal, the property sold for $94 million on October 24, 2019. The portal did not include information about the buyer, but an article from The Hollywood Reporter said a source told the publication the property was sold to an unknown French Moroccan buyer.
The Facebook post appears to be a satirical dig at teachers and educational leaders. As such, the post was not specific about which teachers' union president supposedly lives in the mansion. The property developer named the home "Billionaire," indicating the income the buyer most likely would have to have to purchase the property. Although there is hardly any publicly available information about the buyer of the mansion and whether they were a billionaire, no president of any teachers' union is listed among the world's billionaires.
Additionally, the U.S. Department of Labor's Online Public Disclosure Room lists the salary of presidents of teachers' unions. For example, in a report from 2020, the salary of Randi Weingarten, president of one of the largest U.S. unions, the 1.7 million-member American Federation of Teachers, was just less than $418,000 as shown in the screenshot below. Readers can duplicate the search here: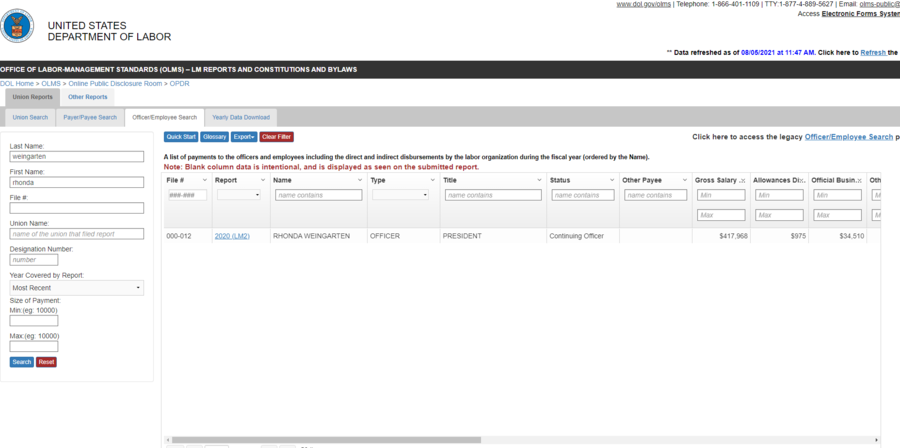 (Source: Screenshot taken on Thu Aug 5 15:49:56 2021 UTC)