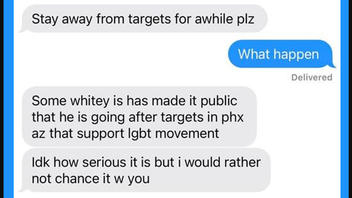 Did a man make it public that he plans to go after Target stores in Phoenix, Arizona, that support the LGBT movement? Yes, the screenshot of a text message warning is real. A person who considers himself a professional internet provocateur made a video with another person that was posted online. In the video he threatened that in the month of June, Target stores, store managers, LGBT people, and their supporters "will not be safe," that he will be "going on hunting expeditions soon" across Arizona and Phoenix and this will be "next level stuff."
On May 21, 2022, a video was shared on Twitter by @patriottakes to call attention to it. The video was made by self-identified internet provocateur Ethan Schmidt. A second video made by Schmidt after he "Just got done taking to the FBI" was shared by @patriottakes on May 25, 2022.
These threats have caused concern, an example of which can be seen in a text message warning that was shared as a screenshot on Facebook on May 25, 2022. The post was captioned, "Attention Arizona people, my friend just sent me this!" The text message exchange in the screenshot reads:
Today 1:11 PM
Stay away from targets for awhile plz

What happen

Some whitey is has made it public that he is going after targets in phx az that support lgbt movement
Idk how serious it is but i would rather not chance it w you
Ethan schmidt is his name u can look it up let ur family know i would order the groceries nd just pick them up for a lil
This is how the post appeared at the time of writing: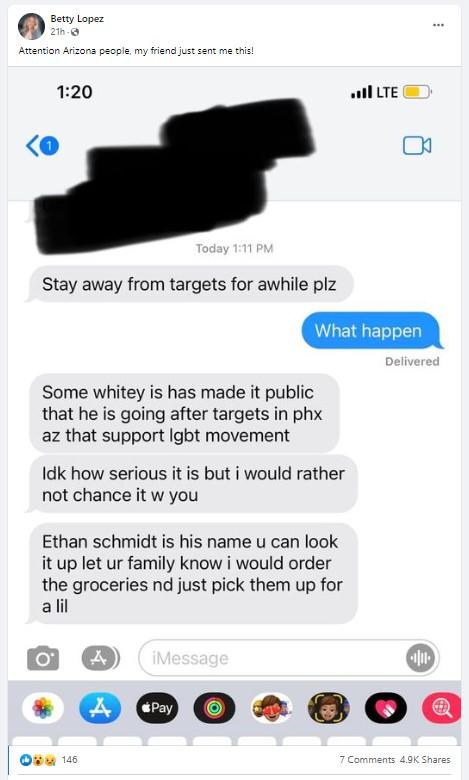 (Image source: Facebook screenshot taken on Thu May 26 18:41:24 2022 UTC)
The composite image below shows screenshots of the two videos that were shared by the Twitter account @patriottakes, an account described as, "Dedicated researchers monitoring and exposing right-wing extremism and other threats to democracy." Patriottakes did not identify what platform the Ethan Schmidt videos originated or link to them.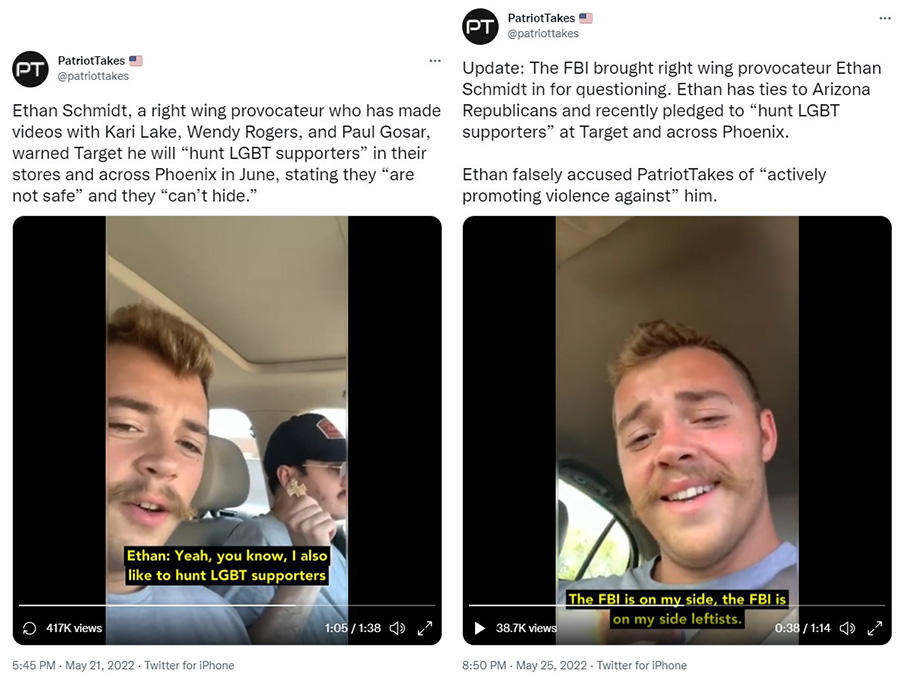 (Image source: Lead Stories composite image of Twitter screenshots (archived here and here) taken on Thu May 26 20:51:00 2022 UTC)
In the May 21, 2022, video shot inside a vehicle with another man, identified as Kyle Clifton, the man who identifies himself as Schmidt outlines vague plans for exposing Target and suggests that Target should ban him from all stores in the United States because "if you don't, we're going to be coming to every single one." He says they will be "pressing the managers," which apparently means to confront and harass a person while filming them and "making massive scenes" and "exposing every single one."
So Target we're giving you a heads up that you know are we coming after you hard. Hard. You know, I've already exposed you guys pretty good but you know, this is gonna be next level stuff.
In the second half of that video Schmidt begins to talk about "hunting" LGBT supporters.
Yeah, we're going to be going on hunting expeditions pretty soon, you know, hunting the LGBT supporters across Arizona and Phoenix. So you know, keep an eye out for that because you're not safe if you support the LGBT agenda. You're not safe. You're not safe, Right Kyle?
In the May 25, 2022, video Schmidt claimed that the reason the FBI wanted to talk to him was because they were concerned about ANTIFA death threats against him, Schmidt also said:
The FBI is on my side, FBI is on my side leftists, what are you going do about it? What you can do about it? Police love me, FBI loves me. Yeah. You know, FBI. You know, they're they're just concerned for my safety. You know, they're not concerned about the LGBT agenda safety. They're not concerned about their safety. They're concerned about my safety from you libtards because you libtards are violent extremists.
Ethan Schmidt has several social media accounts where he celebrates multiple bannings and posts screenshots of press coverage where he has been mentioned. On May 25, 2022, soon after it was published, Schmidt posted a screenshot of the Phoenix Police Department tweet to his Instagram account @banethanschmidt (the original tweet is embedded below in this article) Schmidt wrote:
yeah defend the pride for kids u pedophiles . idk how u could feel safe supporting it.
Lead Stories reached out for comment to the FBI, the Phoenix Police Department and Target by email. A spokesman from the Phoenix FBI public affairs office replied on May 26, 2022, and conveyed that "the Phoenix Field Office is aware of the individual and the postings" and also that it is FBI policy to not confirm or deny the existence of status of any investigation.
Sgt. Vincent Cole of the Phoenix Police Department Public Affairs Bureau also responded on May 26, 2022:
The Phoenix Police Department is aware of a video on social media that names a large retail store. Our detectives are looking into this as part of an ongoing investigation.
We understand statements made in the video may be concerning to members of our community. The large retail store and their security team are also aware of the video and its contents.
We ask the public to contact the police if there is anything they observe that causes them concern or makes them feel unsafe.
The Phoenix Police Department published a tweet with a similar message:
We are aware of a video on social media that names a retail store. We are looking into this. Statements in the video may be concerning to members of our community. The store and it's security team are also aware of the video. If you see anything of concern please call #PHXPD. pic.twitter.com/2WB8Jk5Zbm

-- Phoenix Police (@PhoenixPolice) May 26, 2022
Lead Stories has not received a reply from Target at the time of publishing and will update this article if appropriate.