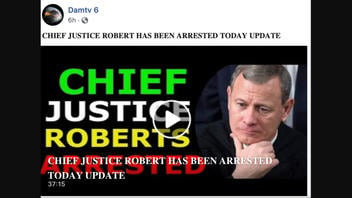 Was "Chief Justice John Robert" arrested as of August 23, 2022? No, that's not true: The caption in this post is clickbait. There is no publicly available evidence to substantiate the claim, the accompanying video does not mention such an arrest and multiple errors suggest a credible news source did not create this post.
The claim originated in a Facebook post on August 22, 2022. It opened:
𝐂𝐇𝐈𝐄𝐅 𝐉𝐔𝐒𝐓𝐈𝐂𝐄 𝐑𝐎𝐁𝐄𝐑𝐓 𝐇𝐀𝐒 𝐁𝐄𝐄𝐍 𝐀𝐑𝐑𝐄𝐒𝐓𝐄𝐃 𝐓𝐎𝐃𝐀𝐘 𝐔𝐏𝐃𝐀𝐓𝐄
This is what the post looked like on Facebook at the time of writing: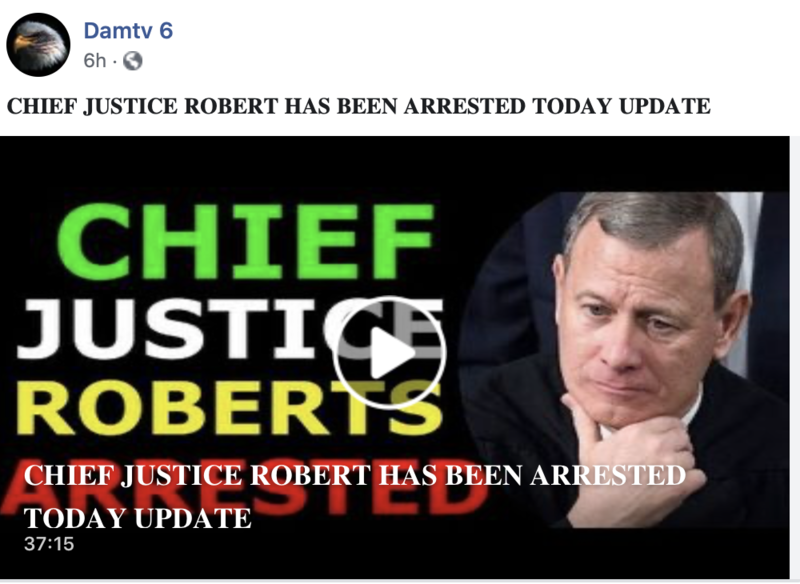 (Source: Facebook screenshot taken on Tue Aug 23 17:11:21 2022 UTC)
The post caption misspelled Chief Justice John Roberts' last name by not including the "s" at the end of it. The 37-minute video does not mention Roberts. Narration talks about climate change, censorship, global elites controlling resources, George Soros and Bill Gates wanting a one-world government, and more.
The image of Roberts the claim displays does not appear anywhere in the video. The video also does not state when or where the arrest purportedly happened.
It would be a significant news event if Roberts were arrested. However, no credible news outlets have reported any such arrest as of August 23, 2022.
Lead Stories found a similar claim false on February 14, 2022; you can see that story here.
The most recent press release concerning Roberts on the Supreme Court's website is his statement at the end of the Court's term on June 30, 2022.
Lead Stories has reached out to the Supreme Court for a comment on this claim. We will update this story appropriately if a response is received.