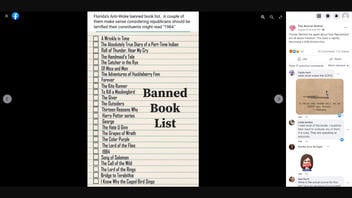 Does Florida have a banned books list that includes such books as "To Kill a Mockingbird," "The Handmaid's Tale" and "1984"? No, that's not true: There is no banned books list at the state level in Florida because such disputes about school materials are handled at the school district level. Some of the books on the supposed "banned book list" are actually recommended in the state's educational standards. Still, individual Florida school districts have banned or challenged many books.
The claim appeared in a Facebook post on August 20, 2022. The post included a graphic of an alleged "banned book list" from Florida. The caption of the post reads:
Florida. Remind me again about how Republicans are all about freedom. This state is rapidly becoming a little dictatorship.
This is how the post looked on Facebook at the time of writing: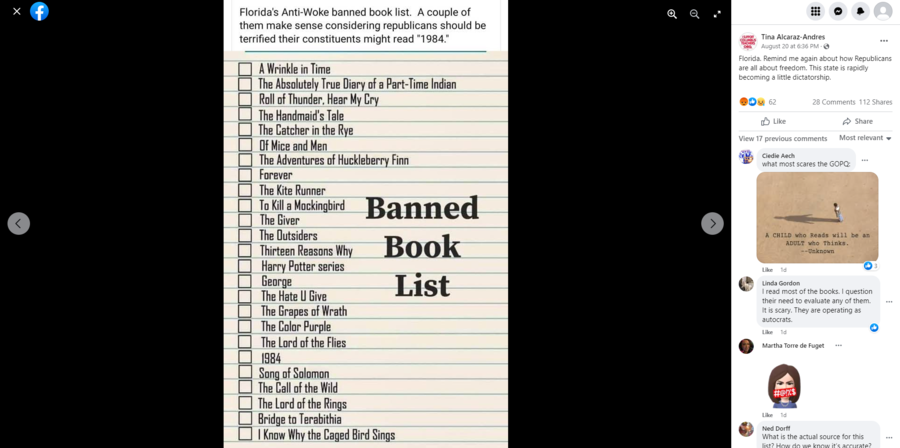 (Source: Facebook screenshot taken on Tue Aug 23 14:42:01 2022 UTC)
Reporting from Snopes found that the "banned book list" seemed to originate from the Twitter account "Freesus Patriot™." The account later tweeted that the list was meant to be satirical.
Lead Stories sent an inquiry about the claim to Bryan Griffin, press secretary for Florida Gov. Ron DeSantis. In an email to Lead Stories sent on August 23, 2022, Griffin addressed the list:
The image is fake - as far as I see it, this is just a completely fictitious list made by people potentially living in an alternate reality. Some of the listed books are specifically recommended in Florida's Benchmarks for Excellent Student Thinking (B.E.S.T.) Standards.

Florida's B.E.S.T. standards were developed to "[c]reate literacy standards for our Florida students that will shape their education and secure their position as leading the charge to make Florida the most literate state in the nation."
Griffin included a link to the most current B.E.S.T. English Language Arts Standards at the time of writing. As he noted, the standards actually recommend some of the books on the alleged "banned book list" in its "Sample Titles of Complex Texts by Grade Band" category. Those books are "To Kill a Mockingbird" and "The Call of the Wild" for eighth graders, "1984" for ninth graders and "Of Mice and Men" and "Lord of the Flies" for 10th graders.
Griffin also clarified that Florida does not have a banned books list at the state level. Rather, the state sets guidelines regarding content, and school districts in the state are responsible for enforcing those guidelines. Griffin referenced state statutes regarding the duties of the state's school boards for more information.
However, as a result of Florida House Bill 1467, the state will have its "first ever official list of books that parents challenged in school districts and the final disposition of those challenges," according to Griffin:
With the data reported beginning June 30, 2023, the Department shall publish and regularly update a list of materials that were removed or discontinued as a result of an objection and disseminate the list to school districts for consideration in their selection procedures. - 1006.28(2)(e) F.S.

School districts must have procedures that provide for the regular removal or discontinuance of books based on, at a minimum, physical condition, rate of recent circulation, alignment to state academic standards and relevancy to curriculum, out-of-date content, and required removal pursuant to 1006.28(2)(a)2 F.S.
Lead Stories also reached out to the Florida Department of Education for comment on the claim. Cassie Palelis, press secretary for the department, forwarded Griffin's statement.
Despite Florida not having a statewide banned books list, PEN America reported that from July 2021 to March 2022, Florida had the third-largest number of books banned in schools in the United States, with 204 bans in seven districts.