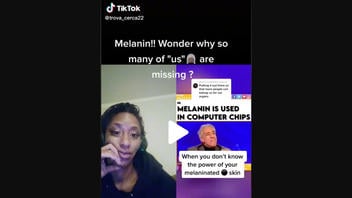 Is the pigment melanin used in computer chips? No, that's not true: Researchers are coming closer to developing superconducting melanin, but the work is confined to laboratories and the applications are not considered for use in computer chips. A researcher who headed a project looking into the topic told Lead Stories, "All the conductivity of melanin that we had reached and can imagine reaching in the future is not enough for computers, at all."
The claim appeared in a TikTok post on May 28, 2022, with a caption reading:
Melanin!! Wonder why so many of 'us' are missing ?
Inset into the TikTok post is a video of a man speaking, apparently during an interview. He says:
Melanin, pigment, right, is so unbelievable, George. They use it in computer chips now because it has an ability to transduce electrical energy. Can you imagine this? It has this incredible ability to hold onto and transduce and manipulate electrons, electronic energy, and photons, photonic energy. It's a fascinating molecule ...
This is what the post looked like on TikTok at the time of writing: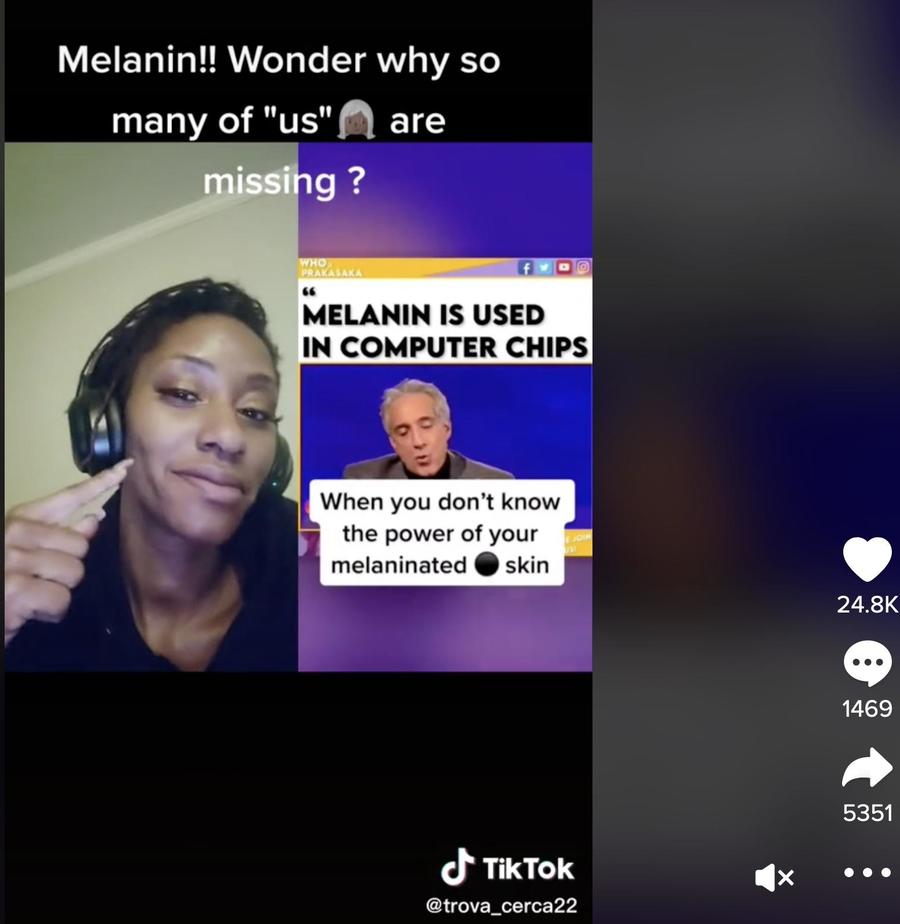 (Image Source: TikTok screenshot taken on Tues Aug 16 13:44:15 2022 UTC)
Melanin is a substance in the body that produces hair, eye and skin pigmentation.
The original video clip in the TikTok post is from an interview released in September 2021with Benjamin Knight Fuchs on a program called "Beyond Belief with George Noory." Fuchs' segment was titled "Healing Secrets of Sunlight." Fuchs is described by the program as a "registered pharmacist, nutritionist, and chemist who specializes in using nutritional supplements." He is the founder of a company named Truth Treatment Systems, which produces skin care products and programs.
In the clip, Fuchs does not identify the source of his information or a particular computer chip maker.
In a 2012 academic paper, titled "Melanin considered for bio-friendly electronics," published by Queensland University researchers outlined a possible use for melanin as an organic semiconductor. Italian researchers in 2019 reported that pigment-based eumelanin showed evidence of "unprecedented" electronic conductivity. The results still fell far short of conductivity rates for metals currently used in computer chips, but pointed to potential use for a range of bioelectronic applications.
Lead Stories spoke with one of the authors of the 2019 report, a researcher at ENEA, Italy's agency for new technologies, energy and sustainable development. Paolo Tassini told Lead Stories in a phone interview on September 23, 2022, that melanin will never be used in computers because it is simply not as good as metals:
If you compare the conductivity of melanin with the conductivity of metals, you have a ratio of about 10 to 20,000 less in melanin conductivity ... all the conductivity of melanin that we had reached and can imagine reaching in the future is not enough for computers, at all.
Instead, Tassini believes melanin will be used as sensors and biological interfaces in devices that can someday be implanted into humans for medical purposes.
The claim of melanin computer chips spread across social media platforms from as early as February 8, 2022, when it was posted on TikTok. That post immediately drew comments questioning the source of the melanin, with several claims that it must be from missing children (examples here).
The concern that computer chip manufacturers may acquire eumelanin pigment -- the most abundant type of human melanin from human skin -- is baseless since the pigment is made synthetically or comes from abundant natural sources such as cuttlefish or squid ink, fungi (mushrooms), or bacterial micro-organisms. Tassini's team of researchers used synthetically produced melanin. He explained:
We had our materials from chemical synthesis, not from extracting the material from living cells. And chemically, the materials that can be synthesized and the materials that can be started from animal cells are absolutely the same. They have the same chemical structure. So they work in the same way.
A review of half a dozen specialty chemical manufacturers and traders who offer melanin products worldwide shows melanin can be produced synthetically or from natural sources and sold at an average of around $450 per gram. The raw source and the extraction and purification methods used to make melanin can vary considerably, but a review of available producer data shows none use human skin pigment as a source.
Lead Stories has debunked numerous conspiracy claims concerning children. You can see those here.