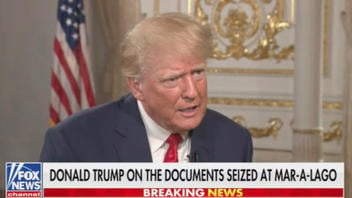 Can a president of the United States declassify classified documents and information by simply saying "it's declassified" or by just "thinking about it"? No, that's not true: There is a procedure for presidents to declassify documents and it is spelled out in the Federal Register, which is the official journal of the federal government of the United States. Lead Stories asked experts about the claim, and they said it is not true.
The claim appeared in a Fox News video posted on YouTube on September 21, 2022 under the title "Donald Trump speaks out on the FBI's raid on Mar-a-Lago." The former president previously said he had declassified all of the classified documents taken from his South Florida home by federal agents. At the 13:49 mark in the September 21, 2022 interview, Fox News host Sean Hannity asked the former president: "What was your process to declassify?" Trump answered:
It doesn't have to be a process, as I understand it. You know, there's different people [who] say different things, but, as I understand, that doesn't have to be. You're the president of the United States. You can declassify just by saying it's declassified -- even by thinking about it.
This is what the video looked like on YouTube at the time of writing: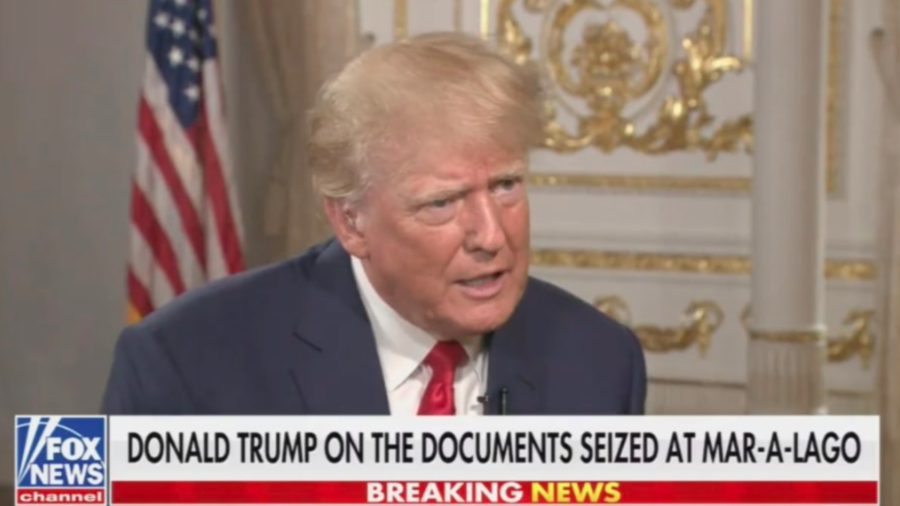 (Source: YouTube/Fox News screenshot taken on Thu Sep 22 18:02:08 2022 UTC)
Lead Stories asked University of Pennsylvania Carey Law School Professor Claire Finkelstein, an expert on national security law, about the former president's claim. In a September 22, 2022 email, Finkelstein said that's not the way the system works:
Can the president declassify documents at will, even by just thinking that the documents are declassified? The answer is no. ...

There is a procedure for presidents to declassify documents. The president can declassify documents outside of the official procedure required by this internal guidance, but if he does, he should make sure to state very clearly his intent to declassify so that others are certain about his what he has done.
Trump first claimed he declassified the documents taken by the FBI from Mar-a-Lago, following the August 8, 2022 raid. Finkelstein said declassification can't happen in a vacuum:
Trump's claim that he could declassify documents without having issued any orders or statements is not credible. A president must take steps to communicate his intent to declassify. He cannot declassify documents by mere intent alone.
In a September 23, 2022, email to Lead Stories, Berkeley Law Professor Seth Davis, a constitutional law expert, said, "No, a president may not declassify documents merely by thinking about it. Former President Trump's statement is ludicrous." Davis said he sees three problems with Trump's claim:
First, whatever former President Trump may believe, the President's will is not law. The second problem is that there are rules governing declassification, and none of them allow a former President to declassify documents retroactively by saying that while in office he thought about declassifying them. The third problem is the most fundamental: declassification is a government action, and a government official's private thoughts, shared with no one else, are not government actions.
Formal procedures for handling classified information have evolved since the World War II era and were most recently updated following a 2009 executive order from then-President Barack Obama. Their legal basis comes from the president's power as commander in chief. Over the course of 28 pages, Vol. 75, No. 123 of the Federal Register spells out how national security information should be handled by government officials:
The Executive order prescribes a uniform system for classifying, safeguarding, and declassifying national security information. It also establishes a monitoring system to enhance its effectiveness. This Directive sets forth guidance to agencies on original and derivative classification, downgrading, declassification, and safeguarding of classified national security information.
Following the Mar-a-Lago raid, the search warrant indicated that "FBI agents were looking for materials showing violations of laws against obstruction of justice and the removal of official records, as well as the U.S. Espionage Act," according to CNBC.
In her response to Lead Stories' query about the Trump claim, Finkelstein made this final point:
If the test for declassification were as Donald Trump alleges -- namely if nothing more than his say-so about whether he previously intended to declassify the documents were necessary -- then there would be no way to distinguish a president who had actually declassified documents from a president who had NOT declassified documents who was now lying about his previous intent. It would thus not only give the president complete discretion about whether and how to declassify documents, but it would also allow the president to be the sole judge in his own case, since no one else would have access to his inner state of intent and thus he would be the only authority on his own state of mind. This is not the way our justice system works.
And Davis had this final thought:
There is not a plausible argument that a former President may retroactively declassify information by stating that he thought about doing so while he was in office.


Additional Lead Stories fact checks related to Donald Trump can be found here.