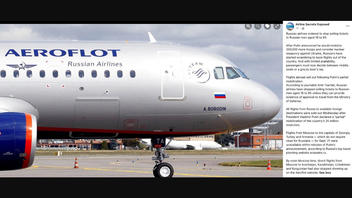 Did Russian airlines ban men between 18 and 65 years old from buying tickets to other countries in response to the "mobilization" announced by Russian President Vladimir Putin on September 21, 2022? No, that's not true: Despite rumors on social media, there was no such ban at the time of writing. However, high prices, a limited number of available destinations and the unpredictability of Russian customs and border officers appeared to make air travel increasingly difficult for Russians.
The claim originated in a Facebook post on September 22, 2022. It opened:
Russian airlines ordered to stop selling tickets to Russian men aged 18 to 65
The post continued:
According to journalist Amir Tsarfati, Russian airlines have stopped selling tickets to Russian men aged 18 to 65 unless they can provide evidence of approval to travel from the Ministry of Defense.

All flights from Russia to available foreign destinations were sold out Wednesday after President Vladimir Putin declared a "partial" mobilization of the country's 25 million reservists.
This is what the post looked like on Facebook at the time of writing: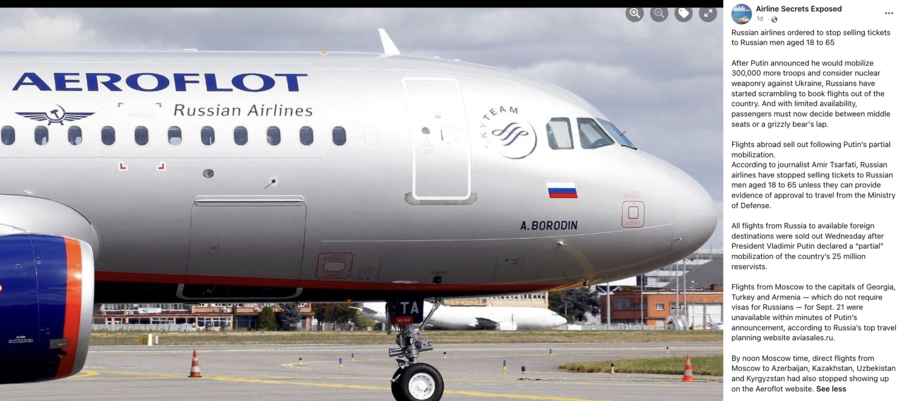 (Source: Facebook screenshot taken on Fri Sep 23 18:35:15 2022 UTC)
Amir Tsarfati, cited in the Facebook post as a source, does not live in Russia and does not appear to be a correspondent for any major media outlet: He is based in Israel and describes himself on his Telegram account as "Husband, Father, Christ Follower, Bestselling Author, Bible Teacher, Conference Speaker."
Both Aeroflot, a Russian state-owned national carrier, and Russian Railways, another state-owned Russian company, denied that they would require the men who may be drafted under the new mobilization decree to show permission to travel issued by their local army offices. This was widely reported by very different Russian-language media, including Insider (operates in Russia under the status of a foreign agent), Kommersant (a privately owned national newspaper) and the state-run news agency RIA Novosti.
On September 21, 2022, when Putin ordered mobilization, he did not mention any travel restrictions for Russian men. Other officials also kept their statements ambiguous.
On the same day, Meduza (a Russian-language independent outlet with headquarter in Riga, Latvia), cited "a source close to the Kremlin" who said:
Those who are too dissatisfied can leave for now, as long as no one is keeping them. Everything will be done gradually.
Meduza's source added that there was no plan to shut down the border to Russian men at least until September 27, 2022, when the so-called referenda in occupied Ukrainian territories were scheduled to end. However, suggested the source, a mass exodus may change things.
The BBC Russian Service cited a 30-year-old man heading from Moscow to Istanbul, Turkey, by air (translated via DeepL):
At the border, they did not ask anything, except for their usual questions. The atmosphere at the airport was completely normal
The next day, September 22, 2022, Zarina Doguzova, the head of the Russian Federal Agency for Tourism, wrote on Telegram that those who haven't already been called to serve are still allowed to travel freely:
I see all the numerous questions in the comments regarding tourist trips during the period of partial mobilization - both abroad and within the country. Based on the information that we have at the moment, if you have not received a summons, then you can go on trips. We do not have information about any restrictive regulations at the federal level. Also, on the advice of the head of the State Duma Defense Committee, for clarifications, you can contact the military registration and enlistment office to which you are assigned.
(The above was translated via Chrome.) By the time of writing, no new restrictions had been officially announced.
However, there was a shortage of plane tickets, coupled with high prices and a limited choice of destinations due to Western sanctions.
Aeroflot offered no tickets from Moscow to Tbilisi, Georgia (at least until October 21, 2022), Dushanbe, Tajikistan (at least until February 2023), or Buenos Aires, Argentina (until the end of this year).
However, flights to Yerevan, Armenia, were available as early as September 30, 2022, for 94,233 rubles (about $1,616) as the first part of the round trip:

(Source: Aeroflot screenshot taken on Fri Sep 23 18:59:17 2022 UTC)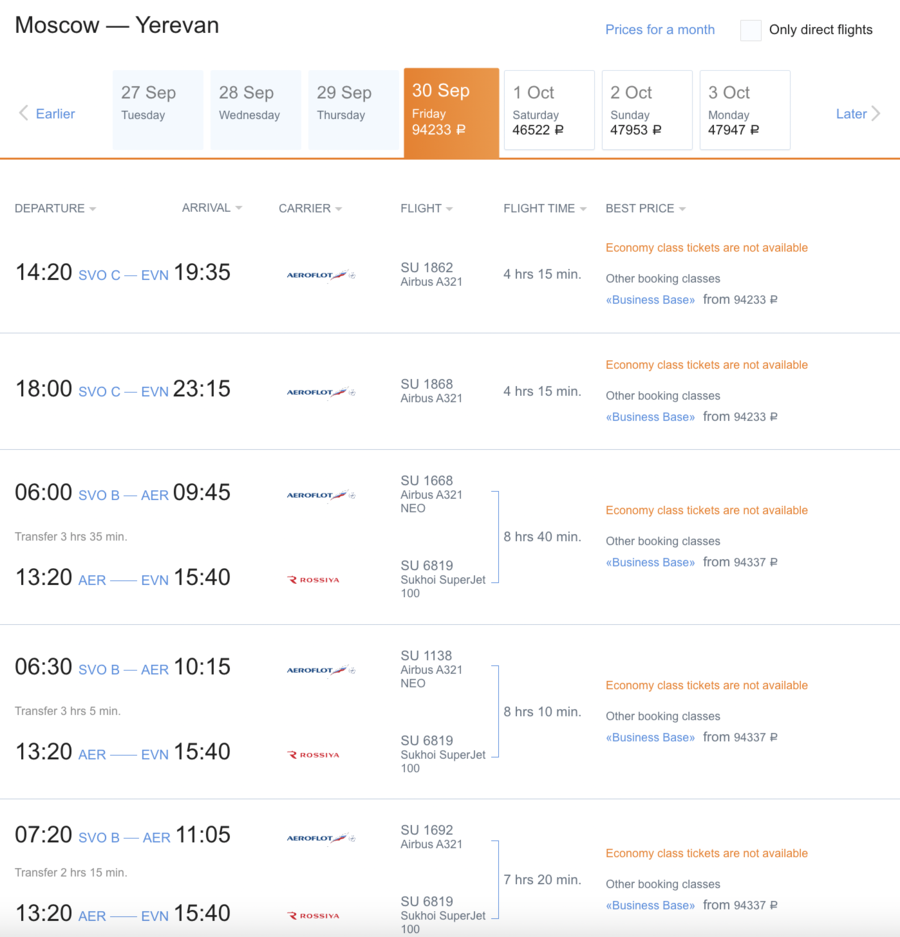 (Source: Aeroflot screenshot taken on Fri Sep 23 19:00:02 2022 UTC)
The closest available flight to Istanbul, Turkey, which has become a major transfer hub for the 2022 wave of Russian emigres, could be found on September 30, 2022, as well -- for 100,812 rubles (about $1,729):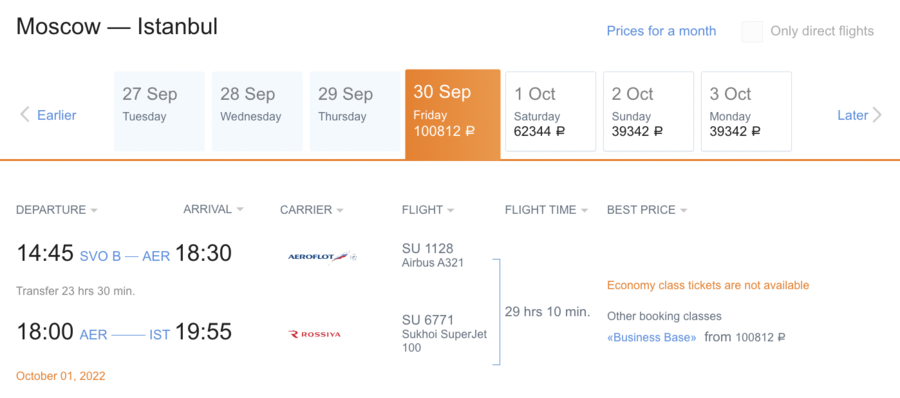 (Source: Aeroflot screenshot taken on Fri Sep 23 19:12:33 2022 UTC)
Flights to Dubai, United Arab Emirates, were available on another company's website: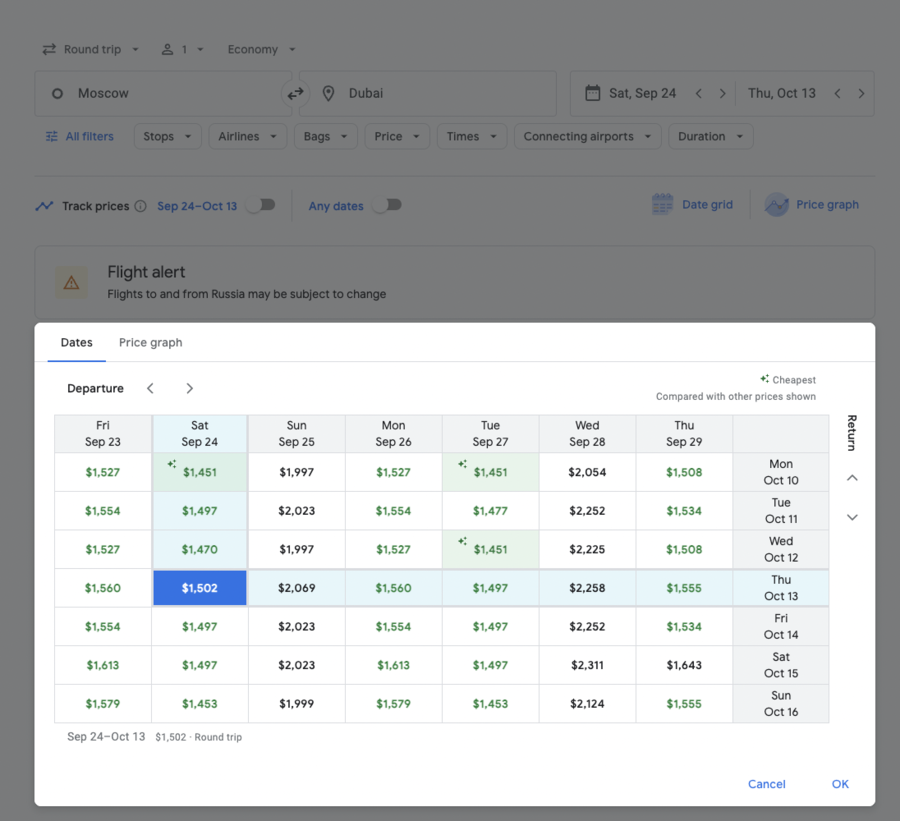 (Source: Google screenshot taken on Fri Sep 23 20:32:14 2022 UTC)
Plane tickets to Baku, Azerbaijan, appeared to be the cheapest after Minsk, Belarus: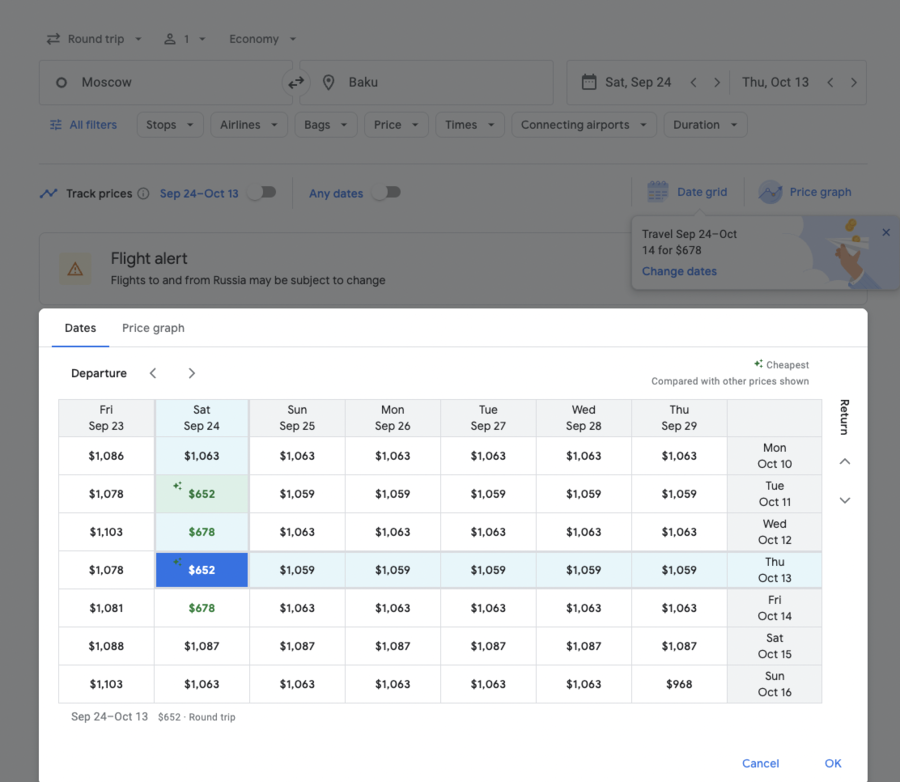 (Source: Google screenshot taken on Fri Sep 23 19:35:16 2022 UTC)
On September 22, 2022, an independent Russian-language outlet Bumaga (The Paper) published a story of two healthy men in their 30s who fled the country via Finland with Schengen visas and did not face any issues crossing the land border (translated via DeepL):
We were very worried, afraid of how they, two guys of conscription age, would manage to cross the border. And they were still going with some micro suitcase ... At first we thought they would say they were going on a shopping trip. Then we urgently booked them tickets. The legend was that my brother was flying out via Helsinki, and his friend was just dropping him off.

In the end, they got through the border without any problems. They were not asked any questions except for the purpose of their trip. There was almost no queue at the Russian border; they passed it quickly, literally in half an hour. But there was a long line before the Finnish one, although the crossing also took an hour and a half. They let everyone through.
On the same day, however, Meduza reported that the situation varied from checkpoint to checkpoint and from officer to officer (translated via DeepL):
... men were asked, among other things, about the purpose of their trip, their military service, military specialty, place of service (or the reason why they did not serve), whether they had a military ticket, as well as a return ticket to Russia. According to Border Control subscribers [a Telegram channel], some border guards said they were having a 'draft day' and that people were 'running from mobilization.'

A 33-year-old military graduate who did not serve in the army told 'Meduza' how he flew out of Sheremetyevo on the night of September 22: 'At the passport control first they did not give my passport, the officer went to a room with it. After 10 minutes he asked for more information. He asked when the ticket was bought. I said, "Why?" He said, "Well, if it's before September 21, there's no problem, but if it's after, there may be some."' After that the officer returned the passport, and the man went through the border.
By the time of writing, Finland had already announced that it would soon ban Russian citizens from entering the country.
Poland, Latvia, Lithuania and Estonia also did not allow Russians to cross their borders, with a few exceptions.
Direct flights to European countries ceased to exist earlier due to the EU response to Russian aggression in Ukraine.
Other Lead Stories fact checks about the 2022 Russian invasion of Ukraine can be found here.