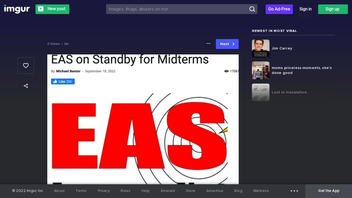 Are former President Donald Trump and his allies able to "implore" the U.S. military to trigger the Emergency Alert System (EAS), a national public warning system, if they don't like the midterm elections results? No, that's not true: The EAS is used on a state and local level by officials to notify the public about urgent events such as violent weather or child abductions. On a national level, EAS participants are required to deliver a current president's emergency address, not a former president's and it is not overseen by the U.S. military.
The claim appeared in an article published by Real Raw News on September 18, 2022 and entitled "EAS on Standby for Midterms" (archived here). It opened:
If the Deep State Democrats cheat their way to victory in the November midterms, President Donald J. Trump will implore the U.S. military to trigger the Emergency Alert System (EAS), White Hat sources told Real Raw News.
This is what the online article looked like at the time of writing:


(Source: Screenshot taken on Tues Sep 20 18:49:06 2022 UTC)
Ex-President Donald J. Trump's term ended on January 20, 2021. President Joe Biden's term will continue past the November 2022 midterms and the next presidential election in 2024. A presidential term ends at noon on January 20 of the year following the election, unless the president is re-elected.
The EAS is operated by the Federal Emergency Management Agency (FEMA), an agency of the Department of Homeland Security, that works in partnership with the Federal Communications Commission (FCC) and the National Oceanic and Atmospheric Administration.

According to FEMA:
The Emergency Alert System (EAS) is a national public warning system that requires radio and TV broadcasters, cable TV, wireless cable systems, satellite and wireline operators to provide the President with capability to address the American people within 10 minutes during a national emergency.

Broadcast, cable, and satellite operators are the stewards of this important public service in close partnership with state, local, tribal, and territorial authorities.
According to the FCC website:
FEMA is responsible for any national-level activation, tests, and exercises of the EAS.

... Alerts are created by authorized federal, state, and local authorities. The FCC does not create or transmit EAS alerts.
At the time of writing, neither the FCC nor FEMA had replied to multiple requests by Lead Stories for further comments. Any statements received will be updated accordingly.
Real Raw News has a long history of publishing false claims in mock news stories, many of them about convictions and executions of various public figures at Naval Station Guantanamo Bay in Cuba. For example, the site reported former Secretary of State Hillary Clinton was hanged (she wasn't); former White House Chief of Staff John Podesta was executed (he wasn't); and that "the military" convicted former Attorney General William Barr on charges of treason (it didn't).
The website for Real Raw News includes a disclaimer that warns readers not to take its content too seriously. Specifically, it says:
Information on this website is for informational and educational and entertainment purposes. This website contains humor, parody, and satire. We have included this disclaimer for our protection, on the advice on legal counsel.

(Source: RealRawNews.com screenshot taken Tue Aug 3 16:39:48 UTC 2021)
Previous Lead Stories fact checks of Real Raw News items can be found here.