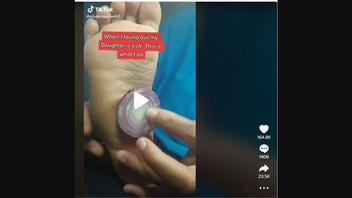 Does cutting an onion in two, placing the onion halves in your socks and sleeping through the night with them sticking to your feet help combat the flu and cold symptoms by drawing out toxins? No, that's not true: While the National Onion Association website states that onions support your health in various ways, such as defending against cancers and providing antimicrobial properties, they do not absorb germs. A clinical dietician told Lead Stories that simply "cutting an onion in half" and placing it on your foot will not alleviate the flu or a cold or cough.
The claim appeared in a TikTok post published on December 2, 2021. The posted video displayed a person holding a cut onion against the sole of another person's foot and then placing a sock on the foot to hold the onion in place. The post's caption said:
When my daughter is sick #onion#thanksgiving#fyp#eliyahmashiach#learnfromeliyahmashiach

This is how the post appeared at the time of this fact check's writing: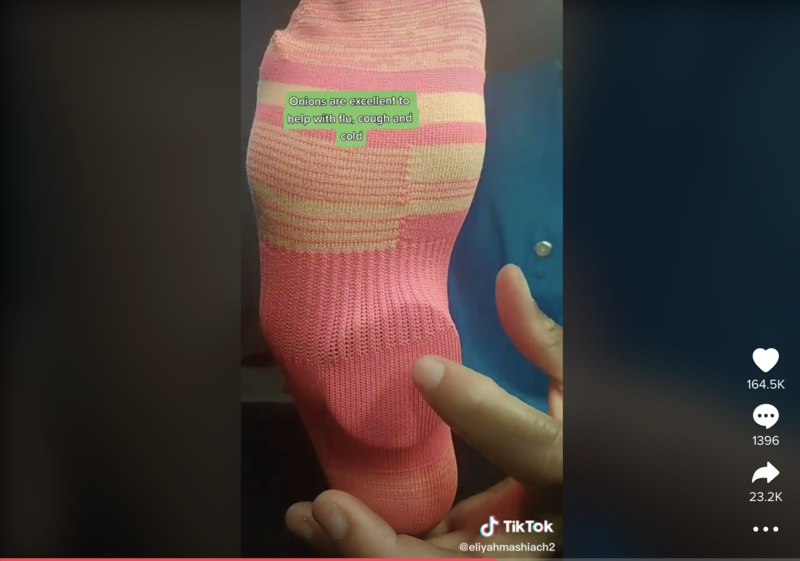 (Image source: Screenshot taken on Wed Nov 16 17:00:23 2022 UTC)
The post stated that onions help combat "flu, cough, and cold." At 0:05 in the video, specific directions are given on the method used to battle these illnesses:
Get an onion, cut it in 2 and place onions in her socks and let her sleep in her socks throughout the night

For an expert assessment of this claim, Lead Stories contacted Dana Hunnes, a senior clinical dietitian at the Ronald Reagan UCLA Medical Center in Los Angeles, California and an adjunct assistant professor in the department of community health sciences at UCLA's Fielding School of Public Health. In a November 16, 2022, email to Lead Stories, Hunnes confirmed that the claim is false:
No, cutting an onion in half will not cure flu, cold, or cough. Best it can do is if you ingest it, possibly, slightly reducing the severity of the illness, but even that is not likely. Onions cannot "cleanse" the air.

On its website, the National Onion Association (NOA), an organization that represents individuals employed in "the onion industry," states on a page titled "Onions & Flu" that "there is no scientific evidence that a cut raw onion absorbs germs or rids the air of toxins/poisons." The NOA website's "Health Properties of Onions" section does not mention any studies that cite onions as a treatment for the flu, coughs or the common cold. Indeed, under "Common Myths," the NOA cautions that, among other false claims about the vegetable, onions do not serve as the "ultimate health cure."
In a February 18, 2013, article on the Best Food Facts website ("Do Onions Absorb Bacteria That Cause Illness?"), a professor from Iowa State University's College of Agriculture and Life Sciences, Ruth MacDonald, emphasized that "No, onions do not absorb bacteria."
Other Lead Stories fact checks of claims about the medicinal uses of onions can be found here, here, and here.