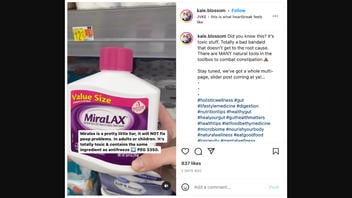 Does the laxative MiraLAX contain ethylene glycol, a chemical commonly used in antifreeze that can be poisonous if ingested? No, that's not true: MiraLAX contains polyethylene glycol, a compound commonly used in medications. Although the two ingredients' names sound similar, they are two entirely different substances.
The claim originated in a post shared on Instagram on February 25, 2023 that read:
Did you know this? It's toxic stuff. Totally a bad bandaid that doesn't get to the root cause. There are MANY natural tools in the toolbox to combat constipation.💩

Stay tuned, we've got a whole multi-page, slider post coming at ya!...
A text overlay featured in the video read:
Miralax is a pretty little liar, it will NOT fix poop problems. In adults or children. It's totally toxic & contains the same ingredient as antifreeze → PEG3350
Below is a screenshot of the post at the time of this publication: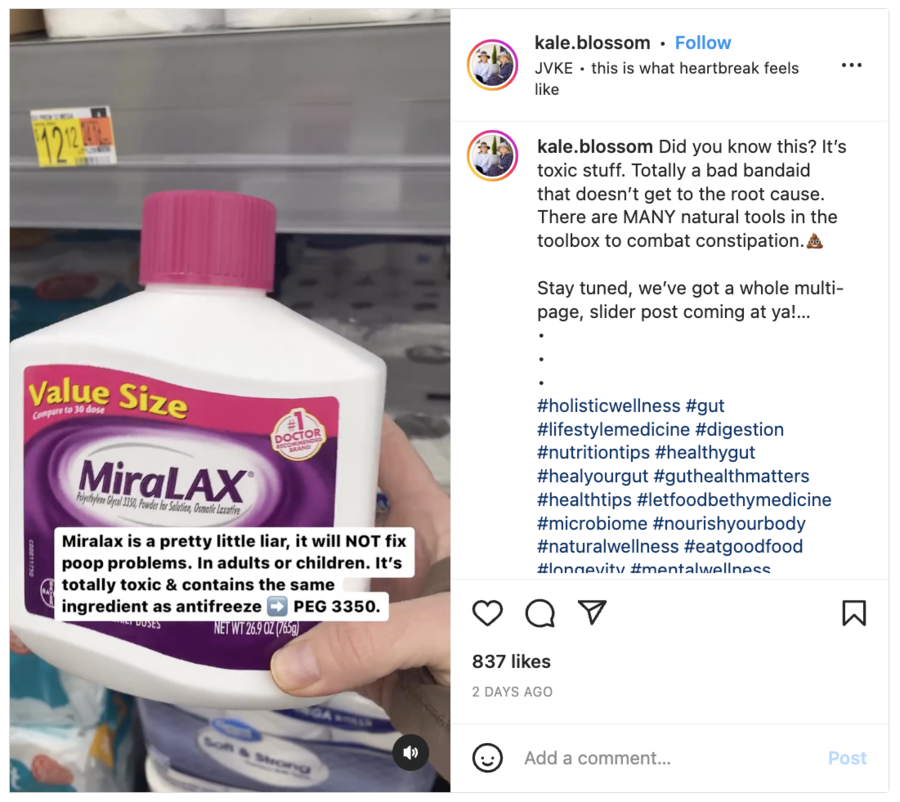 (Source: Instagram screenshot taken Mon Feb. 27 12:05:36 2023 UTC)
"PEG3350" is not a product in antifreeze, contrary to the implication in the post. PEG3350 is polyethylene glycol, which is indeed the primary ingredient found in MiraLAX and is safe for human consumption. It appears the original poster confused polyethylene glycol (PEG3350) with ethylene glycol, the main ingredient in antifreeze.
Although the two compounds' names sound similar, polyethylene glycol and ethylene glycol are very different compounds
MiraLAX is a laxative used for constipation relief. The product featured in the video is described by the company as designed to work "naturally with the water in your body for effective relief from occasional constipation without causing harsh side effects such as gas, bloating, cramping or sudden urgency. The primary ingredient in MiraLAX is polyethylene glycol 3350, an ingredient used to treat occasional constipation and described by the National Library of Medicine as being in a class of medications called osmotic laxatives:
It works by causing water to be retained with the stool. This increases the number of bowel movements and softens the stool so it is easier to pass.
By contrast, the primary ingredient in antifreeze is ethylene glycol, which keeps a car from overheating or freezing in the winter. Ethylene glycol can be poisonous if ingested, according to the Centers for Disease Control and Prevention.
Lead Stories reached out to the makers of MiraLAX and will update this story as appropriate if a response is received.