STORY UPDATED: check for updates below.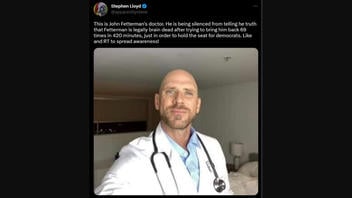 Is the man presented as "John Fetterman's doctor" in a post about the U.S. senator's condition a doctor? No, that's not true: He is porn actor Jonny Sins and the post is the latest version of spoofs in which Sins, who plays a doctor in films, is presented as an actual medical doctor.
The claim, along with a photo of a man dressed as a doctor, appeared in a tweet (archived here) published by @apparentlysteve on February 25, 2023. It was captioned:
This is John Fetterman's doctor. He is being silenced from telling he truth that Fetterman is legally brain dead after trying to bring him back 69 times in 420 minutes, just in order to hold the seat for democrats. Like and RT to spread awareness!
This is how the tweet appeared at the time of this article's writing: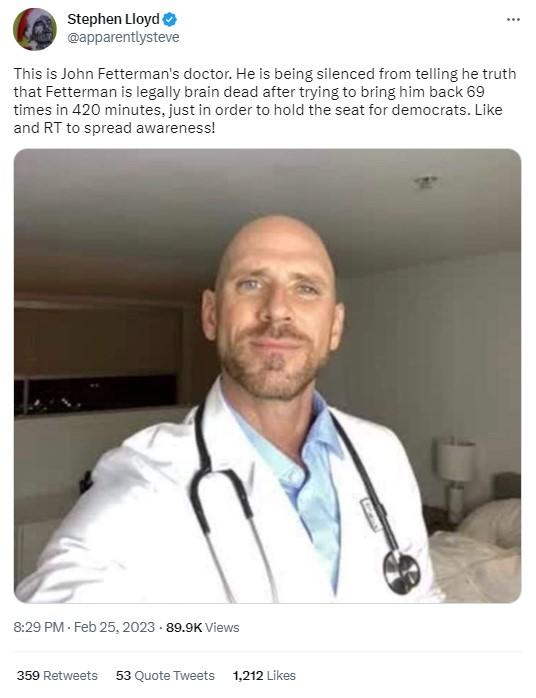 (Image source: Twitter screenshot taken on Mon Feb 27 18:42:43 2023 UTC)
Sen. John Fetterman, D-Pennsylvania, voluntarily checked into Walter Reed hospital for treatment of depression on Wednesday February 15, 2023 according to his chief of staff, Adam Jentleson. A February 27, 2023, statement from Fetterman's communications director read in part:
We don't have a lot to update folks with since there's no real news to report except that John is doing well, working with the wonderful doctors, and remains on a path to recovery.
The man in the photo is not a doctor although he has played one in adult videos. This actor is Steven Wolfe, who goes by the name Johnny Sins. The still photo in the above tweet originated from a video that was posted on Twitter on September 16, 2020. In this video Sins plays along by responding to someone else's prank. He says:
I'm honored to be a hero on the 2020 stadium cup. I'm no hero, just a guy who plays one -- but like a doctor, you have to be ready to rise to the occasion. So from your 2020 Ole Miss Hero I have one question for you, "Are you ready?"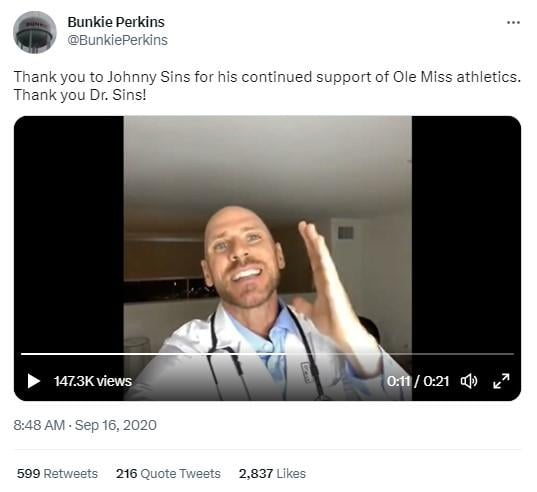 (Image source: Twitter screenshot taken on Mon Feb 27 18:42:43 2023 UTC)
The numbers used in the caption are conspicuous clues to a prank, with 69 referring to a sexual position, and 420 a number associated with pot smoking culture, representing a time of day or April 20.
A past version of the Johnny Sins spoof is explained in a September 11, 2020, article on outkick.com. On August 6, 2020, the University of Mississippi athletics department posted an announcement, with a call for submissions of names and photos of members of the health care community. The department was planning to salute "these heroes by featuring select workers on 2020-21 stadium cups as well as recognizing them on the videoboard and on social media during games."
A screenshot in the OutKick article, which appears to be the successful prank submission to the Ole Miss hero program, used a photo of Sins in a lab coat, which has appeared in memes and fake news stories going back years. The prank submission appears to have been accepted, and that photo appeared on the stadium cup in a collage of images of healthcare workers. Screenshots of the now-deleted tweet from @OleMissSports show the cup graphics (below) and additional zoomed in closeups of the graphic highlight the photo of Sins (archived here).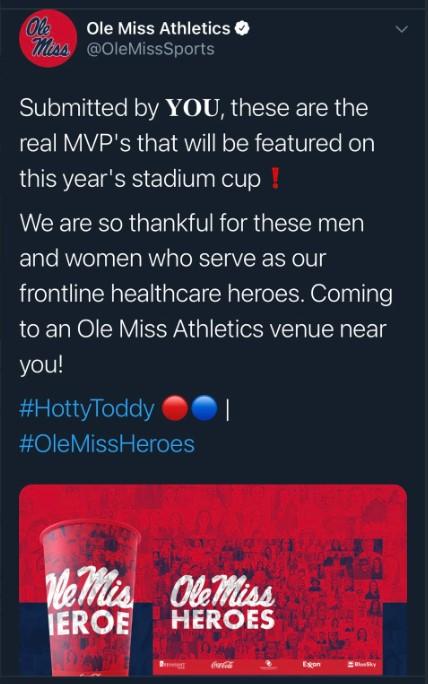 (Image source: Twitter screenshot taken on Mon Feb 27 20:20:50 2023 UTC)
In an October 31, 2022 interview with Vice, Sins was asked what his favorite role was. He replied:
I think doctor is my most popular role. And I think it's the opposite of what I really do. So I suppose I really like playing a doctor, I don't know why. I would say astronaut, but I've never really been an astronaut yet. I'm still waiting for the space thing to happen.
2023-02-28T00:48:22Z

2023-02-28T00:48:22Z

Updated to focus the first paragraph on the counterfeit doctor, rather than Fetterman's medical condition.