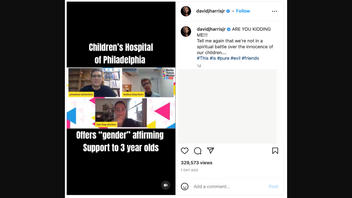 Does Children's Hospital of Philadelphia offer "gender-affirming" support, including surgical or hormonal procedures, directly to children as young as 3 years old? No, that's not true: The hospital's Gender and Sexuality Development Program offers "psychosocial and medical support for gender nonconforming, gender expansive and transgender children and youth up to age 21 and their families." However, in pre-pubescent children below the age of 8, the program only offers social and behavioral support to a child's caregiver, which is described by the program's director as "parent-only support."
The claim originated in a video shared on Instagram on March 5, 2023, which claimed that "Children's Hospital of Philadelphia Offers 'gender' affirming Support to 3 year olds." Text that accompanied the video read:
ARE YOU KIDDING ME!!!

Tell me again that we're not in a spiritual battle over the innocence of our children....
Below is how the post appeared at the time of this writing: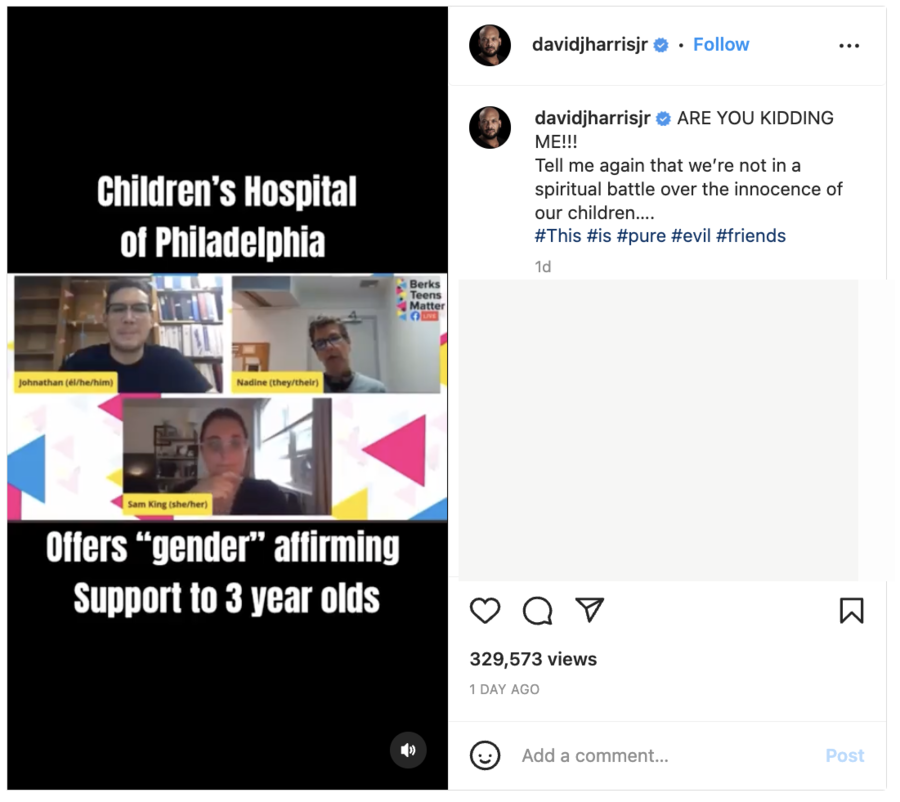 (Source: Instagram screenshot taken Mon March 6 12:34:00 UTC 2023)
The video on Instagram included a short portion excerpted from a 48-minute live event on Facebook originally hosted by Berks Teens Matter and was later posted on YouTube on August 9, 2021. The claim on Instagram didn't explicitly state that Children's Hospital of Philadelphia (CHOP) is offering surgical or hormonal "gender-affirming" procedures to children as young as 3, but alluded to the notion by excluding an important portion of the full exchange that includes important context. In the full exchange, it was clearly and explicitly stated that the program's policy is to offer support only to family, parents, and guardians of a young child up until the child reaches the age of 8.
At the 6:30 mark in the full video, Samantha King, identified in the video's "about" section as the Family Support and Education Specialist from the Gender and Sexuality Development Program at CHOP, was asked for what ages the program typically offered support. She responded:
The youngest that we support is really as soon as kids start talking about gender, which we know happens around age three. So, if families are starting to hear a young one talk about gender in any capacity that they're looking for any additional support, we can help provide.

So, typically the structure, when we're working with younger kiddos, is actually just through parent support. So, any parent, guardian, loved one, who has a kiddo really under the age of eight and they're looking for support around gender for their child, we will do parent education and support.

Because everything we're offering at a young age - pre-puberty - is really just social care and social support. That really relies on the caregivers of a child.
...
We say age three, but it's not necessarily that we're seeing a three-year-old come into our clinic, we're actually working with the parents and guardians at that point.
On its website, the program notes that it offers "psychosocial and medical support for gender nonconforming, gender expansive and transgender children and youth up to age 21 and their families." This is done through a variety of services, including a lending library for parents, children and adolescents, as well as monthly support groups, among other things.
In response to an inquiry from Lead Stories, Shane Diamond, a spokesperson for the international transgender health group World Professional Association for Transgender Health (WPATH), wrote in an email received on March 7, 2023, that "support for parents of transgender or gender diverse children could look like providing information about social transition and/or how parents can be supportive of their children's emerging gender identity (whatever that may be)."
According to the Mayo Clinic, most children between 18 and 24 months can "recognize and label gender groups," while most will label their own gender by the time they reach 3 years old.
"Studies have shown that children are aware of their gender as young as three, but there are no recommended hormonal therapies until they reach puberty," Diamond told Lead Stories.
Per WPATH's "standards of care," or SOC8, recommendations, which were originally published in 1979 and most recently updated in 2022, hormonal suppression therapy -- also known as puberty blockers -- can be prescribed once an adolescent reaches Tanner stage II of puberty. This is described by the National Institutes of Health as the time that biological females begin to develop breasts (typically between 8 and 13 years old), or when males begin testicular development (typically between 9 and 14 years old).
Such hormonal therapies are not recommended for children who have not begun endogenous puberty, which is driven by sex hormones naturally produced in an adolescent's body.
Gender-affirming care is defined by the World Health Organization as a range of social, psychological, behavioral, and medical interventions "designed to support and affirm an individual's gender identity" when that gender does not align with the one assigned at birth. The Association of American Medical Colleges writes that such interventions help to align various potentially conflicting aspects of life surrounding gender identity, defined by the American Psychiatric Association as a continuum that can include man, woman, a combination of those, neither, and fluid.
"Because the onset of puberty is different based on every individual, there are no longer any minimum age requirements in SOC8 for this type of care. The only form of gender-affirming care recommended by WPATH for transgender or gender diverse children who have not yet begun Tanner stage II is social transition, which may include using a name and pronouns that affirm their gender identity and/or gender expression such as clothing or hair style that are gender-affirming," said Diamond.
Lead Stories also contacted Childrens Hospital of Philadelphia and Berks Teens Matters by email but had not received a response as of this writing. We will update this article as appropriate when responses are received.
Lead Stories has debunked claims that 4-year-olds were prescribed puberty blockers, that Boston Children's Hospital was offering gender-affirming hysterectomies to children, and that a Minnesota trans activist advocated a right to "mutilate kids before puberty."