STORY UPDATED: check for updates below.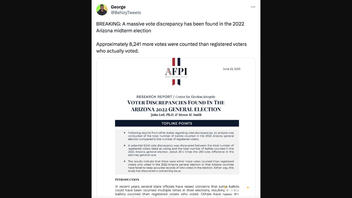 Was there a massive vote discrepancy found in the 2022 Arizona midterm election? No, that's not true: An election expert told Lead Stories the claims of vote discrepancy were "100% false." The Arizona Secretary of State spokesperson said the claim falsely used a "static" voter registration list versus a list that showed accurate updates from election day that provides information about who actually voted and where they voted throughout the state.
The claim appeared in a tweet (archived here) published on June 26, 2023. It opened:
BREAKING: A massive vote discrepancy has been found in the 2022 Arizona midterm election

Approximately 8,241 more votes were counted than registered voters who actually voted.
This is what the tweet looked like on Twitter at the time of writing: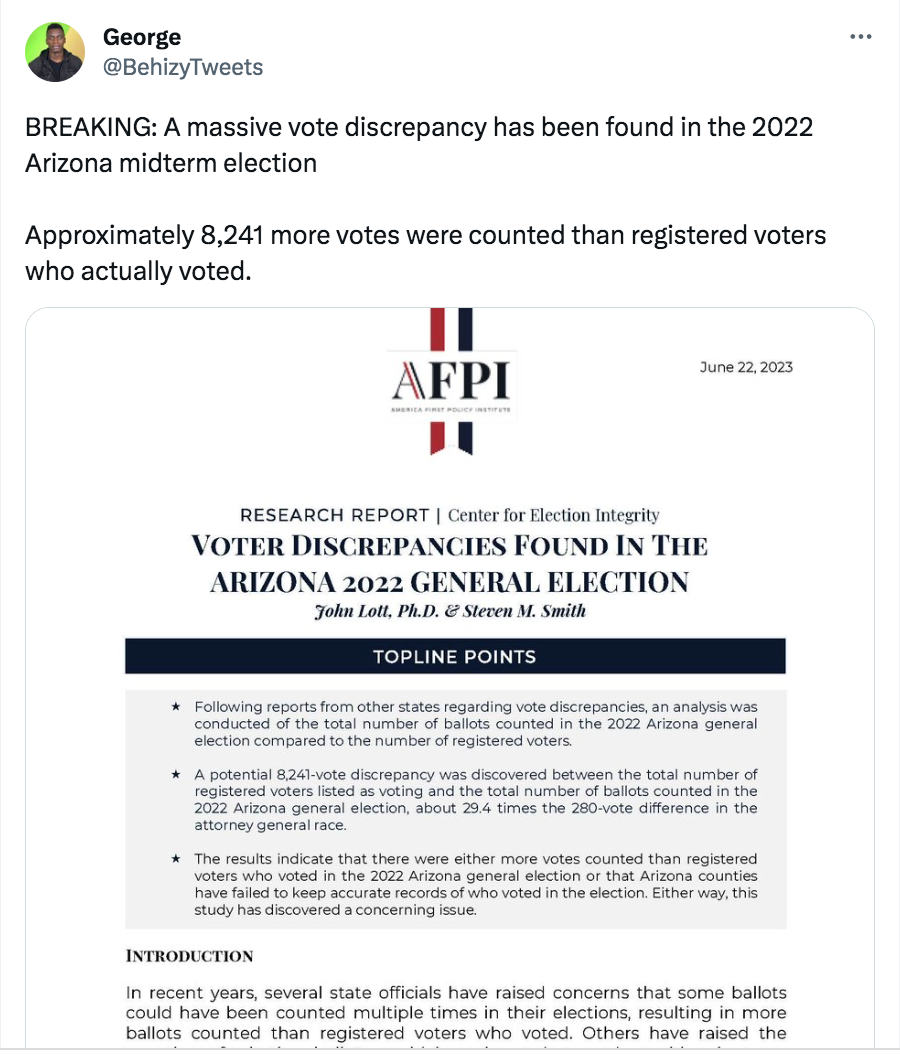 (Source: Twitter screenshot taken on Fri Jun 30 19:41:40 2023 UTC)
The claim was made based on a report released by an organization called America First Policy Institute. One of the authors of the study, John Lott, is an economist whose study methods have been called into question for using controversial statistical methods, as Snopes.com previously reported. Titled, "Voter Discrepancies Found In The Arizona 2022 General Election," the report claims:
A potential 8,241-vote discrepancy was discovered between the total number of registered voters listed as voting and the total number of ballots counted in the 2022 Arizona general election, about 29.4 times the 280-vote difference in the attorney general race.
The article had no definitive conclusion that voter fraud had occurred, provided no evidence that it occurred and specifically noted that it was a "potential" vote discrepancy without offering any proof that it verified the existence of election fraud.
"AFPI's claim is 100% false," David J. Becker, executive director and founder of the nonpartisan Center for Election Innovation and Research, told Lead Stories via email on June 29, 2023. Becker noted that the AFPI did not accurately analyze how voter data is stored or whether or not Arizona is legally required to maintain voter data, saying that their entire analysis was tainted.
Becker noted that ABC15 reporter and data analyst Garrett Archer tweeted a response to the claim made by AFPI:
More poor "analysis" out today claiming more votes than voters in AZ.

You can't compare a non-static voter file to a static election. So it's worthless.

Maricopa does provide a static file (VM55)

VM55 1,560,372
Secured: 2,386
Total: 1,562,758

CVR: 1,562,758

Reconciles. pic.twitter.com/Gn0ag9b55d

-- The AZ - abc15 - Data Guru (@Garrett_Archer) June 26, 2023
Becker said this analysis is, "quite sound and correct. Furthermore, in this tweet, Archer points out that AFPI clearly has no understanding of how voter data is stored, or what states are legally required to maintain, which taints their entire analysis."
"The 'discrepancies' referenced here are indicative of either a lack of understanding about voter registration data, or a willful attempt to deceive voters and cast doubt on our elections," Paul Smith-Leonard, communications director of the Arizona Secretary of State told Lead Stories via email on June 29, 2023.
He continued, noting, "Our voter registration data system is not static--it moves in real time as voters change their status around the state."
The AFPI study used samples from six counties in Arizona, a method that Smith-Leonard said did not give an accurate representation of the election because it did not show voters who had relocated and voted in another area of the state:
If this report included all 15 counties, it might be more accurate to account for voters who move within Arizona to different counties.
Smith-Leonard accused the authors of false pretenses:
But we suspect that a true reflection of the data is not the goal of the authors of this report. Instead, they are denigrating the work of county election officials from both parties by cherry picking voter registration data with no context or factual support for their claims.
The six counties the AFPI said it studied were Apache, Coconino, Maricopa, Pima, Pinal and Yavapai. Lead Stories reached out to each county for a comment. The Yavapai County Recorder posted a response to the AFPI report on their official Twitter page on June 29, 2023, with official voter numbers and a statement on the report:
There is no discrepancy on our numbers!

We do not know how AFPI came up with the data they used. We did notice the report did not include the original numbers we provided.

(Source: Twitter screenshot taken on Fri Jun 30 20:33:16 2023 UTC)
Matt Roberts, spokesperson for Maricopa County Elections Department, told Lead Stories via email on June 30, 2023, that AFPI "did not use official Maricopa County data in its analysis," and said they were unaware of where the "third-party data originated."
Roberts said the county conducted an "audit reconciliation procedure to identify every location that had a variance between the number of check-ins and the number of ballots counted onsite at each Vote Center," which was observed by members of the political parties. A variance is an inconsistency or difference in the records. Roberts shared results of the audit, explaining that a "variance of 1 or 2-3 or greater than 3" is an inconsistency or difference between the number of check-ins and ballots counted for that vote center:
- 158 Vote Centers with no variance
- 35 Vote Centers with a variance of 1
- 16 Vote Centers with a variance of 2 - 3
- 14 Vote Centers with a variance of greater than 3 (and none greater than 22)
Roberts explained the 2022 general election audit reconciliation had a lower variance as a percent of election-day voters than previous primary and general elections. He said the total variance includes voters who "fled," or a voter who received a ballot and for some unexplained reason chose not to vote the ballot as well as provisional ballots that were, "inserted into the secure Door 3 on the ballot box without an envelope, or simply spoiling a provisional ballot will create a variance." It also includes "voters who try to insert their Early Ballot into the tabulator instead of the Election Day ballot. As a control to prevent double voting, our Vote Center tabulators are designed to reject early ballots. At this point, the voter is given the option to complete their Election Day ballot. If the voter chooses not to complete their Election Day ballot and they do not check out of the SiteBook, this also creates a variance."
Elsir Musta, Coconino County elections director, told Lead Stories via email on July 3, 2023, that he was unaware of the report before being asked for comment, but in their audit and canvass certifications, they "did not have discrepancies that the AFPI report is stating." Of the 314 vote discrepancy AFPI claims in Coconino County, Musta said:
It is not clear to me what they are comparing. The data as set from April 18, 2023 is a snapshot in time, and likely different from the list used in the November 8, 2022 election, as voters move in and out and within the county.
Other Lead Stories articles on claims about elections in Maricopa County are here and on claims about elections in Arizona are here.
2023-07-03T20:18:31Z

2023-07-03T20:18:31Z

Adds comment from Coconino County, Arizona, elections director.